If you're a developer or small business owner, you would be interested to know the current developer trends and how start-ups and SMBs are using the open source technology today. In this news piece, we have summarized DigitalOcean's Currents report, which captures the latest trends and insights on what developers are thinking and doing today. Read the key findings below. 
Developer Community and the Great Resignation
Over 25% of developers with over a year of work experience started a new job in the past year. 

 
Almost the same number of developers are changing jobs at enterprises and start-ups. 

 

In addition to this, 42% of developers who have not resigned from their jobs yet are planning to leave their current jobs this year. 

 

The two main factors driving resignation as per the report are compensation and fully remote or flexible work environments.

 

In India, 32% of developers working for more than a year said they have started a new job in the past year, and 44% of developers in the same group consider leaving their job this year.

 

Companies must offer high pay and work flexibility to retain developers considering the persisting inflation and the continuing COVID-19 pandemic.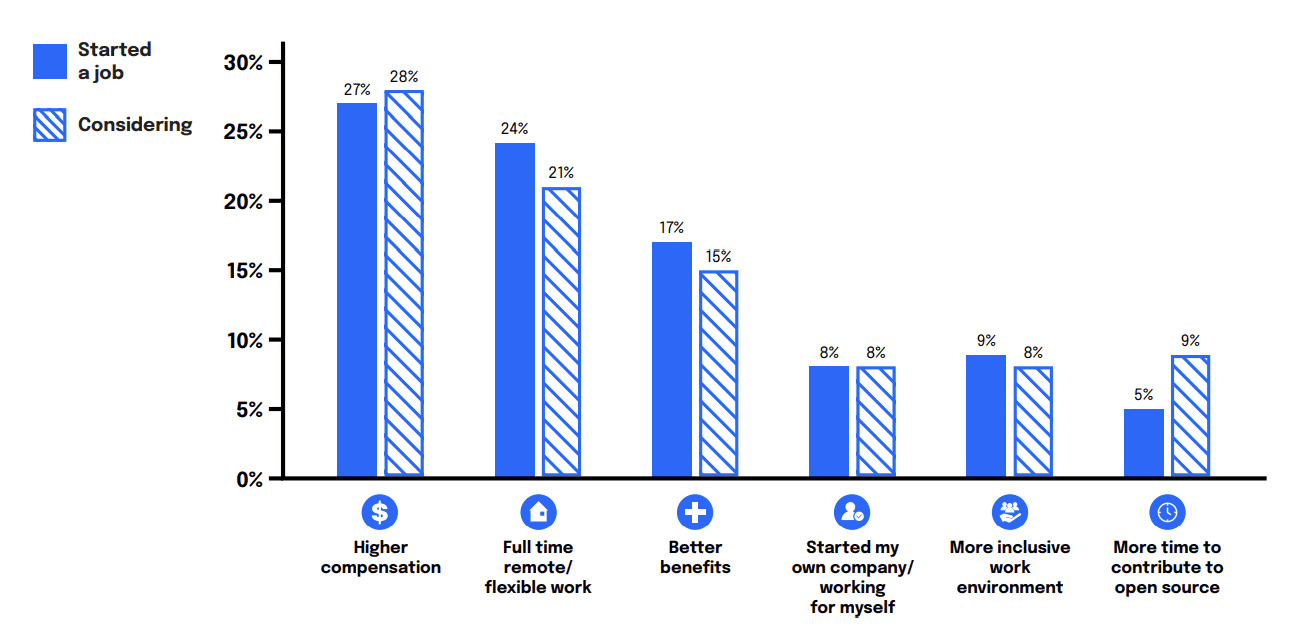 Developer community and open source
Around 50% of developers reported participating in open source in the past year.

 

Smaller businesses rely more on open source software as 35% of start-ups and SMBs are using open source in over 50% of their software whereas enterprises use open source in only 28% of their software. 

 

Most developers think that companies should allow them time during work hours to contribute to open source. 

 
A majority of 78% of developers who have not been paid for their contributions to open source believe that open source contributions must be paid. 

 

In India, open source has contributed to learning and networking as 37% of developers stated that they have gained enhanced skills from open source, 23% got access to networking opportunities, and 10% found job opportunities through the open source community.

 
Emerging developer trends 
Technical debt and prioritizing speed of delivery over quality code are the top challenges for developers today followed by a lack of time and resources to work on projects, and team members leaving among others.

 

Python (21%) and JavaScript (17%) are the most popular languages among developers followed by PHP (14%), TypeScript (9%), and Java (9%).

 
68% of developers reported using containers for some projects and 69% of them expect their container usage to increase next year. 

 
The usage of serverless computing is picking up as 44% of developers are already using it out of which 61% expect their usage to increase this year. 

 

Developer opinions on low-code and no-code solutions are mixed as developers with fewer years of experience are more likely to use low-code and no-code tools, and those with more experience rate them as overhyped. 

 
Although blockchain and

Web3

technologies are hot topics for discussion, 67% of developers don't use blockchain or Web3 yet.

 

A slightly higher percentage of developers in India are using or planning to use blockchain technologies and automation (AI/ML). 

 

13% of Indian developers expect to use open source for blockchain technologies next year, compared to 7% of total respondents.

 
Read next: Elementor and Strattic unite to bring a new era of web development