Over the last few years, the database landscape has experienced a rapid evolution. In order to meet the customer demands, the open source database software and the open source community are also innovating with the pace.
According to Open Source Data Management Software Survey by Percona, 62% of enterprises use open source software to avoid vendor lock-in. It also reveals that more and more enterprises are preferring multiple databases in multiple locations over multiple platforms.
The demand for the database is not limited to a one-size-fits-all solution. Software vendors are working hard to bring new features, but the customers go towards the best database solution for their work.
Key findings of the Open Source Data Management Software Survey:
Let's have a deep dive into the highlights of the Percona survey to understand things better.
1. Multi-database, multi-locations, and multi-platforms is the new norm
In order to adapt to rising business demands, enterprises are increasingly opting for multiple databases in multiple locations over multiple platforms. The enterprises want to ensure that they are responding to the demands of customers and shifting market pressures.
2. Majority of enterprises use up to 25 database instances in production
The survey reveals that 57% of enterprises are using 25 database instances or less. With the growth in business, the number of instances is increased to hold more data.
92% of enterprises use more than one database.
82% of enterprises use more than one OSS database.
54% are using some purpose-built NoSQL database.
43% are running both PostgreSQL and some variant of MySQL.
73% are using both a relational and a NoSQL purpose-built database.
Suggested reading: Legacy tools put organizations to survival mode rather than digital transformation: Forrester
3. Relational DBMS continues its domination
Of all the open source data management software being used, enterprises are picking relational DBMS (96.7%) the most.
As the businesses scale up their operations, they need databases to interact with more application types. As a result, the database specialization is trending.
Since there are various database options available out there, more enterprises are using open source database technology on the basis of the application being used by them.
4. Most enterprises use MySQL when it comes to open source database adoptions
MySQL is a dominant option when it comes to adopting the open source database. MariaDB and Percona Server follow the MySQL. The survey further shows that more than 50% of enterprises use more than one provider for MySQL.
5. Rise in adoption of PostgreSQL databases
In the last few years, the adoption of PostgreSQL and PostgreSQL-compatible databases has increased, especially among SMBs.
"Standard PostgreSQL, however, is the king of this particular castle, with nearly 70% of respondents using PostgreSQL as opposed to some other compatible variant. Expect for PostgreSQL to remain a viable contender in open source databases, and for adoptions to continue to increase," says the report.
6. Enterprises also use open source database tools
Along with using open source database options, the enterprises (62%) are also choosing open source database observation, monitoring, and alerting tools.
Around 22% of them use cloud-based tools, and this number is likely to increase with more enterprises running towards cloud-based environments.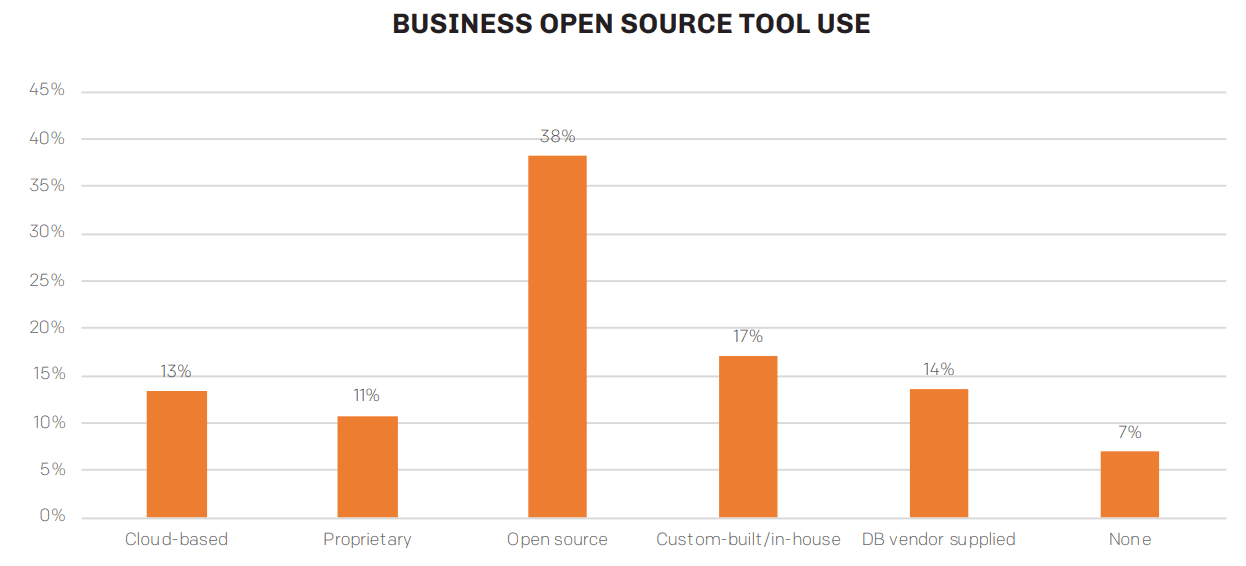 7. Cloud is impacting the database landscape as well
There is no sector of technology that is not transformed by the cloud. Cloud vendors are quoting cloud as the easiest way to deploy, operate, and scale databases.
There are several benefits of running database environments in the cloud, but enterprises are worried about getting tied to cloud vendors with a single solution and large monthly costs. That's the reason more than half of the enterprises are opting for alternatives that allow for easy deployment and scaling.
"As the company size grows, it is much more likely that they are hosting their database infrastructure both on-premises and in the cloud. The larger the organization, the more complex the hosting environment," reveals the report.
8. AWS is the dominant cloud provider
More than 50% of enterprises are using Amazon Web Services (AWS). Following AWS, Google Cloud and Microsoft Azure are being used in around equal numbers.
The large enterprises (41%) prefer to use multi-cloud deployments. When it comes to choosing the cloud, the SMBs choose Google over Microsoft, while large enterprises choose Microsoft over Google. This shows that the SMBs want cost-effectiveness and agility.
Related read: Cloud Hosting – The Best Option for Small Business?
For more insights from the survey, download the full Open Source Data Management Software Survey report.
Images source: Percona