The recent pandemic has surely reshaped the way in which a lot of industries operate. Brands are now relying more on Artificial Intelligence, Machine Learning and Chatbot technology to manage much of the workload required and for meeting their customer needs.
Here we look at some of the benefits of chatbots and how they can be used as an integral part of your social media strategy.
What is a Chatbot?
Chatbots or digital assistants are described as one of the most innovative and promising expressions of interaction between humans and machines. Designed to convincingly simulate the behavior of a human conversation, chatbot systems can typically interpret and process the user requests and give prompt relevant answers.
Thanks to Artificial Intelligence and Machine Learning, chatbots can now improve through time by analyzing past conversations and interpret human emotions based on previously acquired data. These intelligent chatbots outperform humans in terms of accuracy and speed and are available 24/7.
Benefits of Chatbots
Better Customer Service
AI-enabled chatbots can help establish a 24/7 online presence for your business by sending out automated responses to inquiries received.
Help Make Quicker Purchase Decisions
By providing customer assistance and engaging in a proactive interaction with the customers, chatbots can provide the right support while making purchase decisions, leading to a quicker shopping process.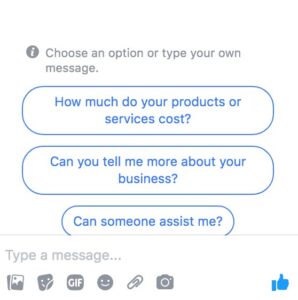 An Automatically Generated Chatbot Response
Monitoring Relevant Customer Data
By adding chatbots, businesses can attain relevant insights such as customer behavior, preferences and needs. This data can help businesses make relevant marketing decisions and develop a customer-centric strategy.
Lead Generation and Financial Benefits
Chatbots can encourage better qualification of leads by providing requested information and by asking relevant questions based on the existing data that has been accumulated during previous customer interactions and predefined queries to convert your prospects to customers. Research also reveals that chatbots can help businesses save as much as 30% of the cost that is being spent on customer support.
How Can Businesses Use Chatbots to Boost Their Social Media Performance?
1. Employ auto-responses
One of the ways in which you can make best use of chatbots as part of your social media strategy is by employing auto-responders. This is a chatbot that automatically responds to messages and comments regardless of user input, i.e the bot will give the same response to any comment or message.
HubSpot's Chatbot Software Provides Personalized Conversation
E.g., Thank you for reaching out to us. Our executive shall get back to you as soon as possible.
2. Respond to customer queries
You can effectively use chatbots as an online customer service representative. A well-programmed chatbot can answer simple or common queries made by the customer to complex queries.
E.g., What are your services?
Where are you located?
What are your business hours?
3. Creating a personalized experience
The more personal your chatbot is with your customer base; the better is your chance for conversion. Studies reveal that 80% of customers are likely to purchase from a brand that provides a personalized experience.
4. Get valuable feedback
Each conversation carried out by the bot is valuable. You can figure out customer preferences and needs by collecting customer feedback. You can further analyze this data to modify your responses for the future. For instance, if your customers are particularly keen on something and enquiring a lot about it you can customize your chatbot to answer them the next time. You can also collect data on how you can improve your services using a chatbot after every conversation.
Chatbots can also be incorporated in websites. Customers would love it when there's always someone available to answer their queries and chatbots could easily serve this purpose. They can be also integrated with voice recognition and facial recognition features to extract information from the customers. Chatbots would also prove beneficial for IT departments and IoT Services in handling common queries especially in this work from home scenario.
In short, Chatbots can revolutionize the way customers experience your business and, if used in the right way, can put your business right in the heart of the action. Chatbots can create a new, smarter way for customers to get the information they need and engage with your business, products or services. Over time, these intelligent virtual assistants have become more sophisticated and have adapted new innovative features that improve customer experience. Artificial Intelligence (AI) service providers have programmed chatbots to stimulate conversation and recognize the emotions and intentions behind a customer's message. With AI-implemented chatbots, businesses can understand whether or not customer conversations are going well and hence improve the support experience through an efficient, conversational interface.
At ThinkPalm, our AI capability can help you custom-build your assistant chatbot, social chatbot, and sales – marketing chatbots. Just let us know what's on your mind and we'll work with you step-by-step on what you need to get ahead of the game — and stay there.
Originally published at ThinkPalm.com
The post What Are The Benefits Of Chatbots And How Can Businesses Use It To Boost Their Social Media Performance? appeared first on NASSCOM Community |The Official Community of Indian IT Industry.