Cloud computing is the delivery of computing services like servers, storage, databases, networking, software, analytics, and intelligence over the Internet or the 'cloud'. It enables organizations to innovate faster, have flexible resources, and economies of scale. Here, organizations pay only for the cloud services they use, which reduces the operating costs and runs the infrastructure more efficiently.  
Cloud computing is a big change from the traditional way businesses use IT resources. Recent years witnessed a huge surge in companies going for cloud adoption due to digitization and new technology developments.  
Most cloud computing services can be categorized as infrastructure as a service (IaaS), platform as a service (PaaS), serverless computing and software as a service (SaaS). The cloud has allowed businesses of all sizes to be more efficient and independent. As the cloud industry grows and new technology develops, entrepreneurs and innovators will continue to push the industry to new levels.  
Countries having the maximum number of cloud companies 
The United States is known for having many entrepreneurs working on the new technologies. This makes it a good place for making new cloud-based products. It is the breeding place for almost 2065 cloud companies. 
At the second spot is the United Kingdom with 262 cloud companies. Here, the government has recently set core objectives to "sustain strategic advantage" in its technological developments by 2023. European countries, including Sweden, France, and the Netherlands boast widely diverse clusters of cloud-based companies and feature more on the top 20 than any other continent. 
Canada, China and India occupy the third, fourth and fifth spots with 169, 157, 156 cloud companies respectively. 
US states having the maximum number of cloud companies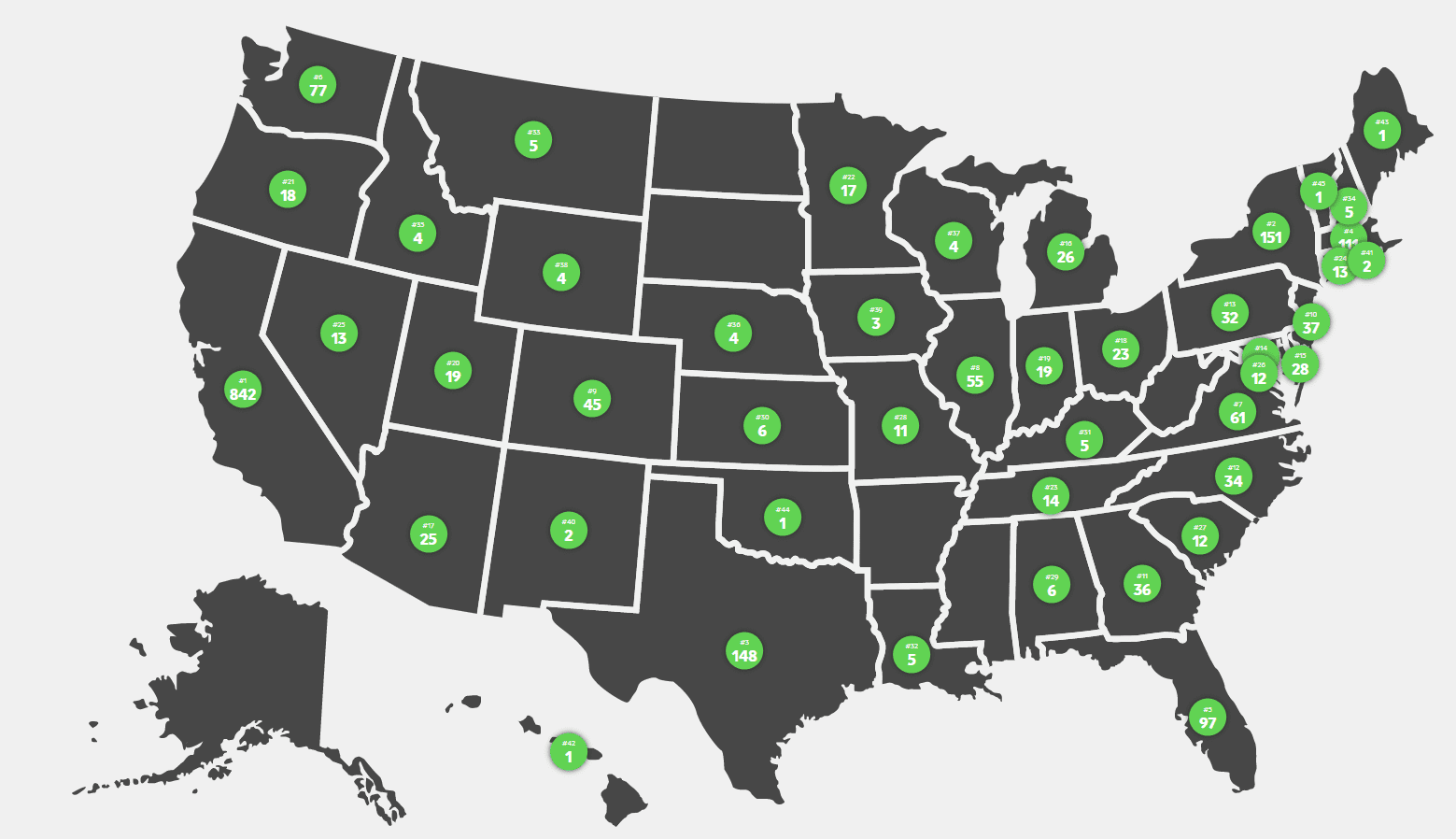 The United States is known for hosting some of the world's best cloud computing businesses. These include both longstanding businesses and startups. California leads the pack with 842 cloud companies in the state alone. Silicon Valley, located in the North California region, has long been known as the global center for high technology and innovation with cloud companies spanning across the state, from Santa Clara to Palo Alto and Cupertino to Irvine. 
New York (151) and Texas (148) are respectively making their own paths in the East and South regions of the United States. These 299 businesses are much less in comparison to California's cloud catalogue. However, these have the potential to grow and develop in the future.  
The growth of cloud startups 
The United States has a long history of being a key player in the cloud business. But other countries are catching up, and the future could look very different. The snapshot below shows the top 5 up-coming countries for cloud entrepreneurs. They have been listed based on the number of cloud-based startups in the last 5 years and plotted against the population of each country to show the true scale of growth.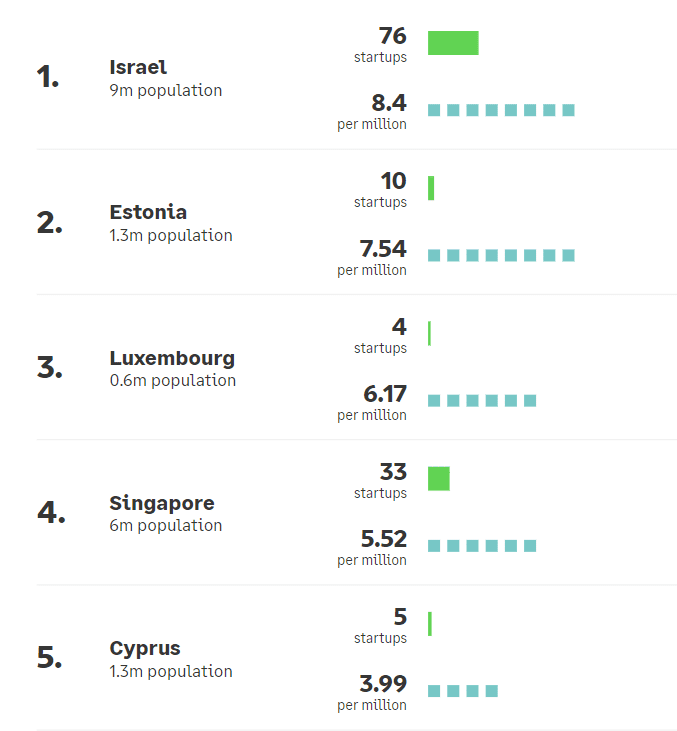 Israel is having a rapidly growing cloud startup economy as the country can boast of 76 cloud startups founded since 2017. It has the highest proportion of cloud-based businesses per million people, which is 8.4. 
Another country that is showing significant growth in cloud business is Singapore. It will possess exemplary cloud computing skills in the future. 33 cloud computing startups were founded in Singapore over the last 5 years. Its proportion of cloud startups per million people is 5.5. Moreover, Singapore has a relatively low corporate tax rate of 17% and has internet speeds of 211 Mbps, one of the fastest in the world. 
Despite being a comparatively small island, Cyprus is another cloud center to look out for. It has a low corporate tax rate of 12.5%. Its Cypriot Investment Program offers citizenship in a faster pace for foreign investors. 5 cloud computing startups were founded here since 2017. Many more startups are expected to spring up in the very near future. 
Top 5 cloud startups based on funding 
eStruxture, based in Montreal, is the largest Canadian network and colocation data center provider. It has received the most funding since its inception in 2017. The business received investments totaling over $919 million from huge investors like the National Bank of Canada. It has data centers in 15 Canadian locations. 
Kitopi is based in Dubai and offers services for restaurants enabling them to open delivery-only locations. It raised over $800 million in investment since 2018. Kitopi now operates with a dual strategy. It combines cloud kitchen tech with insights from traditional restaurants. This is enabling more extensive data collection for their customers. 
Group 42, also referred to as G42 is based in UAE. It has attracted substantial amounts of funding. The Silver Lake and Mubadala backed business managed to raise $800 million towards its AI-focused endeavors over its 4 years of trading. 
Megazone Cloud is an AWS Cloud MSP and leads the Korea Cloud Market since 2012 when it was selected as the first AWS official partner in Korea. Backed by Salesforce Ventures, MBK Partners, KB Financial Group, Korea Investment Partners and Korea Development Bank, Megazone Cloud managed to garner an investment of $673 million. 
Axonius, based in New York, offers infrastructure and security operations solutions. It was able to raise a funding of $665 million. 
The cloud computing industry is booming and shows no signs of slowing down. Although 2017 was the year of cloud computing, this industry is expected to grow even more in the years to come. With businesses becoming increasingly digitized and reliant on technology, it's no surprise that cloud adoption will continue to rise. 
Source: Sage Intacct 
Read next: 75% of organizations are looking for security vendor consolidation, reveals Gartner