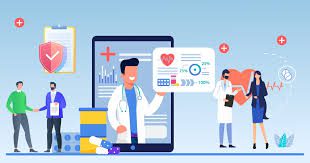 The pandemic led to a surge in teleconsultations not only for COVID-related consultations but also for other chronic diseases. During this period, many governments, hospitals, e-pharmacies, and even corporations have adopted telemedicine in their employee wellness strategies.
An increase in digital penetration and changing patient behaviour will lead to rapid growth in telemedicine. It is believed that telehealth will see rapid growth, much like what EdTech has seen in the last two years.
The Telehealth and Telemedicine Market is fairly fragmented. While the key companies continue to drive innovation and, in most cases, adopt digital transformations, the overall competitive ecosystem is dominated by Market leaders as well as emerging players with niche offerings.
Market size:
As per the assessment conducted by Market Research Future (MRFR), the Global telemedicine market size is expected to acquire a value of USD 56,738.3 while expanding at a CAGR of 16.8% by 2023. (https://www.marketresearchfuture.com/reports/telemedicine-market-2216)
During the evaluation period, the increasing adoption of electronic health records (EHR) and electronic medical records (EMR) is projected to be a significant catalyst for the growth of the telemedicine market. The demand is expected to grow during the measurement period with the growing prevalence of chronic diseases such as cancer and diabetes.
Role of AI
Danger prediction and management are enabled through the implementation of AI & analytics in telehealth services. In the coming era, the increasing effectiveness offered by AI is likely to provide different opportunities for telemedicine market expansion.
The epidemic of COVID-19 is also expected to be another critical factor that could fuel the growth of the market. Thanks to increasing online consulting, the telemedicine industry is expected to see positive growth during the pandemic period.
Telemedicine became, as the lockout was enforced, the fundamental requirement of the general public. During the pandemic, which is forecast to popularize the telehealth sector, numerous countries took measures to popularize the operation.
Market outlook
Because of the steadily rising consumer pool and the increasing acceptance of telehealth facilities, APAC is projected to be the fastest-growing sector to satisfy the need for it. It is predicted that emerging countries such as India, China, and Japan will play a crucial role in growing the regional market.
Different programs have been initiated by developed nations, which have given great priority to facilities. Furthermore, the COVID-19 epidemic is expected to further push the region's market.
In order to achieve a strategic edge over the other players, the existing core players of the global telemedicine industry are making tremendous investments in developing advanced healthcare systems. When several new entrants enter the industry, develop and implement the latest technology, the market is projected to become very competitive.
The post Telehealth and Telemedicine: Way Forward appeared first on NASSCOM Community |The Official Community of Indian IT Industry.