In today's scenario, the reality is that …Your customer sits in his/her private space/ home and takes decisions. Your sales guys are still sending emails and calls. What is the plan for 2021?  Are you changing the process based on this changing buyer behavior? In this blog, I suggest a few points, mainly for b2b sales.

b2b decision-makers are more knowledgeable than the Suppliers' Sales or Business development executive
b2b decision-makers are not taking/accepting cold calls or cold visits from Sales/ Business Dev Executives
80% of the decision-making are taken before contacting the Supplier/Vendor
Then what is the role for sales, marketing executives, business development executives who are making cold calls, visits, and scouting across the cities? Think about the time, money spends and it's a loss.
How to solve this problem? We all know about it, however, we miss due to other priorities.
Culture – Propagate and adapt value-driven customer experience
Strategy – Focus on content-based inbound lead generation and conversion, based on your sales goals.
People –  Identify the skills gaps of your customer-facing team: SkillUp/Re-Skills/Cross Skills towards digital sales.
Process – Establish a clear and smooth digital sales Enablement and align with your people and sales goals
Technology – Use existing technology assets, maximize its implementation and align with your sales goals
Establish a digital sales process.
Digital sales are nothing but convert your online presence to a sales funnel with a call to sales action.
Today, 90% of B2B decision-makers are categorized as informed buyers. They start their search for information alone in front of their computer, using search engines.
They evaluate the products and services well before contacting a salesperson.
Your B2B target customers carry out an average of 14 generic searches before coming into contact with a specific brand.
Your b2b decision-maker will check your company information before meeting the vendor. They will visit the company website from a minimum of 4 times to 14 times. They will see at least three of your competitor and do the same process.
However, it does not interact with the brand for long and favors short, impactful, and interactive content formats.
b2b decision-makers are expecting different types of documents for evaluation such as brochures, comparative studies, case studies, whitepapers, user cases, and many more. During the period of the buying process, at least eight different types of documents are shared. This before the trail run or proof of concept agreement. Your website must be ready, or your sales enablement must be prepared to provide different pieces of content before a B2B buyer contacts your business rep.
Have a digital sales enablement in place aligning your team and digital sales channels.
Sales enablement can offer the most straightforward avenue for teams to gain a competitive advantage.  It can tap unseen opportunities if we work under the base assumption that most salespeople are competent in their job and what they are selling is valuable.
What really matters is how effectively you use the already invested digital assets and software.  It is not about which products/ brands or how many applications you have integrated with, what matters is how effectively you use the application.
Simple to say, it's not about what car you drive to reach the destination, it's about how well you drive!.
Assess your team's skills for these changes.  Good day!
Raj Mohan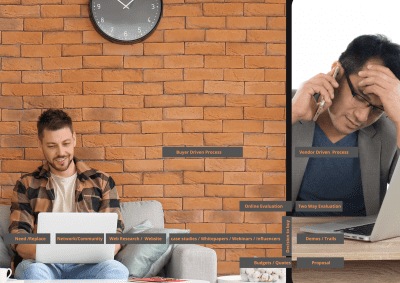 The post Skills mapping required for digital sales appeared first on NASSCOM Community |The Official Community of Indian IT Industry.