Below are some of the learnings from the panel discussion on "Semicon Is Hard and It's Heart" from the 13th NASSCOM Design and Engineering Summit held in Oct 2021.
Semiconductors are present in all devices around us, enabling us to get more involved into the digitized lifestyle. India already has semiconductor design capabilities for the last many years. However, the question remains is that how India can play meaningful in the semiconductor manufacturing value chain.        
There are many things that work in India's favour such as –
India's strength is in design and the country has design capabilities.

India also has electronic design automation (EDA) capabilities as well and strong developmental capabilities are also present in India

Verification and validation of physical silicon is done as well from India.

Indian engineers are fast learners and India has a large English-speaking population as well.
Specific to semiconductor manufacturing, what kind of approaches and strategies can be considered by India?
Chip manufacturing capabilities need to be built in India and there are many strategies that can be considered –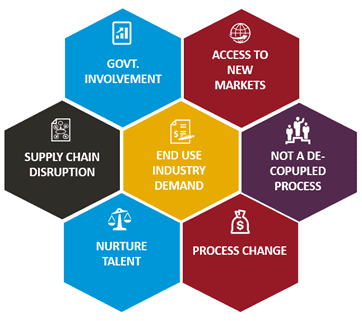 Increased govt involvement is critical to bringing manufacturing into a country.

Existence of a market – This does not imply domestic demand or domestic market, rather focus must be on exports as well. Many a times, domestic demand does not suffice.

There has been disruption in supply chain and there is an urgent need for alternate supply chain. Geographically, the concentration is around 1-2 regions – Vietnam, Korea, Taiwan, China, etc. This would change if India entered the manufacturing side.

End use industries manufacturing also needs to be propelled. E.g. One end use industry such personal computers and end-to-end PC manufacturing for domestic market and exports is necessary to build up semiconductor demand within the country. Manufacturing capabilities in the end-use industries are also important.

Manufacturing in semiconductor is not a de-coupled one off process. Semiconductor is not just chips, there is a significant software element attached to it as well. Eg. Infineon has all the software to become an automotive company today. Therefore, should chip companies focus on software and be more of a service-oriented and system solutions company is something companies must ponder over.

Semiconductor talent also needs to be nurtured. Should there be focus on manufacturing services as well?

Business and processes are expected to change in the future. There is expected to be a combination of design and actual manufacturing processes.
There have been many non-traditional entrants with software capabilities as well who are either entering or planning to enter the semiconductor market. Traditional software companies like Google, Microsoft etc. all have chip initiatives in their future company strategies. There seems to a huge momentum in building demand and towards manufacturing and many countries are expecting to cash in on the same.
To read more about the Engineering R&D Industry of India, please follow the links to access the "Advantage India: Gateway to Global Engineering R&D and Innovation" report
 NASSCOM Community – https://community.nasscom.in/communities/engineering-research-design/advantage-india-gateway-global-engineering-rd-and
 NASSCOM Website – https://nasscom.in/knowledge-center/publications/advantage-india-gateway-global-engineering-rd-and-innovation