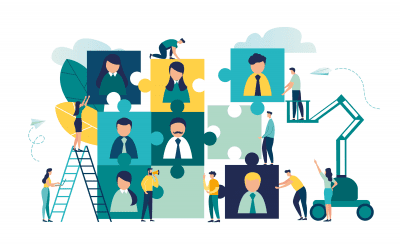 Human resource management is one of the most complex business functions. It requires a firm to engage with a zillion dreams, ambitions, strengths, weaknesses and much more; and bind them to drive employees towards a common business goal. Hence, in the organization of any size, the role of HR team takes centre stage to define the overall work culture. Did you ever wonder, what all take up space in an HR professional's mind? To find the answer, Kelly Services India ran a poll and engaged with HR professionals across India. Below are the findings and in-depth analysis of what is taking up HR Professionals Mindspace and why.
Hiring and Talent Mapping
39% of the participants expressed hiring is the top priority for them, and 27% voted in favour of talent mapping. It may not be surprising that HR professionals engage in hiring and talent mapping, but this trend is revealed at a time when economic activities were presumed to be in a lull. Indicating a passionate approach towards business goals and a compassionate approach to provide employment in the testing times.
The trend may also indicate the drastic alteration in job roles across verticals. The world was already transiting fast with companies slowly warming up to the technology. However, the dependency on technology swelled with the arrival of unprecedented lockdowns due to the pandemic. Work-form-home made it necessary for every employee to have a laptop/smartphone. Suddenly, the job roles, including the traditional ones, evolved demanding knowledge of technology from basic to advanced.
Besides, another interesting process that is keeping HR professionals on their toes is strategic hiring. 66% of HR professionals think about how to find and reach the right talent at the right time. In general, lateral and strategic hiring is a time consuming process. Therefore, presenting a suitable opportunity to the right fit of the firm at an appropriate time can cut down on time and costs of a firm. This trend also indicates an increased requirement to hire the right leaders for the firm. The grand visions of many businesses went into forced pause for a long time due to the pandemic. Now, as the companies prepare to resume their activities, it is only the right leadership that can help firms to get back on the tracks.
The improvement in the hiring scenario is widely visible on various job posting portals. A recent report by one such portal revealed that hiring posts on their platform increased by 5.55% in October 2020 compared to September 2020. Sectors such as BSFI, pharma, packaging, IT, data analytics, e-commerce, and more are experiencing a surge in hiring. Interestingly, remote resource hiring (the gig economy) and contractual hiring are on the rise. Companies, especially in the IT sector, are engaging with niche-skilled professionals (developers, designers, writers, etc.) to get the job done.
Salary benchmarking
19% of HR professionals said they focus on salary benchmarking. Right compensation combined with the desired job role is what makes any job a dream job. For ages, various industry studies indicate how employees are unhappy with their salary and other benefits. Today, the job market works differently. Unlike yesteryears, the power of choice has shifted to qualified job seekers and doesn't rest with the companies any more. Well informed and eager to get desired exposure, top talent understand their value and worth. Therefore, a well-studied and a well-planned compensation is integral to attract top talent and to retain them.
When we say "benchmarking", the companies must not only look at the industry standards but also benchmark their offering with the candidate's expectations as well. Our 2020 APAC Workforce Insights report indicates how the majority of candidates/employees prefer and are happy with tailored compensation or benefits rather than the standard offerings. This is also directly related to the life-span of the employee in the company as well. A happy employee is willing to give four years or more to the company as compared to an unhappy employee, not willing to give more than a year to the firm.
An effective HR professional will always work along with the top management to devise a lucrative compensation package to avoid dissatisfactions and negotiations during the interview process. The right compensation doesn't only motivate the existing employees but also attracts suitable candidates.
HR Policy
The poll found that 15% of HR professionals focus on building robust HR Policies. A policy is an assurance for all the parties that their needs and expectations will be taken care of well. Similarly, HR policies enable both the employees and the firm to understand, respect and take care of each other's needs. A clearly laid out policy cuts out any implied process, understanding or expectations. It allows all the employees to understand their relationship with their jobs, company and peers, and vice versa.
Also, HR policies hold the utmost importance in building an amicable work culture for the cosmopolitan workforce. Today, the majority of companies prefer to have cosmopolitan teams to expedite company growth. While the difference in perception does allow firms to find creative solutions, but the same differences can also build team tension. Therefore, to set the expectations right, HR policies are critical to binding a cosmopolitan team together.
One must also note that, when such policies are built at an early stage of a firm's journey are more beneficial than tweaking the entire system upon realization of the need. For startups and MSMEs, it is not easy to carve out a suitable HR policy with lean HR teams and therefore, it is recommended to on board an HR advisory firm. It is a given that every service is measured based on the cost it bears on the startup/MSME. However, when put against the service's long-term benefit, every ounce of the price will seem worth spending.
These findings indicate how HR professionals are organically evolving towards a more strategic role aligning with the broader business goals. The HR professionals of today are contributing directly to the larger picture of the companies with creatives solutions around resource planning and management.
This article was originally published on Kelly Services Blog
The post READING THE MINDSPACE OF AN HR PROFESSIONAL appeared first on NASSCOM Community |The Official Community of Indian IT Industry.