Email has been one of the most basic yet primary sources of communication in business – for both customers and employees. And despite several communication mediums like chat, messaging, etc. available today – organizations still rely on professional email to communicate with their stakeholders while keeping the data and information secure.
As per a report, in 2022, there were an estimated 333.2 billion emails sent and received around the world, and this number is set to increase to 376.4 billion by 2025. Email is and will continue to be one of the easiest, fastest, and most convenient modes of communication.
The utility of emails within businesses is even more pronounced. Every day emails help organizations reach clients and prospects faster – without any language or location barriers. Email is also one of the most powerful and proven marketing communication mediums among both small as well as enterprise-scale organizations.
Bloggers too are opting for professional email hosting to add more credibility to their websites. The continued demand for email hosting is also an opportunity for resellers or hosting providers – who can bundle powerful email hosting solutions in their offering – to provide their customers with an easy-to-use email solution.
We will be talking about one such email hosting provider in this article – popularly known as Qboxmail.
What is Qboxmail?
Qboxmail is a complete and professional cloud email suite built for safely managing corporate emails and calendars. As a growing email hosting provider, Qboxmail offers dedicated email hosting services to reseller partners like hosting providers and website builders as well as companies. The company already operates in more than 30 countries.
The company works with the mission to help organizations save time in managing their customers' emails and invest that time to focus on innovation. Qboxmail email hosting is built on the cloud. Cloud email services are growing in demand today, due to the various advantages they bring:
Easy to use: Cloud emailing solutions give you access to messages via any connected device – without bringing any infrastructure or installation hassles.
Cost efficient: On-premises email solutions might seem attractive – however, when it comes to the cost of server installation and maintenance, it is a big NO. Email hosting on cloud, on the other hand, is mostly charged on usage basis. Like, you might need to pay only for the number of users and storage space.
Scalability: For a growing business, cloud email solutions are a perfect addition as they can scale as per the needs of your business. Customers can scale from 1 to 10,000 user accounts – as per requirements.
Security and disaster recovery: Cloud offers the maximum data security, availability, and recoverability – thanks to automated and regular backups.
We will walk you through the Qboxmail cloud emailing solution in this article. First, we will talk about the WHMCS Module – which is for hosting providers and resellers. Second, we will cover the features of Qboxmail in detail.
Qboxmail WHMCS Module – a white-label solution for hosting providers
The Qboxmail WHMCS Module is designed to allow resellers and hosting providers to sell Qboxmail premium email accounts to their customers directly from their marketplaces built with WHMCS. It helps customers bundle a professional cloud email service with their domain or web hosting plan.
The Qboxmail module for WHMCS is free. Some of the benefits include:
Allows customers to buy professional email from the resellers' WHMCS panel
Reseller's customers can easily add, remove, enable, or disable mailboxes
It also allows managing quota, updating passwords, adding, or removing aliases, etc.
Customers can login into webmail or email control panel
Resellers can also create different products as 'email packages'
Ability to customise the access URL of the Webmail and Control Panel as well as all access parameters such as MX records, POP, IMAP, SMTP, SPF etc.
How does the Qboxmail WHMCS Module benefit the resellers?
Qboxmail WHMCS module can help resellers and hosting providers increase the value of their offerings by adding a robust and professional email solution on top of their primary offering. In-house emailing solutions do not offer comprehensive features and might also pose scalability and security challenges.
White labeled solution by Qboxmail helps web hosting providers overcome these challenges – and sell a robust email solution built on cloud to increase their revenues.
They get a set of tools with which they can expand their business and enrich their offerings. Qboxmail Control Panel allows hosting providers to manage their customers' emails with more flexibility and automation.
Benefits for the hosting providers and resellers:
If a hosting provider uses WHMCS to manage the sales of web services, they can use Qboxmail module for WHMCS. This is possible with the help of APIs. The Qboxmail module for WHMCS is free – the users can simply add email in the cart, and it will be activated after payment.
Complete WHMCS Integration for easy installation and management
Multi-tenant Control Panel to manage every aspect of your customers' email hosting
Help Desk tools, real-time analysis of email traffic log
White-Label Solution. Customise access parameters and display your logo
Automatic migration support from other email servers
API support for software integrations and for white labeling
White labeling for both webmail and control panel
Benefits for the hosting providers' customers:
Mailboxes up to 100 GB
Professional webmail with user-friendly interface
Manage shared Contacts, Calendars and Tasks integrated in Webmail
Robust built-in email security solutions (more on this later)
Account Takeover Protection Service
Access policy management and 2FA (Two-Factor Authentication)
Backup included in the service price
Email archiving with no limited space
Optimised deliverability with customisable DKIM signature
Conduct video meetings with Zoom integration
Apart from the above, it also supports vacation messages, aliases, forwards, sieve rules, and canned messages.
The hosting providers and resellers also get complete technical support. The ticket support is available 7 days a week. Also, the pay-per-use billing system allows the customer (reseller or hosting provider) to pay for the service consumed.
Qboxmail features you get as a white label email reseller
Let's talk about the features of the Qboxmail email management service, some of which we mentioned briefly before, in detail.
Control Panel – a single panel to help resellers manage all email accounts
The Control Panel by Qboxmail is developed from scratch to meet the demands of all types of users – both resellers and IT managers.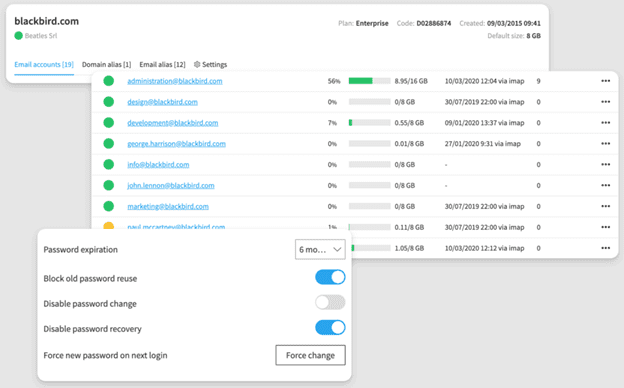 The single dashboard feature helps admins to manage all premium email accounts from one place.
Control Panel offers multilevel choice – giving ample freedom to both resellers and companies with their own IT department. Customers can create different roles for additional users or external collaborators with specific user rights.
Control Panel allows customers the ability to white label the panel. For resellers – this allows them to sell email hosting solutions under their own brand name. For customers, they can customize the panel as per their own branding requirements. It allows you to customize the appearance of the web interface. It also allows private labelling depending upon the plan picked by the customer.
Webmail Support – access mail online without requiring any installation or configuration
Qboxmail offers a modern and user-friendly webmail interface that allows the end customers to manage their mails professionally without requiring any installation.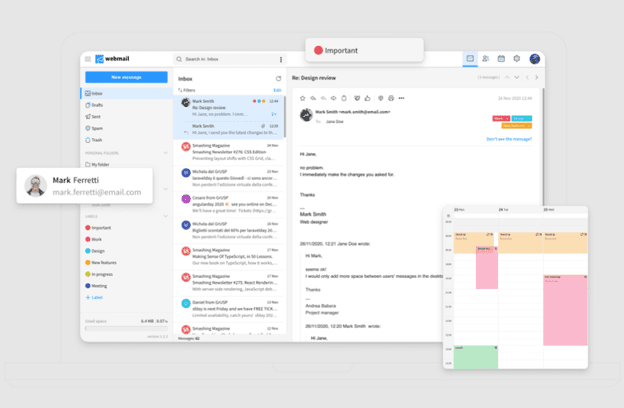 Custom signatures to help customers manage and use associated identities and to give a more professional look to their email messages.
Multiple features to help customers organize emails Highlight and categorize emails with custom labels. Virtual avatars to help recognize senders and automatically receive mails in pre-designated folders via advanced filtering.
Supports real-time collaboration with the ability to share mail folders and assign specific permissions. The shared folders can also be accessed by all the email clients configured in the IMAP.
Zoom Integration for video meetings is to help customers organize video meetings directly from the Calendar. It also supports sending invitation to people outside of the organization.
Calendar and contacts – facilitating real-time collaboration
Qboxmail email hosting also comes with professional Calendar and Contacts feature. The Calendar allows customers to manage their appointments in an easy manner.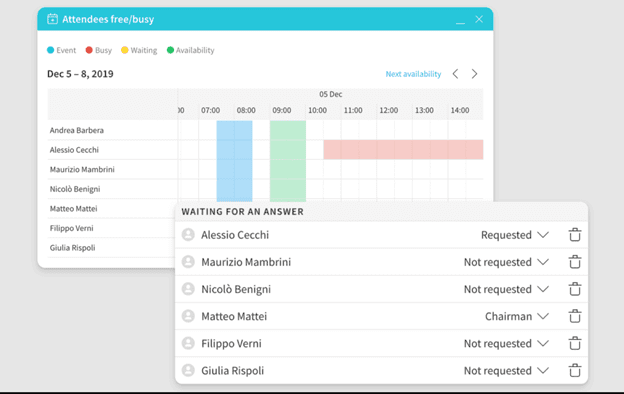 Supports creation of multiple calendars and allows customers to share them with internal collaborators.
Ability to add events to calendars quickly and schedule alerts, invite participants, or add attachments.
Supports creation of personal address books using the Contacts
The contacts also support automatic collection of new email addresses to optimize your workflow.
Email Security – in-built email security management tools and features
The Qboxmail email hosting comes with in-built email security. Customers do not need to install or configure any external gateways or services. The service is designed to offer both active and passive protection.
Active protection is targeted at protecting mailboxes from malicious attacks directed towards the email addresses.
Passive protection works on increasing the security of the company's mailbox using targeted and configurable security policies.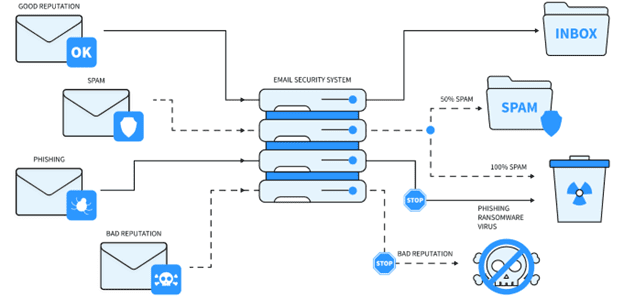 The service also offers multilevel protection with Active Antispam and Antivirus protection. This also includes protection against ransomware, phishing, trojan, bulk email and unwanted emails.
It also offers Account Takeover protection – an attack in which the criminals manage to steal victim's identity by stealing the login credentials. In Qboxmail, the accesses to mailboxes are constantly monitored to identify any suspicious activity and alarm the user.
Qboxmail also allows customers to set and manage various security policies. These include – force password change for first-time users, disabling password change, blocking old passwords reuse, force two-factor authentication, restrict access by unauthorized IP, etc.
Imports and migrations – migrate emails quickly and easily
Qboxmail supports easy migration via importing tools available in the control panel. Customers can manage migrations by themselves. If required, they can also contact the technical team.

Easy activation of bulk domains and mailboxes with the ability to import alias domains, domains, email accounts, and email alias.
Migrate all email messages and folders from the old server to Qboxmail with a simple CSV file.
Transfer messages from Gmail, Office 365, and Exchange via Master User and OAuth 2.0. Run a second migration, to get back messages received from the old email server during the DNS update phase.
If you're a reseller interested in selling professional email services, you can get more details about Qboxmail's Reseller Program and available discounts to help you get started easily.
Special discounts and offers are also available for hosting providers and website builders. You can get in touch with their team to know more.
Why go for Qboxmail?
Qboxmail with its amazing features and modern collaboration tools is the ideal email hosting provider. Whether you're a reseller – looking to add a personalized email service to better manage your customer emails or a web hosting provider wishing to offer a personalized email service to your end customers – Qboxmail is your go-to solution.
With features like white labelling, centralized email management, payment flexibility, technical supports, etc. it can simplify email management for you as well as your customers. If you want to know more about the solution, you can sign up for a free trial and experience it yourself.
Disclaimer: The website may receive compensation for reviews or advertisements, but we always give our honest opinions, findings, beliefs, or experiences on those topics or products. The views and opinions expressed on this website are purely the website's own. Any product claim, statistic, quote or other representation about a product or service should be verified with the manufacturer, provider or party in question.