As per findings shared by the Atlas VPN team, based on information from Freedom House, only 17% of internet users enjoy access to a truly free internet. Over the past 13 years, the online environment for human rights has seen a consistent decline, with the most significant drops observed in Iran, trailed by the Philippines, Belarus, Costa Rica, and Nicaragua.
For the ninth consecutive year, Chinese internet users endure the harshest content restrictions and government censorship. Conversely, Icelandic users have been enjoying the highest level of online freedom globally for the fifth year running.
The research indicates that 36% of global internet users grapple with the absence of internet freedom. This is defined by substantial challenges in terms of infrastructure, economics, and politics that impede access. Additionally, there are limitations on content, which encompass website filtering and blocking, along with infringements on the freedom of expression, both through legal and extralegal means.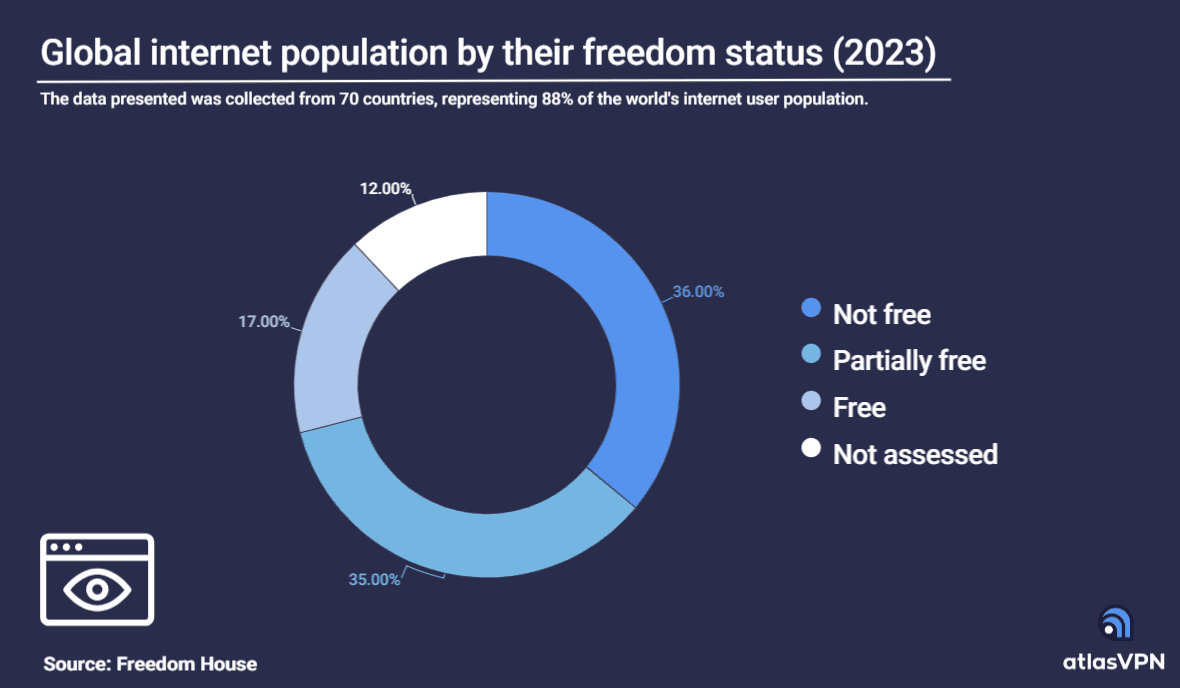 In other regions, the internet is partially free to 35% of its users. Countries like Hungary and Colombia are examples of this category. Even though they have open internet access, they also face threats, such as cyberattacks on media outlets or policies that interupt the operations of opposition groups, journalists, and nongovernmental organizations (NGOs).
Only 17% of the global internet population enjoys restriction free internet. Researchers found that little-to-no critical internet controls were exerted in countries like Costa Rica, Germany, Estonia, Canada, the United Kingdom, Argentina, the United States, and Taiwan.
Websites blocked by governments reach record-high
Researchers have observed a rise in traditional censorship methods among repressive governments, particularly in situations where AI-driven moderation tools prove inadequate in handling sudden surges of criticism and dissent.
One prevalent method of internet control involves the enforced removal of content, a tactic employed by 45 countries. This often targets speech focusing on political, social, or religious matters, despite being safeguarded by international human rights standards.
Moreover, a historic high of 41 national governments have instituted blocks on websites hosting similar content. For instance, the Belarusian government, which has supported Moscow's military actions, has restricted access to over 9,000 websites, including various independent news sites maintained by Belarusian journalists in exile.
The report highlights that 22 governments took measures to control or completely prohibit content on social media platforms in order to stifle dissent. A notable instance of this occurred during nationwide protests in Iran in September 2022. Iran periodically curtailed internet access and blocked WhatsApp and Instagram, the sole international social media platforms accessible in the country. Additionally, 19 countries enforced bans on VPN tools to deter attempts to bypass such censorship.
Throughout the study period, 16 countries imposed restrictions on internet connectivity. One such case was in Sudan, where authorities limited access to the internet following the 2021 military coup, severing communication channels for the opposition and concealing evidence of human rights abuses against them.
Read the full report here.
Read next: LogRhythm launches distributor partnership with infinigate group to strengthen the cybersecurity postures of enterprises in the UKI and DACH