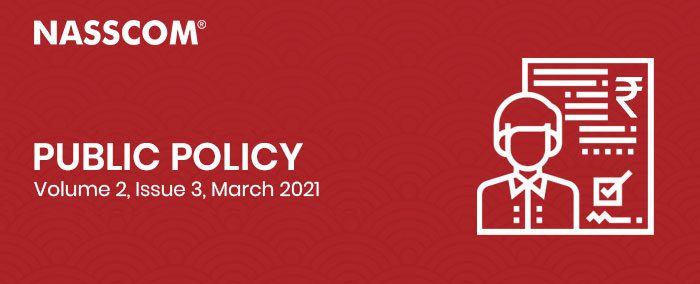 Focus of the month
  Union Budget 2021-22
The Union Budget 2021-22 seizes the available opportunities for growth in the technology sector by extending a conducive fiscal and policy environment. It also leverages India's existing strengths, for example, in financial technology with a proposal to set up a world-class fintech hub and an allocation of INR 1,500 crore to provide financial incentives for digital payments. Moreover, there is increased focus on innovation and skilling, which will enhance Indian IT-ITeS industry's growth. Key highlights of the budget are available here.

On 2 February 2021, NASSCOM conducted an interactive panel discussion on the impact of the Union Budget on the Indian economy and the technology industry. Recording of the discussion is available here. Further, based on the industry feedback, NASSCOM submitted its post budget suggestions to the Ministry of Finance (read more).

  Information Technology (Intermediary Guidelines and Digital Media Ethics Code) Rules, 2021
On 25 February 2021, the Ministry of Electronics and Information Technology (MeitY) notified the Information Technology (Intermediary Guidelines and Digital Media Ethics Code) Rules, 2021 (IL & DMEC Rules) under Section 87 read with Section 79(2) of the Information Technology Act, 2000.

The long-awaited rules, which are in supersession of the Information Technology (Intermediaries Guidelines) Rules of 2011 (IL Rules) carry forward some of MeitY's key proposals towards tackling the issue of rapid dissemination of illegal content and misinformation on social media and communications platforms, as indicated in the draft Amendments to the IL Rules released for public consultation in 2018. The IL & DMEC Rules aim to address many of the concern areas of grievance redressal, fake news, online safety, and parity with existing laws. NASSCOM had been working closely with its members to share feedback on the draft Amendments IL Rules, and some of these recommendations have been accepted in the IL & DMEC Rules announced by the Government. From a user perspective, strengthening the grievance redress mechanisms, the option of voluntary self-verification of user accounts and the right to receive explanatory notification on removal or disablement of access and to seek remedy against the action being taken by the intermediaries should be helpful. This will require the right implementation and should not become onerous for the social media platforms (read more).
Submissions and Representations
  MeitY: Feedback on the Draft National Blockchain Strategy
Earlier in January, the MeitY released a draft of the National Blockchain Strategy. Based on industry's feedback, particularly the Banking and Financial Services Industry (BFSI) sector, where early adoption of blockchain has been prominent, NASSCOM made a submission to MeitY on 16 February 2021. The submission, inter alia, highlights the need for shortlisting appropriate use-cases, addressing tokenisation, considering appropriate legislative changes for enabling wider adoption of blockchain and the need for more clarity over the role of the Government as ecosystem developer and regulator.

The submission suggests recognition of sector specific adoption strategies in blockchain and Distributed Ledger Technology (DLT) when it comes to data privacy, and recommends that the final strategy document should be informed by and harmonised with requirements under the soon to be finalised Personal Data Protection Bill, 2019 (read more).

 RBI: Working Group on digital lending, including lending through online platforms and mobile apps
On 5 February 2021, NASSCOM made a submission to the Reserve Bank of India (RBI) Working Group on digital lending, including lending through online platforms and mobile apps, based on inputs received during member consultation. Our submission highlights issues such as, lack of clarity on the categories of digital lenders and types of loans, presence of fake or unauthorised applications and lack of consumer awareness, among others. We also suggested adoption of a risk based regulatory framework, creation of database of authorized lenders and strengthening the enforcement mechanism for proper implementation of the Guidelines on Fair Practices Code and Outsourcing Guidelines. We will continue to engage with the industry and RBI Working Group on this front. For more information, please write to komal@nasscom.in.

 Equalisation Levy (EL): Compliance related issues faced by non-resident e-commerce operators
On 10 February 2021, NASSCOM made a representation to Ministry of Finance (MoF) requesting the government to issue a clarification that it is not mandatory for non-resident employee, verifying the annual statement of a non-resident e-commerce operator, to obtain and furnish Permanent Account Number (PAN) in India, as long as a valid Digital Signature Certificate (DSC) is used for verification.This will help in simplifying EL compliances for non-resident e-commerce operators and would be in line with the current process of filing tax returns for non-resident entities (read more).

 GST: Technical glitches faced by e-commerce operators on the GST Portal while filing GSTR 8
On 10 February 2021, NASSCOM made a representation to the GST Policy Wing to rectify the technical errors being faced by e-commerce companies at the time of computing liability of Tax Collected at Source (TCS) on the Goods and Services Tax (GST) portal.This will enable e-commerce companies to file GSTR 8 along with the correct reflection of credit in the returns of online sellers (read more)

 MeitY: Classification of items that use encryption technology under export control laws
On 22 February 2021, NASSCOM submitted a proposal to MeitY for review of the Wassenaar Arrangement (WA) Control List of Dual-Use Goods and Technologies. In the proposal, we highlighted the need for clarifying that only those items which use "cryptography for information security" as the primary function should be regulated according to the technical parameters in Category 5 Part 2 of the WA list. Items which use "cryptography for information security" functionality as the secondary criterion should be regulated according to the technical parameters in other categories of the WA List. This will help the industry in seamlessly exporting items/software/technology that uses encryption technology only for a secondary purpose, without requiring a licence from the concerned authorities (read more).

 SEZ: Issues faced by DTA Suppliers with respect to endorsement
On 10 February 2021, NASSCOM made a representation to the Department of Commerce (DOC) requesting that invoices issued by Domestic Tariff Area (DTA) suppliers should be made available on Special Economic Zone (SEZ) online system. SEZ online system should accept the digitally signed e-invoice received from Invoice Registration Portal (IRP).This will ensure real time availability of data to SEZ authorities. Further, SEZ authorities can validate the data based on information provided by IRP and approve for endorsement on real time basis (read more).

 Labour Reforms: Seeking prospective applicability of Gratuity provisions
NASSCOM recently made a detailed representation to senior officials of Ministry of Labour & Employment and NITI Aayog seeking their support on the issue of significant financial impact on the employer on account of the enhanced scope in the definition of 'wages', particularly related to gratuity, if implemented on a retrospective basis. NASSCOM suggested that the government should consider introducing a grandfather provision under the law to ensure that gratuity calculations are done as per the existing provision till the labour codes become effective. Post that, employers should be allowed to make contributions as per the new definition of wages, on a prospective basis. NASSCOM is actively engaging with the government on this issue and shall keep members informed of further developments.

 Data Centre Policy: Feedback to Govt of Haryana
Government of Haryana is currently in the process of formulating a Data Centre Policy for the State. In this context, on 8 February 2021, NASSCOM made a submission to the Department of Information Technology (IT), Government of Haryana, highlighting the key requirements of the industry. Our submission, inter alia, suggests that the State Government should introduce a deemed approval system for regulatory clearance, adopt independent building design norms to meet the unique structural requirements of data centres and allow data centres to procure and use renewable energy for 100% of their needs (read more).

 Tamil Nadu: Reduction in annual changes for laying overhead optical fibre cable
Based on the inputs received from the industry, on 4 February 2021, NASSCOM made a representation to the Department of IT, Government of Tamil Nadu, highlighting concerns around the significant annual charges for laying the overhead optical fibre cable. In our submission, we requested the State Government to review the current tariff policy to ensure the internet related services in the State remain affordable and accessible for businesses and end customers. For more information on this, please write to deepak@nasscom.in.
  Interaction with Ministry of Commerce: Inclusion of e-commerce exports in the new Foreign Trade Policy
The Ministry of Commerce and Industry is undertaking a review of the current Foreign Trade Policy (FTP), which is due to expire on 31 March 2021. NASSCOM has engaged extensively with the government to suggest, inter alia, introduction of provisions relating to e-commerce exports under the new FTP. In this regard, we had made written submissions to the Directorate General of Foreign Trade (DGFT), specifically for cross-border e-commerce. Further, on 10 February 2021, NASSCOM interacted with senior officials of the DGFT via video-conference to highlight the need for exempting payment of import duty on re-imported returned goods exported via e-commerce, end-to-end digitisation of the entire customs clearance process, creation of a robust logistics environment for e-commerce exports etc. Further, on 11 February 2021, in an interaction with the Minister of State for Commerce and Industry, we emphasized that e-commerce is the next big industry that needs focus from an exports perspective.

  Webinar: Labour Reforms and its impact on the IT-BPM industry
On 24 February 2021, NASSCOM conducted an interactive webinar to discuss the recent labour reforms and its impact on the IT-BPM industry. Several issues related to the impact of social security contributions on wages, definition of contract labour, work from home provision (including overtime provisions) under the Central and State laws were discussed. Post webinar, NASSCOM shared the summary of key concerns received from the participants with the Ministry of Labour & Employment. Recording of the webinar is available here.

  State IT-ITeS Policy: Interaction with Minister of Industries, Maharashtra
On 25 February 2021, NASSCOM and the Government of Maharashtra organised a meeting to discuss the upcoming Maharashtra IT-ITeS Policy 2021.The meeting was chaired by the Minister of Industry, Maharashtra and over thirty senior industry leaders from the IT-ITeS industry shared their views and suggestions for the upcoming policy. Taking IT-ITeS industry beyond Mumbai and Pune, forming an IT advisory council with participation from the government and industry, separate policies for key segments like data centres and Engineering Research and Development (ER&D), adopting a model Request For Proposal (RFP) for all IT procurement of the State Government and easing out the constraints in the implementation of the policy were some important themes that were discussed. NASSCOM also made a written submission to the Government of Maharashtra highlighting key suggestions (read more).
 Request for inputs: SEBI Consultation Paper on introduction of the concept of "Accredited Investors" in Indian securities market
Securities and Exchange Board of India (SEBI) has recently released a consultation paper inviting comments on the proposal to introduce the concept of "Accredited Investors" in the Indian securities market. Accredited Investors are considered to be informed investors on the premise that their financial capacity (generally ascertained from income and/ or net worth) enables them to hire expert managers/ advisors as required. In this regard, we request you to share your inputs/ views on the proposed framework, as well as other ways in which this concept may be utilized in the Indian securities market, and its implications. Please write to tejasvi@nasscom.in and garima@nasscom.in by 9 March, 2021 (read more).

 Request for Inputs: SEBI Consultation Paper on Review of regulatory provisions related to Independent Directors
SEBI, on 1 March 2021, released a consultation paper inviting comments on the proposal to review certain provisions relating to Independent Directors (IDs) serving on the board of listed companies. Given the key role IDS play in the overall Corporate Governance framework there is a need to further strengthen the independence of IDs. In this context, SEBI has made few proposals aimed at enhancing the effectiveness of IDs in protecting the interest of the minority shareholders, and other functions. Please send your feedback on the proposals by 20 March 2021 to tejasvi@nasscom.in (read more).
  RBI: Master Direction on Digital Payment Security Controls
On 18 February 2021, RBI issued the Master Direction on Digital Payment Security Controls. It provides necessary guidelines for regulated entities to set up a robust governance structure for security systems and to implement common minimum standards of security controls for digital payment products and services (read more).

  GST: SOP for implementation of the provision for suspension of GST registrations under CGST Rules
Central Board of Indirect Taxes and Customs (CBIC), on 11 February 2021, issued a Standard Operating Procedure (SOP) for implementation of provisions relating to suspension of registrations under the newly inserted sub-rule 2A of Rule 21A of Central Goods and Services Tax (CGST) Rules, 2017. The rules provide for power to suspend GST registrations in cases where there are significant differences or anomalies in the returns furnished by the taxpayer, indicating contravention of the provisions of the CGST Act or the rules. The SOP provides that taxpayers whose registrations are suspended would be required to reply to jurisdictional officer against the notice for cancellation of registration in FORM GST REG-18 through the common portal within 30 days from the receipt of notice/intimation (read more).

  GST: Issue of Circular to clarify certain aspects relating to Dynamic QR Code
The Central Board of Indirect Taxes and Customs (CBIC) issued a circular on February 23, 2021 to clarify certain aspects related to applicability of Dynamic Quick Response (QR) Code on Business to Customer (B2C) invoices. This circular clarifies that the requirement is not applicable for exports and for non-resident Online Information Database Access and Retrieval services (OIDAR) suppliers. Further, in certain cases, the supplier makes available to customers an electronic mode of payment like Unified Payments Interface (UPI) Collect, UPI Intent etc. where Dynamic QR Code is not displayed. In such cases, if cross reference of the payment made using such electronic modes of payment is made on the invoice, the invoice shall be deemed to comply with the requirement of Dynamic QR Code (read more).

  MCA relaxes definition of "listed companies"
Ministry of Corporate Affairs (MCA), on 19 February 2021, notified certain classes of companies which shall not be considered as 'listed companies' under the Companies Act, 2013 (Companies Act), by inserting a new rule in Companies (Specification of definitions details) Rules, 2014. Prior to this notification, a company with any of its securities listed on a stock exchange was considered as a listed company and was required to comply with SEBI regulations, in addition to compliances under the Companies Act. Now, such companies would not be treated on the same footing as other equity listed companies for the purpose of undertaking compliances under the Companies Act and SEBI (Listing Obligations and Disclosure Requirements) Regulations 2015 (read more).
The post NASSCOM Public Policy Monthly Newsletter: March 2021 appeared first on NASSCOM Community |The Official Community of Indian IT Industry.