Companies around the world spent ~$1.6 – $1.9 trillion annually on marketing with media accounting for the majority share of that spending at 40% in 2019.
Global Marketing Spending, 2019
Source: Group M
The pandemic has put some stress on marketing budgets in 2020, with all sub segments feeling the brunt except one – Any guesses??? That segment is software which includes both MarTech and AdTech.
MarTech which accounts for ~80% of the marketing software spent, continued to gain wallet share during the pandemic as COVID-19 accelerated the shift towards digitization for both consumers as well as businesses.
Covid accelerated the digital adoption by customers across the globe with 2X rise in Digital Commerce (2017-2021e), growth in social commerce (estimated to grow at a CAGR of 4% over 2020-2027) and 3X growth in video-on-demand (2019-2026).
Consequently, companies also increased their share of digital ad spending which toched nearly 55% in 2020 from ~40% in 2017. On the tech vendor side companies increased their focus on acquiring new MarTech capabilities in the areas of customer experience which took the top spot in the new normal.
This increased thrust of MarTech has also been a key factor driving innovation in the space with the total number of solutions rising 4X over 2015-2020. What stood out in 2020 was a significant increase in new solutions which focused on data, social and relationships.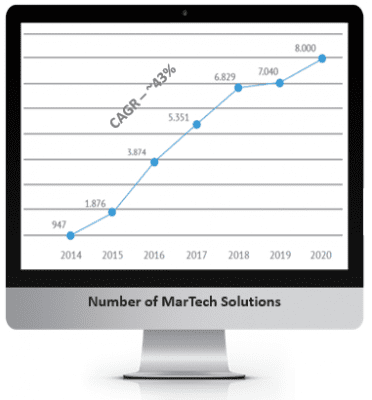 Source: Chiefmartec.com
What does this boils down to?? An increasing focus on technology for marketing in gaining prominence, also data and social media channels and digital customer relationship building have become the key focus areas.
Research has shown a digitally engaged customer is a more loyal customer and brings 3X annual value compared to an average customer. As a result, digital customer experience (or DCx) have gained importance more than ever during the pandemic and this trend continues in the new normal with more organisations focusing their MarTech spending towards DCx.
Want to know more?
Get your hands on NASSCOM's MarTech Report 2021 which talks about how technology and digital customer experience took the centre stage this year; and what this means for enterprises and tech vendors in terms of re-imagining their DCx strategy for the new normal.
We launch the report today at the NASSCOM MarTech Summit 2021 which would be available for free on our NASSCOM Community post the launch. Happy Reading!!!
The post MarTech – The Digital Customer Experience Imperative – From Personalized Products to Personalized Experiences appeared first on NASSCOM Community |The Official Community of Indian IT Industry.