As more enterprises shift IT from on-premises datacenter to cloud and off-premises colocation environments, the demand for leased datacenter space is rapidly decreasing.
In the early 2000s, much of the demand for leased datacenter space used to come from carriers and enterprises. However, the demand has shifted from carriers to service providers and enterprises providing higher-level services.
The wider adoption of internet of things (IoT) and enterprise mobility is also impacting the demand for datacenter lease. The IT industry analyst firm 451 research recently surveyed 700 enterprises globally to better understand the plans and challenges of organizations, and impact on datacenter demand. All respondents were colocation customers; none were colocation, hosting or IT service providers. Respondents were from the US, Western Europe, China and India.
The survey report commissioned by Vertiv also provides deeper understanding of the factors that can boost demand for leased datacenter space, and the trends related to cloud adoption, IoT, as well as data storage.
Below are the key findings of the report:
Interconnection and managed services necessary for datacenter providers to stay alive
Multi-tenant datacenter providers who offer only colocation services should acquire interconnection and managed services to fare well amid the rising demand for off-premise deployments.
Cloud service providers and enterprises install points of presence in network-dense datacenters to interconnect with partners and customers. This shows that demand for interconnection and network dense datacenter space will remain strong. Hence, an interconnection opportunity lies here for datacenter providers to lease the space.
Another opportunity lies when the cloud providers choose to lease datacenter space instead of building it themselves, and when the enterprises shift the data that is not suitable for public cloud to on-premise datacenters.
In another 451 research, it was found that the top cloud providers lease most of their datacenter space.
Even Amazon, Microsoft and Google which have very large datacenter campuses, tend to lease a large amount of datacenter space from specialized providers. According to the research, this tendency has increased in last few years because of string cloud take-up by enterprises, and requirement of global infrastructure by cloud providers.
On the other hand, the managed services that boost the security and simplify the public and private cloud are appealing to customers. Datacenter providers can differentiate themselves by providing managed services that can support migration processes and provide strong security.
Cloud connectivity crucial for successful cloud adoption
30 to 60% of the respondents said that latency issues and reduced application performance are the primary challenges with public cloud adoption. It is critical for enterprises to gain reliable connectivity in overall transition from on-premises to off-premises environments.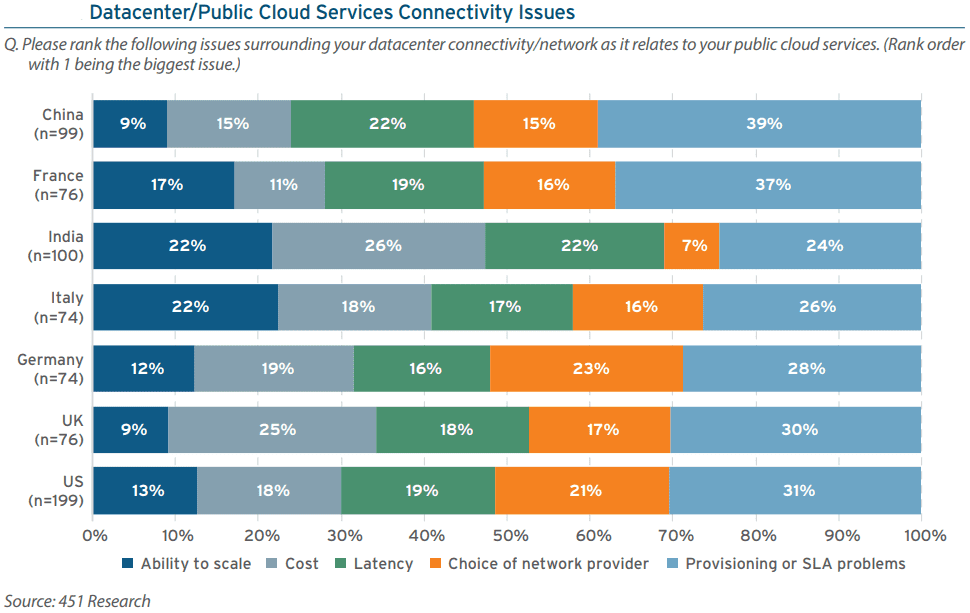 While considering interconnection services, the enterprises evaluate connectivity and security costs above other criteria. Connectivity is crucial for successful cloud adoption, but it continues to be a challenge for enterprises leveraging public cloud services. This shows that demand for network-dense datacenter space will remain strong. The datacenter providers that do not own carrier hotels will have to offer cloud connectivity options to stay alive.
IoT to drive datacenter demand
Several IoT projects need locations for data analysis and storage. These locations can include colocation facilities, public cloud, on-premises datacenters, as well as the point of presence locations of network providers.
The IoT deployments will store, integrate and move data across public cloud and other commercial facilities like colocation sites. For this, the distributed micro-modular datacenters and large centralized datacenters will play a key role.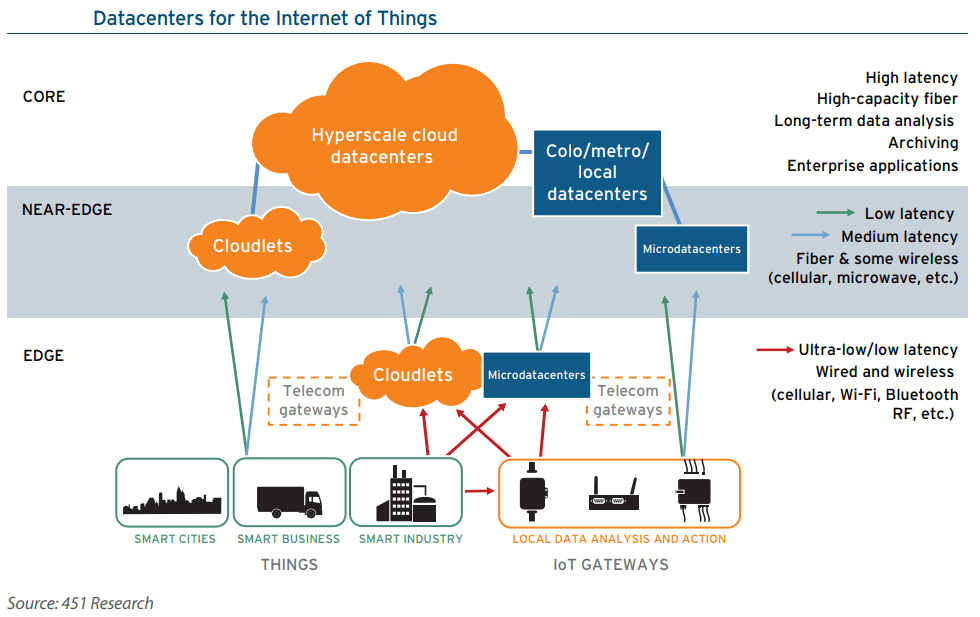 IoT will drive demand for providers of leased datacenter space when there is strong local adoption of IoT projects, and if the IoT projects generate large amount of data that must be processed and stored beyond the IoT gateway devices.
IoT will increase demand for colocation
Although a large number of IoT projects are still in either early or mid-stage development, a huge amount of datacenter and cloud capacity is being used for supporting IoT initiatives. The IoT data is expected to have a significant impact over the next two years.
Currently, around 71% of businesses store IoT data on-premises, but it is expected to drop to just 27% over the next year.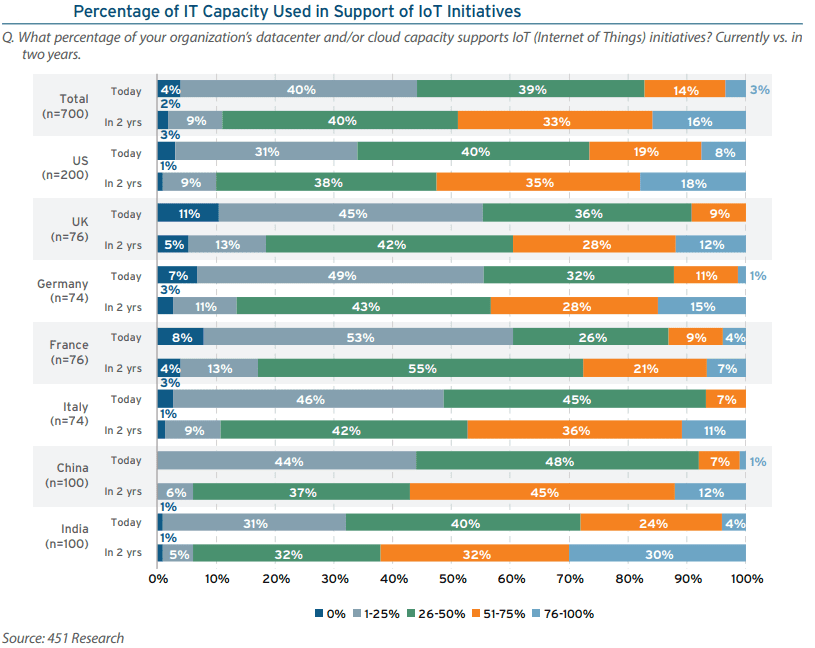 While the enterprises will opt for public cloud infrastructure (IaaS and SaaS) for IoT data storage, the usage of colocation facilities will also increase. Specially, the businesses in China and India will use colocation for majority of IoT data storage in the next year.
Analysis of IoT-generated data to present new opportunity for datacenter providers
Along with the IoT data storage, the analysis of IoT-generated data will also provide a new opportunity for datacenter providers. Currently, the majority (39%) of enterprises prefer public cloud as location for analysis of IoT data.
But, the on-premises datacenters closely followed public cloud, accounting for 35% location. Whereas, 30% enterprises choose to analyze IoT data on colocation facilities. The other options included local computing devices attached to data generators, within network operator infrastructure, and intelligent gateway devices on the IoT device itself.
Demand for fog computing nodes increasing
Fog computing is a system-level horizontal architecture that distributes resources and services of computing, storage, control and networking anywhere along the continuum from Cloud to Things, according to OpenFog Consortium.
The fog computing includes IoT data generators, centralized cloud, and fog nodes. The fog nodes work as computing facilities between IoT data generators and cloud. These computing facilities can include micro-modular datacenters, large datacenters near end devices, and intelligent IoT gateways.
Need of fog nodes will increase as these are used to take care of IoT workloads generating large amount of data volumes that can't be transported to a centralized location, and the IoT workloads that need low latency. Hence, another opportunity for datacenter providers exist in the form of fog nodes.
Also read: 4 key takeaways from 451 Research's Report on economics of cloud computing for enterprise IT
Despite the rapid rise in cloud adoption, opportunities still exist for datacenter providers if they target and capture additional capacity demand driven by managed services, interconnection, IoT deployments, fog computing, etc.
Read the full report here.
Images source: 451 research