In its latest research, Gartner has identified Apigee, CA Technologies, IBM, Software AG, Mulesoft, Tibco and Red Hat 3scale as the leaders in Magic Quadrant for Full Life Cycle API Management.
API (Application Programming Interface) is an intermediate requirement that establishes connection between two or more applications. The APIs are used in almost all the applications built today.
Whenever a link is clicked to get directions, for example, booking a dinner reservation or buying a concert ticket through an application, the APIs are used.
A full life cycle API management comprises planning, design, implementation, testing, publication, operation, consumption, maintenance, versioning and retirement of APIs.
Organizations adopt the full lifecycle API management solutions to gain the advantages of API, and to board on the digital transformation platforms and ecosystems.
According to Gartner, "It is impossible to provide the platform for any digital strategy, build ecosystems and run an effective API program, without full life cycle API management."
Thousands of APIs are tested every day, and hundreds of them are published every month. Gartner describes the leaders in magic quadrant as the companies that execute well against their vision and are well positioned for tomorrow.
Apigee and CA Technologies have been positioned furthest for the completeness of vision, as well as for its ability to execute. Apigee is a Google company that provides Edge Microgateway offering for internal API gateway, and Apigee Sense to identify and alert admins about suspicious API usage patterns.
CA Technologies provides CA API Management solution that includes Live API Creator, API Gateway, Mobile API Gateway, API Developer Portal, and Microgateway. The recent addition of Microgateway has enhanced its portfolio with solid security features and advanced functionality for full life cycle of API management.
IBM, Software AG and TIBCO Software had better abilities to execute, while Mulesoft and Red Hat 3scale had completeness of vision.
At the API front, IBM is known for its API Connect solution, which is available in three editions: the Essential edition for developers (free), the Professional edition for SMBs, and Enterprise edition for large enterprises.
The IBM API Connect is an integration of IBM API Management and IBM StrongLoop API solutions. It is available on-premises, as well as cloud software as a service (SaaS).
Software AG provides webMethods API Gateway, which is an integration of its older API gateway services— webMethods API Management Platform and webMethods API Portal. The webMethods API Gateway is available both on-premises and on webMethods API Cloud hosted on AWS.
TIBCO is a middleware, integration, visual/stream analytics and application infrastructure, but it expanded its portfolio with API management services by acquiring Mashery unit from Intel in 2015. TIBCO Mashery is available as Mashery Local, and TIBCO API Exchange Gateway.
Mulesoft, a Salesforce company, offered integration services through Mule integration platform. Further, it combined the APIs and Mule integration platform to launch a new offering called Anypoint platform. The Anypoint platform consists the power of lifecycle API management and integration. Mulesoft helps customers build application networks, accelerate development time, and enable new digital channels.
3scale was an independent API Management vendor until it got acquired by Red Hat in 2016. The Red Hat 3scale API Management platform allows customers to share, secure, distribute, control and monetize their APIs on an infrastructure platform. The company further released Red Hat 3scale API Management 2, allowing users to place 3scale components on-premises, in cloud, as well as hybrid combination.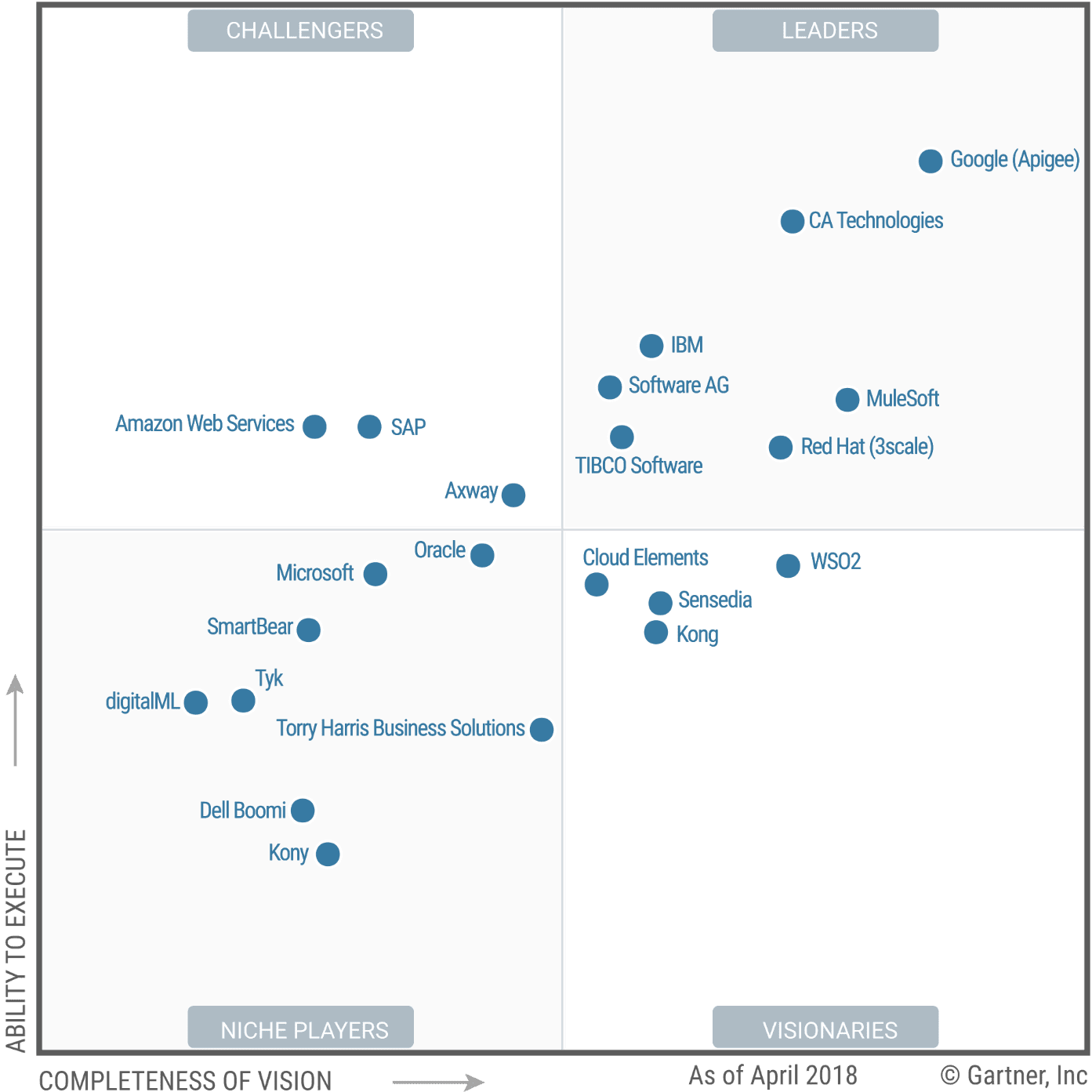 Also read: Gartner identifies leaders in data science and machine learning in Magic Quadrant 2018
While these were the leaders in Gartner's Magic Quadrant for Full Life Cycle API Management, Amazon Web Services (AWS), SAP, and Axway were positioned in the Challengers quadrant. Microsoft and Oracle couldn't make it to neither Leaders nor Challengers quadrant.
The full Gartner document is available to download from Apigee here.