Digital transformation was on the agenda of organizations since the advent of the cloud, but this pandemic pushed that agenda to the forefront very aggressively. Now is the crucial time when leaders across all industry verticals are adopting cloud computing in their organizations.
But there are some queries that we frequently come across:
How much cloud should I adopt?
How should I deploy workloads across public, private and hybrid clouds?
Which cloud will be the best for my business?
Should I use just one cloud, or should I adopt a multi-cloud strategy?
This article is an aim to provide answers to the queries mentioned above.
What is multi-cloud?
Multi-cloud means using more than one cloud service – public or private, from more than one cloud provider. This means that the cloud applications, software, and other assets are distributed across different cloud environments. For example, you may implement human resource management (HRM) software as a service from one provider and Infrastructure as a Service (IaaS) from another.
Currently, 81% of organizations are using a multi-cloud strategy, according to Gartner. Flexera 2020 State of the Cloud Report found that 93% of respondents described their organization's cloud strategy as 'multi-cloud', i.e. they are using multiple public and private clouds for different application workloads.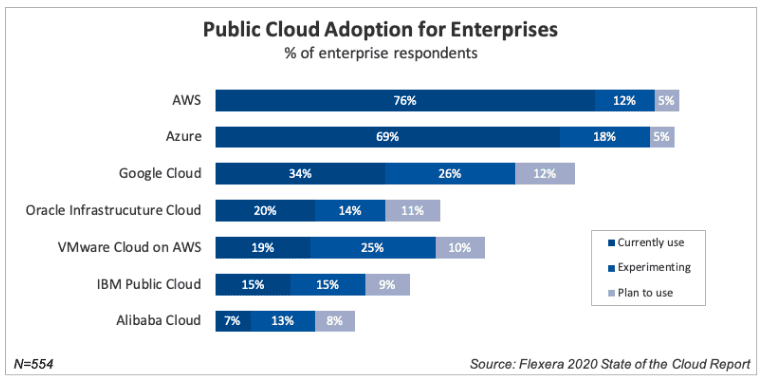 Most of the respondents in this survey (73%) considered optimizing the existing use of cloud (cost savings) as the top cloud priority for their organization. Cost – savings is one of the many reasons why more and more organizations are considering a multi-cloud architecture. There are many other reasons as outlined below:
To gain autonomy by avoiding vendor lock-in
To avoid downtime due to a component failure in the cloud
To meet regulatory requirements with availability of different datacenter regions and zones
To take advantage of varied offerings by different cloud providers which help in achieving business goals at competitive price points. This helps in gaining competitive advantage.
All these points are discussed in detail in this article.

What is the difference between multi-cloud and hybrid cloud?
The terms multi-cloud and hybrid cloud are often used interchangeably, but they are different IT infrastructure models.
In general, multi-cloud refers to the use of more than one cloud environment of the same type (like public-public or private-private), sourced from different cloud vendors. Hybrid cloud refers to the use of more than one cloud environment of different types (public or private) with some sort of connection or orchestration between them.
This means multi-cloud consists of multiple cloud services – two or more private clouds or two or more public clouds – from multiple cloud providers that are not connected. With a hybrid cloud approach, an organization can run some workloads in the public cloud and some in the private cloud, deploy resources from either or use the clouds interconnectedly.
What are the top benefits of using multi-cloud infrastructure?
The main benefit of multi-cloud is the flexibility to choose the best technologies based on the actual needs of an organization.
1. Lock-in risk reduction
This is a very important benefit of multi-cloud as organizations can easily switch the cloud service as soon as a better deal becomes available with other cloud vendor. When an organization limits itself to one cloud vendor, it is costly and time-consuming to migrate apps elsewhere.
2. Data privacy and compliance
Data privacy and compliance vary depending upon industry type, region, or country. For example, the healthcare industry has strict laws to keep the patients' data confidential. Similar is the case with the finance industry. In such cases, organizations need to know where their data is located every time. Multi-cloud architecture offers options to help organizations meet industry-specific regulations and compliances.
3. Flexible access to technology
Another important multi-cloud benefit is access to different technologies. For example, if you have a low budget to deploy a business intelligence tool on-premises, you can obtain it as a cloud service through a multi-cloud approach without the extra expense. This also means you can easily and quickly implement a service, save more time, and get value.
4. Cost savings
You can save a good amount of money if you keep your data in multiple clouds. By using multi-cloud, you can bargain and get the most suitable cloud pricing for each service across vendors. Since pricing varies by various dimensions like time (minute, hour) or storage capacity, you can save money by investing in only what's needed to meet your workload performance.
Through multi-cloud, you can meet various business, performance, and security needs at a lower price point.
Things to consider before adopting multi-cloud infrastructure
The infrastructure choice you make today will provide you serious benefits later in terms of scaling, flexibility, and cost savings. So, make a comprehensive assessment while choosing your cloud architecture. The main factors to consider are cost, complexity, flexibility, and security.
When planning for multi-cloud, go for free trial services first and see how they fit your needs and if one service can work with the others too. Also, discuss the storage and security of cloud vendors, like their data protection policies, critical data storage location, data access permissions, etc.
During trials, make sure that you're able to move data easily and integrate with various tools you already use.
Here are a few more things to consider while planning multi-cloud adoption:
Weigh the advantages and disadvantages of multi-cloud infrastructure implementation in your organization. You must do extensive evaluation – are there skilled people, will your processes improve and more, to take advantage of multi-cloud solution. For example, a legacy application in a traditional LAMP stack is money wasted if more efficiency can be achieved using a public cloud.
Check the existing cloud infrastructure. It is important to first check what issues you're facing in your current cloud services in terms of performance, scalability, or cost, and if you have solutions to address them. Then compare with other cloud services that can address them.
Review your multi-cloud needs. For example, if your business is looking for options to implement artificial intelligence (AI) and machine learning (ML) applications, you should go for a cloud environment that offers such capabilities. Likewise, if you are looking to improve the workload performance of your cloud applications, opt for a solution that can help you achieve that.
Assess your data privacy compliance requirements. You need to review if the new cloud model meets the expected compliance standards of your company. Make sure to check your vendor's security policies such as password, encryption policy, cloud access policy, and more.
Wrapping up
Most cloud-based applications today are developed using microservices architecture, where all services are managed and deployed individually. This requires more flexibility and makes them appropriate for deployment in multiple public or private clouds from multiple providers to achieve better business performance.
To help prepare organizations for the future, which is multi-cloud, ZNetLive offers cloud solutions and services from leading hyperscalers. We can help you design your business cloud strategy and establish processes to implement best practices for hybrid or multi-cloud management.
Let us know your feedback in the comments section.
Originally Published  in ZNetLive
The post Is multi-cloud infrastructure the right fit for me? Should I switch to it? appeared first on NASSCOM Community |The Official Community of Indian IT Industry.