Indian IT Services Reimaging Growth in the New Normal
A blog series by NASSCOM Research to highlight trends that are driving the growth for Indian IT services in the new normal
#2: Cloud in the driver's seat of the Digital Journey
Cloud leading the Digital Transformation Story
In our last blog "Digital Transformation – Arresting the Slide in Revenues", we highlighted that 'Digital Transformation' is driving the deal landscape and historical high valuations for Indian IT Services companies.
This digital story is being led by emerging technologies with some of them gaining more prominence due to the COVID-19 pandemic, and cloud computing being at the heart of this transformation.
Enterprises' Emerging Technology Investment Objectives during the Pandemic
Cloud Migration an Absolute necessity in the Newnormal
According to a KPMG survey, 56% of executives agreed that cloud migration has become an absolute necessity due to Covid-19, as companies are focusing on moving an entire function's data on to the cloud at scale, instead of piecemeal migrations of small datasets.
One of the key reasons for this massive shift towards cloud has come from the need to work remotely, a trend that can be seen even in the traditional manufacturing sector, in order to maintain business continuity. Moreover, remote work as a trend is here to stay, making cloud migration a long-term strategy in the newnormal.
A recent report published by @NasscomR – "SMB Cloud Adoption in India-Towards a Cloud First Nation" also reiterates this trend even for small & medium businesses in India; these firms are leveraging cloud to enable scale, collaboration and digitization. The public cloud market in India is expected to be about ₹ 630 billion ($ 9-10 billion) by FY2025 with SMB share of ~30%.
Also, IDC expects that an increasing share of enterprise and digital applications will be developed on the cloud-native technologies, further boosting the shift towards cloud.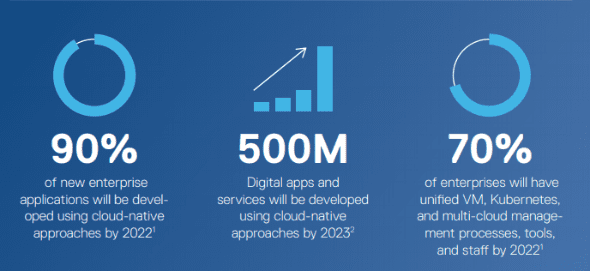 Source: 1) IDC FutureScape: Worldwide IT Industry 2020 Predictions. October 2019. 2) 500 Million New Logical Applications: More Background. November 1, 2019 – Realtime IDC Research® opinion on industry news, trends and events.
Within cloud strategies, hybrid cloud takes the lead over having a dedicated public cloud presence. Major enterprises are planning to adopt this architectural cloud approach in the future to reduce risk of service disruption.
Hybrid has taken the lead, while multi-cloud takes a backseat
The Growing Cloud Opportunity
According to Gartner, the worldwide cloud services market is expected to grow 6.3% in 2020 to reach USD257.9 billion. This growth is expected to increase higher in 2021 and 2022 at 19.0% and 18.6%, respectively, with DaaS registering a significant growth across the forecast period driven by an increasing focus on remote working.
This growth in cloud services is creating new opportunities for IT services firms which including increased demand for migration services, preplanning services, general consulting services (as well as consulting on optimal pricing models), data centre migration services, cloud brokerage services.
Worldwide Public Cloud Service Revenue Forecast (Millions of U.S. Dollars)
BPaas – Business Process as a Service; IaaS – Infrastructure as a Service; PaaS – Platform as a Service; SaaS – Software as a Service; CM&S – Cloud Management and Security; DaaS- Desktop as a Service
Source: Gartner
In order to meet the growing demand for cloud services across verticals and geographies, Indian IT companies are working towards increasing their cloud portfolio.
"Companies are aspiring to rapidly grow their cloud-related revenues to about 40-50% of their overall digital business" Nitin Bhat, Technology Sector Leader, EY India
Infosys recently announced that it plans to make cloud, data and experience together a billion dollar business –. This came post the announcement of a 50% share in digital revenue target which the company believes can only be achieved if they work on the 'cloud' side.

Towards its strategy to make cloud, data and experience a $ 1 billion business by FY21, Infosys is expanding both organically and inorganically over the last couple of years:

Recently, it entered into an agreement to acquire Europe-based GuideVision to augment its Cobalt portfolio. (September 2020)
Launched Cobalt, a set of solutions and platforms to help clients build cloud-first capabilities. (August 2020)
Also acquired Simplus to strengthen its position as an end-to-end Salesforce enterprise cloud solutions and services provider. (March 2020)
TCS continues to focus on leading its organic growth strategy for cloud.

TCS recently launched TCS BaNCS™ Cloud for Asset Servicing, which automates the servicing of all classes of assets across all markets, and is targeted at custodians, broker-dealers, asset managers, and investment and private banks.
Last year, TCS completed one of the largest cloud migrations moving over 925 IT applications across over 50 Legacy Data Centers to the Public Cloud for Randstad, a global leader in the HR services industry.

In 2019 Wipro launched a co-innovation center with Amazon Web Services in Bengaluru to showcase its offerings on AWS Cloud for clients across industry sectors.
Even mid-sized firms like Zensar and Mindtree are banking of cloud deals for FY21. According to Dayapatra Nevatia, Chief Operating Officer of Mindtree "Large deal ramp-ups have been on track, and we continue to carry out transitions virtually using our robust transition methodology. New deals are majorly around offerings like client experience, data and insights and cloud adoption, with significant uptick in digital transformation".
The story is the same for MNCs who are gearing up investments in the cloud space: Accenture in September 2020 announced its plans of $3 billion investment in cloud over the next three years to help clients rapidly become 'cloud first' businesses. Cognizant has already done six acquisitions in the space during 2020 including 10th Magnitude, New Signature, Code Zero, EI-Technologies, Lev and Collaborative Solutions.
Overall, the cloud is expected to emerge as a critical revenue stream for Indian IT services companies. As customers fast-track their digital transformation journey, opportunities in areas like cloud consulting, migration, integration/implementation, managed services, platformisation APIS and more are emerging and going forward, we will see lines between competition and cooperation blurring as firms take the partnership route, particularly with telecom companies, as their primary GTM strategy.
Indian IT Services Industry working towards Leveraging this Growth
The post Indian IT Services Reimaging Growth in the New Normal #2: Cloud in the driver's seat of the digital journey appeared first on NASSCOM Community |The Official Community of Indian IT Industry.