The global healthcare industry will become more resilient, agile, and innovative by shifting to digitally enabled business models with patients and data at the core. Worldwide, patients are increasing their involvement in healthcare decision-making by adopting virtual health and other digital technologies.    
There is an increasing demand for data analytics through public-private partnerships and alliances. The rising adoption of mHealth, Artificial Intelligence (AI), Virtual Reality (VR), telemedicine is ubiquitous across the globe.  The evolving shifts in the market and consumer behaviours and, as a result, are redeveloping their operating and revenue models to adapt and stay ahead of the curve.
An overview of key trends impacting the healthcare industry
The COVID-19 pandemic has placed a significant strain on all aspects of the global healthcare sector, including workforce, infrastructure, supply chain, etc., driving an increased focus on the delivery of value-based care and exposing social inequities in health and care. The pandemic has caused systemic changes in healthcare delivery, resulting in a shift to 'home care settings,' a trend that is expected to change the dynamics of the healthcare ecosystem supported by increased investments (organic/inorganic) in digital technology. 
Digital health trends like telemedicine, IoT devices, and virtual reality are expected to continue to attract massive investment, and help improves health equity worldwide.
Players in the Indian healthcare ecosystem are embracing digitization and have started to deploy technologies across the spectrum of services, as enlisted below:
Key healthcare trends

Description

Examples of deployment of trends in India

Impact*

On-Demand Healthcare

Patients can access and use healthcare services online in real-time via mobile apps and websites at their convenience

Large hospitals have started providing telemedicine services that have reduced the waiting time to consult specialists/ doctors/ pharmacists in rural and urban regions.

High

Big Data in Healthcare

Abundant health-related data accumulated from numerous sources like EHRs, medical imaging, etc. facilitates preventive care, more accurate diagnosis leading to a lower rate of medication errors

One of the large hospitals has adopted Big data analytics to prevent Hospital Acquired Infection (HAI).

Another hospital chain uses big data analytics to keep their patients healthy even after discharge and avoid critical illnesses or symptoms.

High

Predictive healthcare

Predictive healthcare is the technology aimed at alerting the caregivers and clinicians of any likelihood health hazards and events before they occur

Using predictive analytics and machine learning, Onward Health builds a portfolio of diagnostic tools in classifiers and analytical tools.

A healthcare start-up in India has developed an app that is enabled with a glucometer to monitor patient vitals.

High

Growth of wearable medical devices

Autonomous devices enabled with motion sensors that perform monitoring and support over a prolonged period

 A large pharma company has adopted wearable technology to gather patient vitals on a real-time basis to increase engagement and prevent health hazards.

Medium

Artificial Intelligence (AI)

AI is the application of machine learning algorithms and other cognitive technology for better healthcare

A tech company solving healthcare diagnostic has developed an AI-enabled software that uses a convolutional neural network to detect diseases that impact a larger population from medical images.

An AI-based start-up has developed an application that bridges diagnostics for millions of respiratory patients. 

Medium

Growing usage of Blockchain

Blockchain is a digital ledger of transactions. The digital database is very secure as it is decentralized and enables the secure exchange of data

A provider of cloud-based personal health record management services has developed a cloud-based platform using blockchain technology.

Low

Adoption of VR/ medical simulation

Virtual Reality (VR)/ medical simulation is the artificial representation of the virtual environment of the real world

A service provider in medical healthcare designed and created an advanced medical simulator for medical students, practitioners, and nursing staff.

Low
*Source: Research reports, News articles, Company websites/*denotes the trend's impact on the Indian healthcare ecosystem.
Impact of digitization on healthcare operating model
Delivering innovative healthcare and well-being at scale is immensely complex, especially in an industry with multiple players. Companies will have to develop ecosystems that bring together:
Comprehensive platform environments that support the individual's health journey
Partnerships/Acquisitions/Investments are already emerging between consumer, tech, or electronics companies
Governance systems that deliver trust, good governance around how platforms to capture, store and give access to data.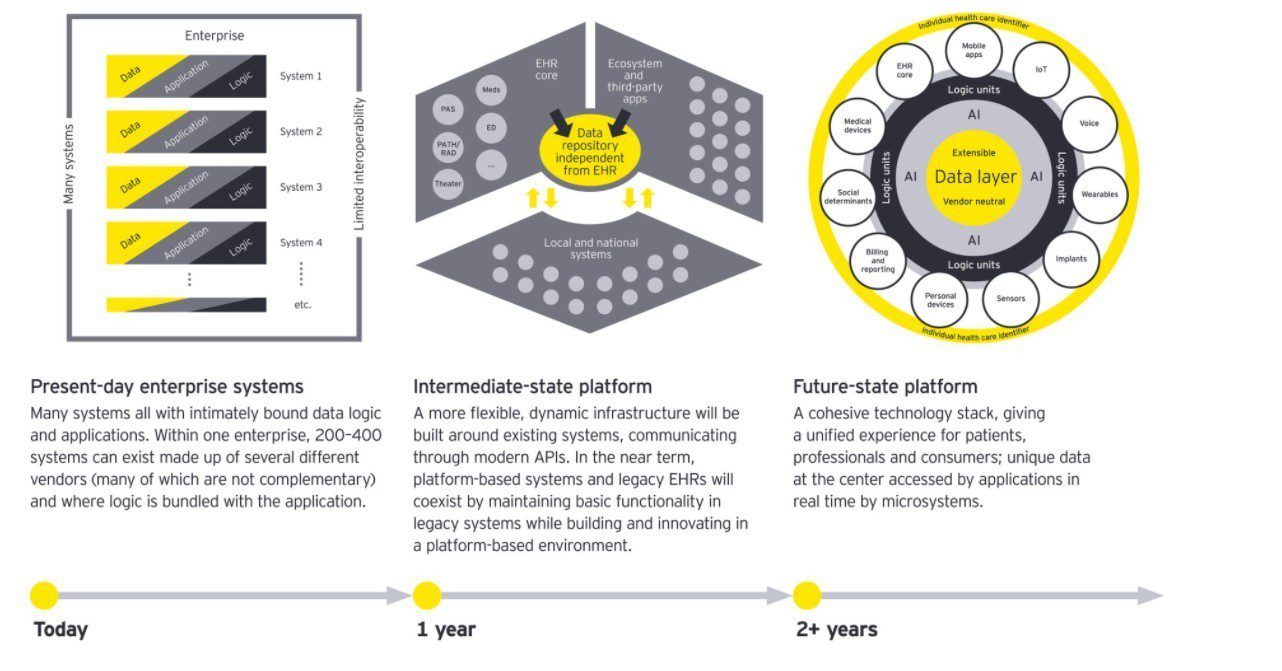 As a way forward, healthcare organizations are expected to create the right data environment to support a more human-focussed approach. Consumers' expectations about healthcare services are changing as they become increasingly aware of the digital start-up ecosystem. This will be key to managing these digital technologies as strategic assets and not as mere utilities as it will be imperative to bridge the gap between patients and caregivers.
Impact of digitization of healthcare on mergers and acquisitions
The accelerated shift to digital health and the need for tech-enabled health services is driving robust mergers and acquisitions (M&A) in the technology space, hence emerging as the fastest way to expand digital capabilities. An easing up of government regulations further increased the demand for digital technologies like telehealth, AI/analytics, m-health' making targets in this space more attractive for mergers and acquisitions.
The global mergers and acquisitions deals in digital health saw a 54% jump in Q1 2021 as compared to the same quarter in 2020. Competition for attractive assets could be fierce as Private Equity groups, and Venture Capitalists continue to be significant players in healthcare. Mergers and Acquisitions bring substantial dry powder to compete for assets in most subsectors, including providers and payers diagnostics and software and technology.
In Q1 2021, global VC funding into digital health companies was $7.2 billion in 179 deals, witnessing a growth of 60% compared to $4.5 billion in 139 deals in Q4 2020.
Digital health M&A space in India
Drawing parallels from a global scenario, the Indian government, through its Digital India program, is launching various mHealth initiatives for improving the efficiency and efficacy of public healthcare across the country. Some of the initiatives include:
Vaccine tracking mobile application

Mobile-based audio training course for expanding the knowledge of village-based voluntary health workforce

Digi-Doctor: a comprehensive repository of all doctors practising or teaching modern/traditional systems of medicine, health facility registry, and patient health records

Telemedicine projects (in remote and inaccessible areas)

Setting up Integrated Health Information Platform (IHIP) to augment electronic health ecosystem
Conclusion
While the pandemic has prompted health organizations across the world to think differently about strategy, sustainability, and growth, some fundamental considerations for creating value remain key. As a result, the continued focus on end-to-end patient care delivery, digital innovation, and building the right network of caregivers and capabilities are elemental components driving strategy in the current deal market.
Vipul Mittal is Asia-Pacific Transformation Leader at EY Global Delivery Services. He has over 23 years of experience in corporate finance services and consulting, research and specializing in global offshoring.
The views reflected in this article are the views of the author and do not necessarily reflect the views of the global EY organization or its member firms.