As per the new data from Synergy Research Group, the number of large data centers operated by hyperscale providers will soon touch the 400-mark.
By the end of 2017, the total might be over 390, after new data center openings in China, India, and Malaysia.
US continues to dominate in cloud and internet technologies, accounting for 44% of major cloud and internet data center sites, followed by China (8%), Japan (6%) and UK (6%).
The data center sites in Australia, Germany, Singapore, Canada, India and Brazil, accounted for 3-5% each.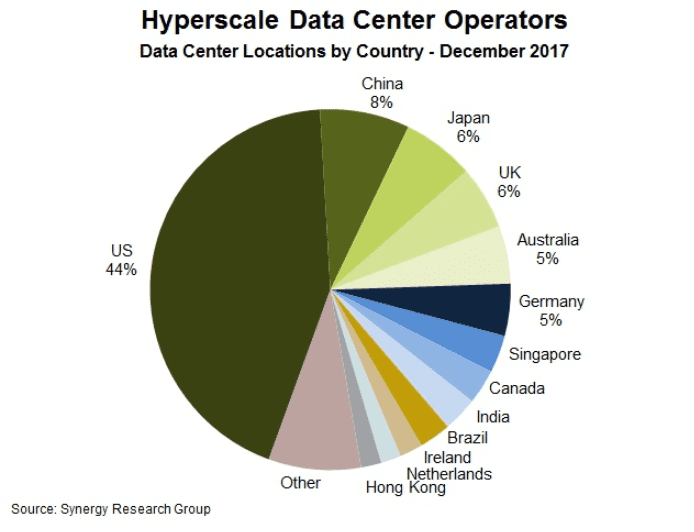 The increase in massive hyperscale data centers is obvious, since more and more businesses are going for software services over the internet or private networks.
"Hyperscale growth goes on unabated and we already have visibility of at least 69 more hyperscale data centers that are at various stages of planning or building. We will pass the 500 milestone before the end of 2019," said John Dinsdale, a Chief Analyst and Research Director at Synergy Research Group. "It is remarkable that the US still accounts for almost half of all hyperscale data centers, reflecting the US dominance of cloud and internet technologies. Other countries are now featuring more prominently in terms of data center build, but even three years from now we forecast that the US will still account for some 40% of the worldwide total."
Most of the new data center openings in 2017 were during the mid-year period, which set new data centers in Germany, UK, Singapore, Australia, Brazil, and US.
The Synergy Research Group analyzed data center sites of 24 of the major cloud and internet service firms worldwide, each of which had 16 data center sites.
The leading cloud providers─ AWS, Microsoft, IBM, and Google, had the most number of data center locations globally (each having 45 or more), followed by Oracle and Alibaba.
The other leading companies like Apple, Twitter, Facebook, etc. had their data centers primarily in either US or China.
Also read: Equinix expands its data center platform to establish interconnection between businesses worldwide
Synergy Research Group is keeping track on 69 hyperscale data centers which are either in planning or development stages. The research firm estimated that the total might cross 500 milestone by the end of 2019.