HPE, the leading technology company with cloud to the data center to workplace applications, and Portworx, the container storage provider, launched a reference configuration solution, which helps enterprises to deploy stateful container workloads on bare metal.
The reference configuration solution has been architected using HPE Synergy composable system, Kubernetes and Portworx's cloud-native storage platform. The Synergy automates provisioning of hardware, while Portworx platform and Kubernetes automate the process of lifecycle management.
Hence, the solution enables enterprises to deploy stateful container storage within half an hour. It uses DevOps tools like Ansible for deployment, and is scalable to many nodes with bare metal performance.
"Running enterprise container workloads at scale requires compute and storage that are highly flexible, scalable and available," said McLeod Glass VP Production Management, HPE. "Together Portworx and HPE deliver a fully integrated cloud native storage layer on top of HPE Synergy's composable infrastructure, enabling scalable data and compute services for containers on a Kubernetes cluster.  This will vastly simplify the customer's ability to deliver stateful container services through deployment automation and running native container storage on HPE's composable systems."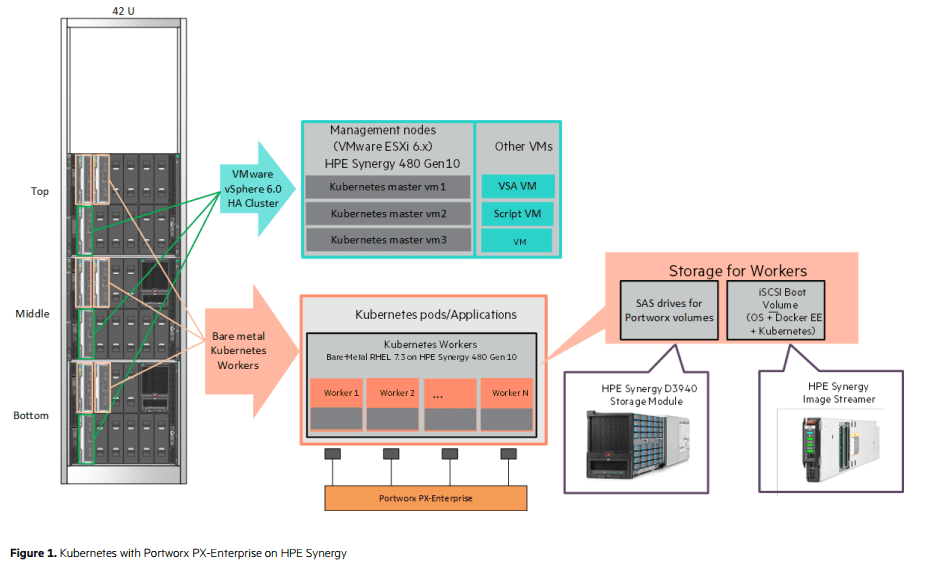 Nodes in the reference configuration system uses the fluid pool of HPE Synergy bare metal resources. The deployment of Kubernetes master nodes takes place as virtual machines on VMware ESXi 6.5 set of hosts.
"The HPE-Portworx solution for containerized workloads strikes an important balance for enterprise IT, between automation and control," said Murli Thirumale, CEO, Portworx. "HPE Synergy automates hardware provisioning while Kubernetes and Portworx automate the application lifecycle management, a boon to enterprise IT. At the same time, PX-Enterprise enables IT to maintain full control over their storage environment using Portworx's configurable class-of-service, encryption and backup policies."
From the application point of view, the solution will ensure blazing performance for containerized compute and storage, by running the back-end databases on VMs on HPE SY 480 hardware.
Kubernetes plays a key role in the solution and provides load balancing, DNS and built-in services. It also replaces and reschedules containers on the basis of server and app-level checks.
Synergy image streamer in the reference configuration enables rapid expansion and contraction of storage and computing resources. It optimizes the resource needs of container infrastructure.
Also read: HPE brings a modular and cloud-ready storage platform for enterprises of all sizes
HPE said that this solution is ideal for the organizations that develop cloud-native applications to maximize the performance and resources, and reduce the costs.