The "Digital infrastructure sustainability – A manager's guide" is a series of Uptime Institute Intelligence reports that outlines the strategies, terminologies, and approaches involved in creating an environmental sustainability strategy for data centers and guide them navigate through the challenges involved. 
The Uptime Institute recommends that data center operators strive to achieve or exceed a science-based target for reducing greenhouse gas emissions across their digital infrastructure. To do so, they should optimize and minimize energy consumption by purchasing renewable or zero-carbon sources of power supply in order to provide the best possible environment within these facilities. 
The image below shows the different types and categories of greenhouse gases (GHG) emissions with their location in the operations and supply chain of a data center.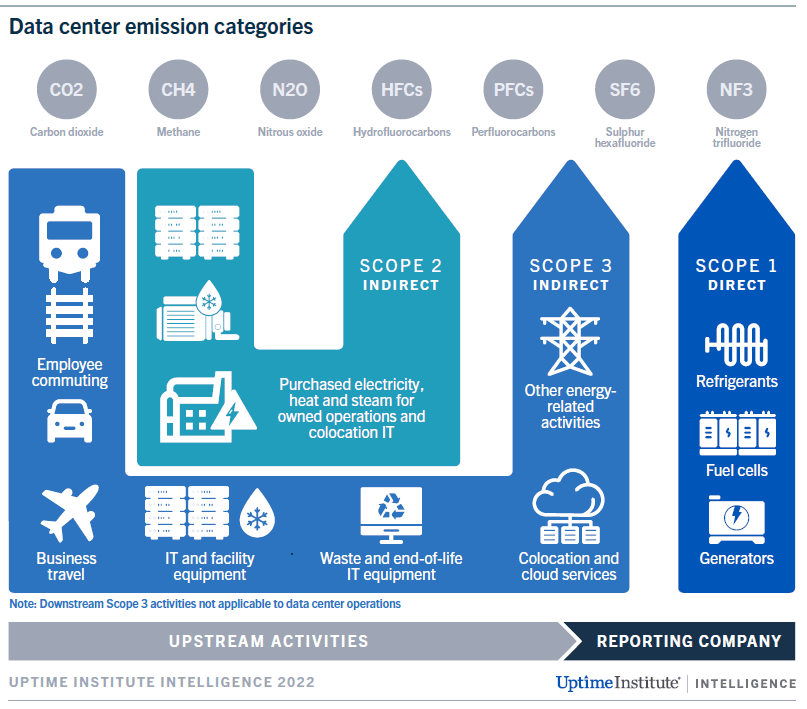 Scope 1 includes direct emission of GHG into the atmosphere while scopes 2 and 3 include indirect impacts caused by other equipment that supply energy, products, and services for the data center operations. 
How can data center operators tackle greenhouse gases? 
Every data center operator must develop a GHG emissions' reduction goal including the Scope 1, 2, and 3 emissions from owned, colocation and cloud operations.  
The GHG reduction goal must also include emissions from the use of fuels, electricity, and refrigerants. 

 

Develop a science-based target reduction goal, with 2.5% or more annual emissions reductions on a reduction trajectory for net-zero operational emissions by 2050. 

 

Data center operators can set an interim forward-looking quantitative reduction goal with a particular percentage of emissions reduction against a baseline year followed by setting a new goal when the previous goal is achieved.

 

Include business travel and colocation and cloud services from Scope 3 categories in the quantitative reduction goal. 

 

Other Scope 3 suppliers must have a science-based target to reduce their GHG emissions. 

 

There must be provisions to achieve the goal through a combination of energy efficiency improvements, direct purchases of renewable energy, and the use of unbundled Renewable Energy Certificates and offsets.

 

Data center operators must note that using carbon offsets to achieve a net-zero emissions goal is problematic due to financial risks and quality and availability issues.

 

Having a third party validate the emissions inventory and progress toward the goal will be effective to tackle GHG emissions.

 

The owner of the IT operations in colocation facilities must report IT-based emissions as Scope 2 and the facilities-based emissions as Scope 3. The colocation provider must report the converse. 

 

Data center operators must understand that in cloud facilities, the owner of the IT operations reports all emissions as Scope 3, and the cloud provider reports emissions as Scope 2.

 

Colocation and cloud service contracts must specify an allocation methodology for energy use, GHG emissions, water use, renewable energy use, and renewable energy certificates. 

 

Ensure sufficient executive support for the staffing and resources that will be required to execute efficiency projects, and the budget for renewable energy and offset purchases necessary to achieve the goal.

 
 Also read: Uptime Institute's guidelines for creating a sustainability strategy