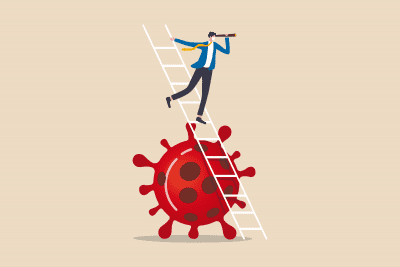 There's no doubt that searching for a job has been impacted by Covid-19. The way you present yourself during the job-hunting process will need to evolve as well. Here are some top tips to enhance your job search in this new era.
Master the video (or phone) interview
No longer an optional skill, knowing how to interview effectively on video and phone is key in your job search. It is most likely that early round interviews will take place remotely.
While you are not in the same room as the interviewer, you need to remain authentic throughout the interview. Employers still want to feel your intention and motivation for wanting to join the company in this role. For those on the phone, your tone and delivery when responding to questions will need to sound surer and firmer – more so for those who usually tend to rely on physical gestures to support their verbal answers.
Hiring managers are still looking to see how you can demonstrate your customer-focused approach, especially for client-facing roles. You can take this opportunity to highlight what you did to help your clients, fellow colleagues, or even your wider community during the Covid-19 lockdowns. You can share how you would apply these experiences in your new role.
Prepare for a remote interview
As you should already know, you need to show the same professionalism as you would for an on-site interview. Like how you would turn up at the company's office a little ahead of time, you need to be ready for your video or phone interview before the scheduled time.
By then, you should be dressed appropriately and settled into a quiet, clutter-free spot in your home, with a suitable and plain background, and not forgetting, good lighting! Make sure your technology is working, such as your internet connection, microphone and webcam.
Fortunately, remote interviews are not all that bad for job seekers. Take advantage of the fact that you can have the job description, your resume and list of questions for the interviewer on your screen. It's like an open-book exam! Lastly, try to keep eye contact with your webcam, maintain good posture, and smile!
Demonstrate your ability to work remotely
With the increase need for flexible work arrangements in this new normal, hiring managers will want to gauge your ability to work from home or remotely. Employers will want to know whether you can function effectively within a remote working environment.
Chances are, you had some experience working from home during the Covid-19 lockdown. You can relate your experience maintaining teamwork with your distributed colleagues, or how you managed your distributed team remotely. Alternatively, you could share how you had previously worked with regional or overseas colleagues on a particular project.
As part of your interview preparation, try to recall the challenges of working remotely and how you overcame such challenges. Also, list all the remote working tools you have experience with, such as communication applications, collaborative software, and project management platforms.
Keep open to other opportunities to upskill yourself
Learning new skills by taking courses can help differentiate you in the job market. However, you can be more innovative in the way you learn and upskill yourself.
Be open to taking up temporary or part time jobs, even in areas that you might not be entirely familiar with or had experience in. This is especially so if you find it challenging to secure a new job.
Not only will this provide you with some income to tide you through your search for a permanent position, it can provide you with exposure to new industries and experiences. Just applying for temporary jobs can provide you with more opportunities to hone your interview skills.
Most importantly, taking up a temporary job demonstrates your motivation, desire and creativity to take the initiative to continually improve your skills. On-the-job learning can be as important as courses for upskilling yourself.
This article was originally published on kelly services blog 
The post HOW TO JOB SEARCH IN THE NEW NORMAL? appeared first on NASSCOM Community |The Official Community of Indian IT Industry.