Online reviews matter. While it helps the next customer to make a buying decision, it helps the search engine to improve organic visibility.
We all seek good reviews for our businesses. In fact, even as end-user, we seek reviews online before making any purchase or booking. And chances are that you won't purchase from a business if they have a negative review. However, if it's positive, you will consider them.
Therefore, as a business, your goal should be to get the majority of positive reviews to ensure consistent customer acquisition and lesser churn. 
But we all know, nothing runs like a fairytale. There will be some customers whom you will fail to please, and a few of them will vocalize their frustration on your social handles. 
You might struggle at times, wondering how to deal with negative reviews. Well, gone are the days when people hid their negative reviews. Now, it's all about stating your acknowledgment and improving where it's needed. Following that train of thought, I will tell you how to deal with negative reviews. 
As per ReviewTrackers, 94% of consumers refuse to patronize a business because of negative reviews.
1 Do Not Hide Negative Reviews:
Believe it or not, consistently good reviews often make a business seem fraudulent. Hiding reviews is never a good idea. Removing or hiding honest customer reviews is a weak move. A combination of positive and negative reviews builds credibility for a brand.
Research says that many customers seek negative reviews online to understand any possible shortcomings they might face when ordering a product. If these shortcomings aren't a hassle to an individual, they are likely to proceed with their purchase. However, the positive must outweigh the negative in these scenarios.
2 Negative Review or Constructive Criticism:
One of the brilliant methods of dealing with negative reviews is acknowledging them. Negative reviews should be perceived as constructive criticism or feedback. Your social team must evaluate and respond to these comments as quickly as possible with relevant solutions.
Some time ago, I had a frustrating experience with a clothing brand. I took the liberty to convey my problem on Facebook and to my surprise, the social media team responded within a few hours. They acknowledged my problem, noted my concern as feedback, and granted me an apology.
People were more impressed with the response they granted and applauded their honesty. Hence, it is better to scout these negative comments, understand the concern and interact with these customers. You will learn more about your service through these reviews. Notice the most common concern mentioned in these negative reviews and take immediate action or release a statement, based on the situation.

Source: Survicate
 
3 Create a Toolkit to Combat Negative Reviews:
Remember, it is your agents who will be dealing with angry and disappointed customer reviews. And you wouldn't want one of them to say the wrong thing! A wrong or arrogant response to a negative review can go viral and tarnish your brand image. Hence, create a plan and share it with your agents on how to deal with negative reviews.
It is wise to consider that your customer might have tried getting help, before posting a negative review. Therefore, it will be better to not greet them with a generic apology. Instead, encourage your agents to demonstrate empathy, honesty, politeness, and maybe a little bit of humor or positivity to liven up the moment. The positive part can be done by adding free credits to the customer's account, offering them free delivery for their next purchase, or any sort of discount.
As an e-commerce business, your main concerns will likely be around delivery issues, payment portal issues, payment method choices, and lasting products. So, plan your responses around these issues and decide what you can offer to retain the customer.
Ensure, that your agents are thoroughly versed with your game plan and they must not go off-script without consultation in this regard.
4 Take The Issue Offline ASAP:
Sometimes customers are not satisfied with an apology and want the mistake to be rectified. Often leading into such conversations publicly is not a brilliant choice. Continuous commenting with the baggage of social image at stake can lead to an escalation.
The best thing to do is to ask the customer to communicate via a private channel. You can ask them to message you privately or you can collect their information and schedule a call-back.
With  Omnichannel, your agents can easily take a social post of a customer to a direct message and maintain the privacy of the discussion.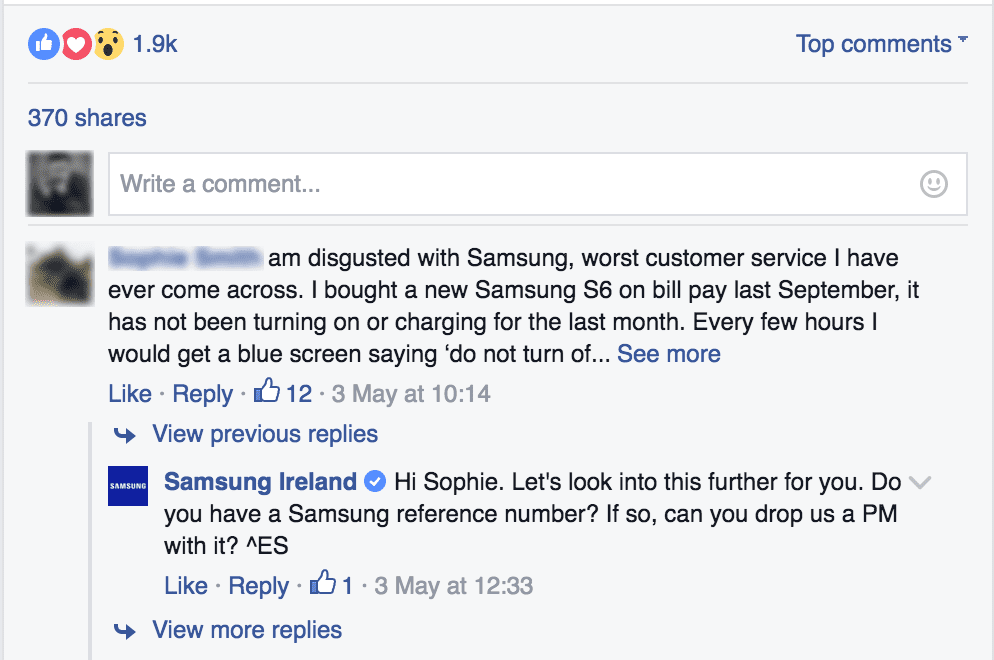 Source: Text Request
5 Explain But Don't Get Defensive:
There will be times when customers will angrily make a negative review without knowing or reading through terms and conditions or company policies.  These are the moments where you shouldn't just apologize. Instead, apologize and acknowledge their inconvenience and then very professionally explain the reason.
There will be instances when a technical failure or a third-party mistake will impact your reviews. In such scenarios, be assured to explain yourself with humility and politeness. This will ensure the customer that whatever inconvenience they faced was a one-time affair and wouldn't repeat again.
6 Followup With Negative Reviewers:
Resolving the customers' concerns is of priority. However, once the issue is resolved it's best to follow up and check with them if the issue is resolved to their satisfaction. It is good to request if they can remove the negative review. Sometimes they oblige if they feel they were fairly treated.
It is also important to check if the negative review is a genuine concern or its done by a rogue customer or competitor. This is quite prevalent in ecommerce business and providing a rebuttal response is important for online reputation.
Conclusion:
I strongly believe that taking the high road and attempting to improve is the best way to deal with negative reviews. A string of positive reviews especially if you are a new business will make you appear to be inauthentic or fraudulent. Instead, allow this negative reviews but ensure that the positive ones outweigh the negative ones. Document all these negative reviews and develop new KPIs to ensure these mistakes don't repeat. Take necessary steps to improve the user experience. This will put you on the right track to tackle these reviews while also retaining your unsatisfied customers.