What will the future price of Bitcoin be? What is the expected price of Bitcoin in 2018? What is the bitcoin price prediction for 2018, 2019 and 2020?
It's true that Bitcoin value fluctuates frequently, substantially, day and night. So, due to this volatile nature of Bitcoin, almost all Bitcoin holders remain curious about bitcoin price forecast as they find it tough to decide whether to sell some of the bitcoins or let all of them remain invested.
American Venture capitalist Tim Draper predicts bitcoin will multiply by 30 times within four years. He tweeted "This is bigger than the internet. It's bigger than the Iron Age, the Renaissance. This affects the entire world and it's going to be affected in a faster and more prevalent way than you ever imagined."
In another tweet, this tech investor predicted that bitcoin will reach $250,000 by 2022.
Serious winds (of change) at our block (chain) party last night. Predicting bitcoin at $25k by 2022.

— Tim Draper (@TimDraper) April 13, 2018
Is it time to sell my bitcoin?
It's difficult to create wealth overnight. When you invest today, it grows tomorrow.
It is an agonizing dilemma for a bitcoin investor, with thousands of dollars in his virtual wallet: should I sell bitcoin now or leave it untouched, potentially earning more money.
If we go by top experts' bitcoin price predictions for 2018, 2020, 2022, bitcoin will go higher and higher.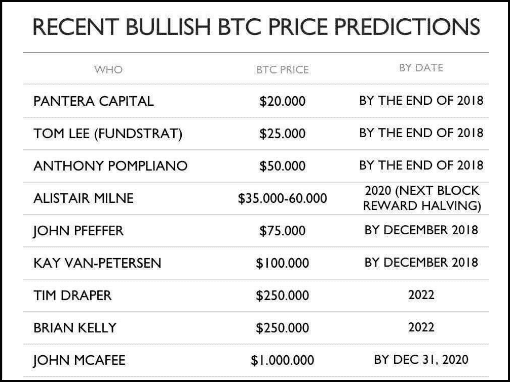 Thus, it is recommended that bitcoin holders should hold their bitcoins now.
But, if there are some pressing needs like you need to pay the bills, you are risk averse or have some urgent financial requirements, then instead of cashing out bitcoins completely, you should sell a percentage/portion may be 20, 30 or 40% of them, keeping rest invested.
So, it's time to take a deep breath and decide wisely.
What, you have no idea of how to convert bitcoins into real money or how to sell your bitcoins. Walk through this post, I am sure it will prove to be a good help.
Refresh your knowledge – What Are Bitcoins? How Do Bitcoins Work?
What are the basic things that you need to consider before investing in any cryptocurrency?
Cryptocurrency is a high-risk/high reward investment. You have to be prepared to accept the risk. There is no governing body, so it can be difficult to resolve issues if bitcoins get stolen or lost. Learn to trade!
Since bitcoin is relatively new, there are still many unknowns and its value being volatile can change daily, significantly. So, invest the money after much understanding and don't invest the money which you need in the short run.
Bitcoin appeals to criminals due to its anonymity and lack of regulation. So, consider the risks involved and the nature of the bitcoin market.
Stay up to date with the crypto scene, the news, and the technology. For trading platforms, just try them after comparing their fees and the terms and conditions of use.
Can bitcoin be converted to cash? How can I convert bitcoins to real money?
Yes, you can convert your bitcoins into cash. There are different ways to convert them into real money. You can either use ATMs, debit cards for this purpose or sell bitcoins for cash. There are different ways to sell bitcoins which we have discussed later in this post.
Bitcoin ATMs are the fastest way to convert bitcoins and other cryptocurrencies into cash. They are located worldwide. These Bitcoin kiosks dispense cash for bitcoins.
Some Bitcoin ATMs offer bi-directional functionality, which means they enable customers to buy bitcoins for cash as well as get cash for bitcoins. They connect the customer directly to the digital currency exchange and charge high transaction fees.
Next are Bitcoin debit cards. You can load your bitcoins onto a debit card and use them to spend or withdraw at any bitcoin debit card accepting company.
Some of the popular cryptocurrency debit cards are BitPay, Bitwala, Coinbase, Xapo and more.
Online services are other mediums to convert bitcoins into real money. Services like LocalBitcoins and BitQuick can help you accept cash payments for bitcoins online.
Also Read: What is bitcoin? Should I invest in bitcoin?
How to sell Bitcoin?
As there are different ways of earning bitcoin, there are different ways of selling bitcoin also. You can either do it via an exchange, direct trading websites or carry out a peer-to-peer transaction.
Which exchange site you choose or which broker you trade with will depend largely on where you live or work, as funds will need to be transferred easily and locally, without the need for expensive currency conversions and international telegraphic transfer fees.
A. Selling bitcoins through exchanges
1. Find an exchange of your choice.
The first step is to find the best place to sell bitcoins online i.e. a digital marketplace, which allows traders to buy and sell bitcoins using different currencies or altcoins.
While selecting best bitcoin exchange, you can consider country and geographical location to select the exchange which is closest to your location.
The type of exchange you choose to sell your bitcoin(s) will depend on the type of trader you are i.e. small investor, institutional holder or trader.
Bitfinex, Bitstamp, Coinbase, Kraken are some of the best cryptocurrency exchanges that offer not only bitcoin, but multiple other cryptocurrencies as well like Bitcoin Cash, Dash, Iota, Zcash and more.
Which is the best bitcoin exchange?
Consider a couple of things while making the selection. Check out:
The fee you'll need to pay in order to use the exchange.
The limit on the amount of money you're allowed to store.
Security and reliability of the exchange.
Bitcoin exchange rate.
Market capitalization and volume.
Enquire for bitcoin payment methods like – Is wire transfer possible? Can you use your PayPal account?
Geographical restrictions.
2. Register with the bitcoin exchange and confirm the required levels of verification.
To transact in bitcoins in an exchange, you need to create an account on the chosen exchange and go through a series of verification processes to authenticate your identity.
Almost all exchanges require you to submit your personal details in order to comply with Know-Your-Customer (KYC) and Anti-Money-Laundering (AML) policies and regulations.
3. Get a bitcoin wallet set up and link your bank account with the cryptocurrency exchange.
Once the verification is successful, an account is opened for you, in which funds will be transferred.
It is advisable that you should set up a bitcoin wallet to transfer and store the bitcoins purchased, yet. As it is always safer to take control of your bitcoins than leaving them at the risk of exchange. Send your bitcoins to the wallet, take your deposit address from the exchange wallet and send the bitcoins you want to sell to it.
Now, you must be thinking, what is a bitcoin wallet.
Well, it's the way to store, keep track of and spend your digital currency. Every bitcoin wallet comes with minimum of two keys -public and private. Bitcoin wallet facilitates sending and receiving of bitcoins and gives ownership of the Bitcoin balance to the user.
Now link your bank account with the bitcoin exchange to deposit and withdraw funds.
You are ready to sell bitcoin or any other cryptocurrency.
4. Make an offer to sell bitcoin.
State the amount of currency you want to trade, set a rate for it, choose a payment method- a bank transfer, PayPal transfer, cash delivery, bank wire, or credit card transfer. Set a time limit for buyers to pay and fill out your offer terms clearly.
Some exchanges allow you to set a limit on your sale i.e. if bitcoin's price drops below a certain point, the sale would not proceed.
5. Click 'Sell' on the exchange.
Once someone matches your offer, the exchange will automatically complete the transaction.
Once the sale is complete, the funds will be transferred directly to your linked bank account, or to your exchange currency account, at which point you can withdraw it as and when you like.
B. Selling bitcoins through direct trading websites
You need to register as a seller with the peer to peer bitcoin trading platforms. Direct trading websites like LocalBitcoins, Bitsquare, Paxful act as a bridge between buyers and sellers. They connect them directly, without the help of any third parties. Transactions are generally conducted via wires or deposits to your bank account.
Once the buyer likes your price, and deposits money into your bank account, you can send bitcoins from your digital wallet to the specified address of the buyer as the proof of deposit.
Some direct trading sites offer different payment methods or methods of accepting money, including gift cards, PayPal and Venmo, or cash in person.
You can also sell directly to your knowns.
So, what is the best platform for bitcoin trading?
It all depends on your preferences when it comes to selling, so you'll likely find a way that suits what you want.
Tip– Make sure to check how bitcoin is doing before you make the sale. It is volatile and thus, you never know where it'll be on any given minute, hour or day.
Who Accepts Bitcoins?
A lot of brands nowadays accept Bitcoins as a payment method, allowing customers to buy products and services. Scroll down and go through the infographic below to know who accepts bitcoin.
Disclaimer: This blog is entirely for general informational purpose. This does not intend to provide any legal advice or business advice from the site owners.