At the time of writing this blog, bitcoin prices tend to show an upward trend. The world's leading cryptocurrency by market cap was in freefall after December. But now, bitcoin has moved closer to $10,000.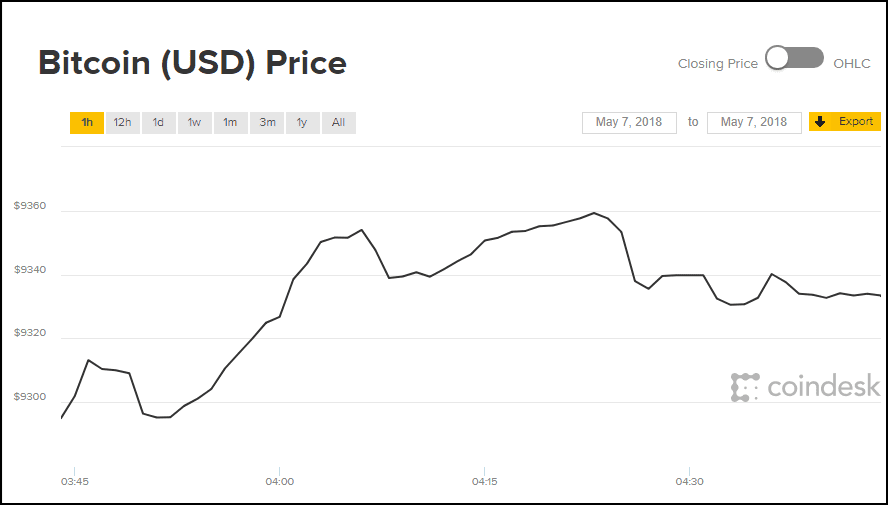 Fran Strajnar, CEO of Brave New Coin, a data and research company focused on the blockchain and cryptographic assets market, thinks that this upward shift in bitcoin pricing is due to the improvement in the fundamentals of bitcoin- tech upgrades and big investors.
Big investors like George Soros and Rockefellers are showing interest to move into this crypto-currency ecosystem, while with many other finance, blockchain firms are ready to enter the digital currency market.
Many barriers also appear to have been lifted. "The U.S. is stepping in to regulate security tokens instead of commodity assets (utility) and we are seeing major value investors stepping into buy as a result," Fran says.
So, is bitcoin worth investing in?
An asset is considered as a good investment if it leads to capital appreciation and an expected future cash flow.
May be having one bitcoin today does not enable you to buy more bitcoins or get rich immediately tomorrow, but in the long-term, these two things may happen, looking at the past trends.
It's true that bitcoin hasn't gained enough trust yet, people both celebrate and bemoan the state of bitcoin market. Due to the explosive rise and fall in its prices, people have termed it as a bubble and many proclaim that this bubble will burst and cease to exist in near future.
Despite its growing popularity, most businesses still do not accept it and its usefulness as an investment is both highly questionable and potentially risky.
So, this article tries to answer some of your questions like should I invest in bitcoin, why bitcoin is worth investing in? Should I buy bitcoin? Is this a right time to buy Bitcoin and most importantly where can I get bitcoins from?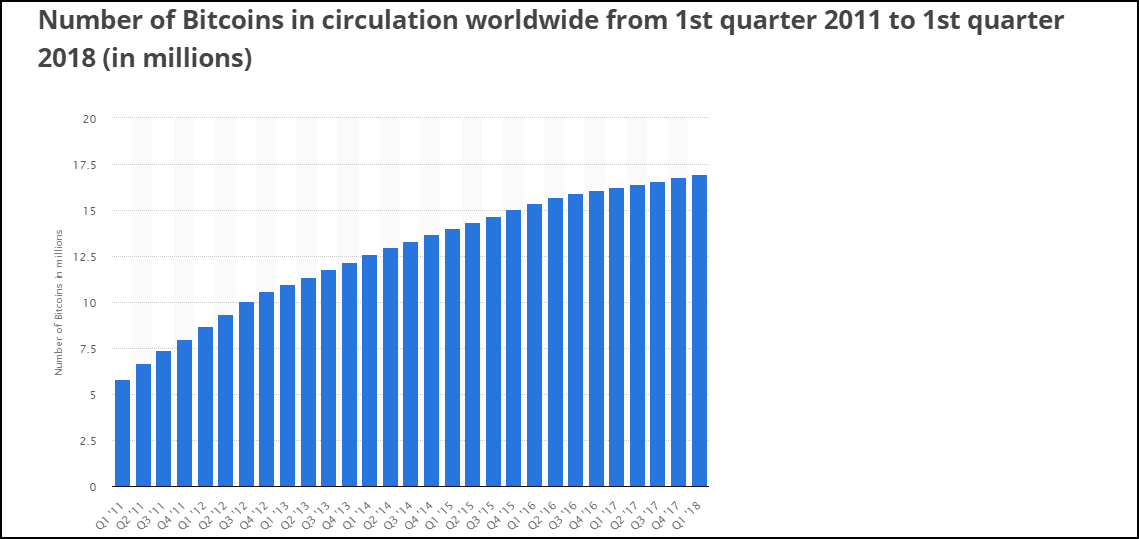 But if you have patience and you adopt buy and hold bitcoin strategy, it is worth investing in.
Total number of Bitcoins in circulation from first quarter of 2011 to first quarter of 2018. The number of Bitcoins has been growing since the creation of this virtual currency in 2009 and reached approximately 16.95 million in March 2018.- Statista
What can I buy with Bitcoin?
Bitcoin is used both as an investment and as a method of payment for goods and services, and is touted to do so without needing to involve any third parties. You can buy presents/gifts via digital gift card platforms like Gyft or eGifter.
Get everything from laptops and television sets to pillows with payment in bitcoins via online retailer Overstock.com or pay for hotel bookings via Expedia.
Shopify, an ecommerce platform, and its stores also accept bitcoins.
You can also satisfy your hunger by paying for Pizza in digital currency at PizzaForCoins. If you wish to purchase games, movies and apps in the Windows and Xbox stores, Microsoft also accepts Bitcoin payments.
How do I buy Bitcoins and from where? Which is the easiest method of buying bitcoins?
Bitcoins can be bought from exchanges or directly from other people via marketplaces or bitcoin ATMs. You can buy bitcoins with bank account, pay for them in a variety of ways, ranging from hard cash to credit and debit cards to wire transfers, or buy bitcoins with PayPal, depending on who you are buying them from and where do you live.
Step 1. Create a place to store your bitcoins
The first step in the row of buying bitcoins is to set up a digital wallet to hold your bitcoins until you spend them or exchange them for another currency. It is a bank account for your bitcoins that holds private keys or passwords to your bitcoins. If you lose them, you lose access to the bitcoins stored there.
Every wallet address is unique and you can transfer bitcoins from your wallet to someone else by sending it to their wallet address. You can either enter the wallet address manually (risky) or you could copy paste and send it, but the best way is using QR code to scan and send.
Picking a wallet is a matter of your choice. There are various types of bitcoin wallets available – software wallets- Coinbase (online or exchange wallet), Exodus ( offline wallet), Mycelium (mobile wallet), hardware wallets (paper wallets) and hard wire wallet ( small and compact like USB).
Download your chosen bitcoin wallet depending upon your iOS or Android operating system.
Some exchanges like Coinbase offer bitcoin buying app which acts both as an exchange and a wallet.
Step 2. Choose the bitcoin trader- online or direct
a. Buy bitcoins online through exchange
Bitcoin exchange is one of the best places to buy bitcoins and sell as well. Select a bitcoin exchange of your choice and depending on your geographical area. There are multiple exchanges operating, each with different degree of security and liquidity. Famous ones being- Coinbase, Circle, Xapo and more.
For your account set-up, exchanges require your verified identification details, which you need to provide them with, while signing up for the service.
Next, choose the payment option to buy bitcoins – bank transfer, credit card or PayPal transfer. Different exchanges have different procedures for transactions.
Link your exchange account to your existing bank account so that arrangements can be made to move funds between it and your new Bitcoin bank account.
While choosing the best place to buy bitcoin online, remember to look for fees charged for buying bitcoins and payment methods offered.
b. Buying bitcoins through peer to peer bitcoin trading platforms
You can buy Bitcoins by opting for direct route – P2P i.e. peer to peer service. To name, LocalBitcoin and BitQuick are the best peer to peer bitcoin exchanges.
These P2P bitcoin exchanges help you make face-to-face trades with a local seller. You just need to match your seller, schedule a meet up with the seller and negotiate the bitcoin exchange prices.
For bitcoin trade, you get two options —
Over the Counter (OTC) transactions: Here, trade is conducted face to face i.e. buyers and sellers exchange bitcoins and money, face-to-face.
Complete bitcoin trade is conducted online.
They also offer a wider array of payment options and let you purchase bitcoins directly from a seller without any exchange middle man.
Step 3. Buy bitcoins and store them in your bitcoin wallet
Go to the buy section of the chosen exchange. Select the bitcoin amount you want to buy and start your trading.
Can I buy less than one Bitcoin? Is it possible to buy half a Bitcoin?
Yes, you can buy any amount of bitcoin. It is divisible up to eight decimal places and you can buy/send/receive even a fraction of a full bitcoin and transfer it as well.
Step 4. Plan how to use bitcoins
Since bitcoin prices are volatile in nature, you need to plan whether to hold them or sell a fraction of them or exchange them to purchase something. Prepare yourself to do so at a moment's notice.
Set up a seller account now or figure out how to sell bitcoins so that you can take decisions instantly when the time comes.
Can I buy bitcoins with cash?
Yes, you can buy bitcoins with cash. You can buy bitcoins by using bitcoin ATMs – machines that will send bitcoin to your wallet in exchange for cash.
You can also buy bitcoins with cash by using peer to peer exchange platforms via cash trade in-person or with cash deposit. Just find your seller around and fix the exchange rate and buy with cash.
Tip– Do not invest more than you are willing to lose. Bitcoin is a very risky investment and you should remember this fact at all times.
Important – Depending upon your place of residence, find whether bitcoins transactions are valid in your country or not. Read more here.
Disclaimer: This blog is entirely for general informational purpose. This does not intend to provide any legal advice or business advice from the site owners.