The premier event for hosting, domains and cloud industry – CloudBazaar took place last week at the business capital of India – Mumbai. The event that drew over 2500 attendees and 40 partners turned out to be the perfect networking platform for insightful informational exchanges related to the cloud and hosting industry.
The 20 sessions that were held at the event, were a balanced mix of B2B (Business-to-business) and B2C (Business-to-customer) interactions, where on one hand, who's who in the industry talked about the benefits they have realized by moving to the cloud and on the other hand, industry experts discussed about the latest trends in the internet infrastructure industry.
It was an event to remember with the list of elite attendees including the providers of the web hosting, cloud, backup, SaaS and datacenter services along with the ISPs, SSL certificate providers and leading individual bloggers and professionals as well, who were there to learn about new and emerging technologies.
The networking opportunities were galore and the SMBs and other participating companies got the chance to interact with the leaders in the domain and the cloud industry and learn the required strategies to get ahead in the market.
The event started with a session on 'Building scale for your business', led by Vice-President, Channel Partnerships of Endurance International Group – Shridhar Luthria. He captivated the audience with his tips on ways to maximize a company's output within the available resources, while meeting its scaling requirements.
We also saw Mohit Pande – Country head, India, Google Cloud, bring out the significance of automating cognitive insights through machine learning and how to gain advantage in business by taking predictive as well as prescriptive data-driven decisions.
Prabhakar Jayakumar, Country Manager, India – DigitalOcean, talked about cloud and how it supports cost-efficient business scaling.
Later, Amitabh Jacob, Head of Partner & Alliances, Amazon Internet Services, emphasized the importance of digital transformation for businesses and how AWS has been helping its customers achieve it.
We also saw insightful sessions on domain names, from Andy Simpson – Data Scientist, Verisign. He discussed about intersection of online services and domain names.
Anand Vora – Director, Business Development, International Market, Donuts Inc. brought out the significance of new TLDs and how service providers can guide their customers to use these emerging TLDs to define their digital identities.
There was also a panel discussion focusing on domain names and their importance in the growing age of business as an important component of web presence.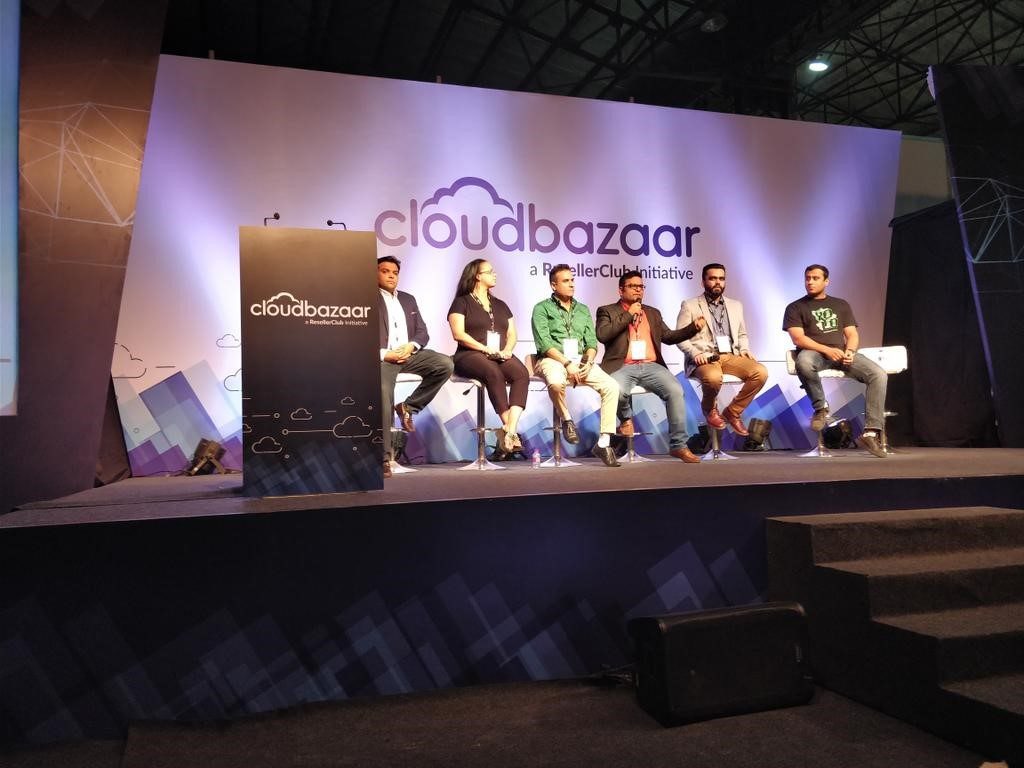 Apart from these, there were other sessions also, headed by various experienced business leaders like Sujit Shetty – Architect Lead for Data & AI for Microsoft India, Vikramank Singh – Data Scientist, Facebook and an invite-only session with Deepak Kanakaraju – Digital Marketing Blogger.
The event was primarily organized by ResellerClub and Event Tree. Platinum sponsors were Donuts Inc. and Constant Contact along with .biz and .co TLDs.
Google Cloud, AWS, Zoho, DigitalOcean, OpenSRS, Radix, Jetpack and E2E networks were the Gold sponsors.
Overall, the event was a huge success and now we look forward to CloudBazaar 2018.
*Image Source: CloudBazaar