We all love a good GIF to convey what no image or text can; in the same way, no-code can convey ease and agility to your business like nothing else can.
Understanding new concepts by reading blog after blog can be quite taxing, especially when you have the motive to learn but slowly lose the motivation.
Keep reading this blog that aims to break the clutter by understanding the concept of no-code and citizen development for your business with the help of some GIFS!
1. Even you can create your own application with a no-code platform
Creating a no-code application is as easy as it sounds. As the name suggests, with no-code, there is literally no coding involved.
This enables business users with no coding skills in any department, be it in Finance, Marketing, HR, Operations, or anything else, to create applications with a simple visual interface using a drag and drop builder. It is truly a revelation in technology today.
2. Developing applications happens so fast
With such ease, speed is essentially a by-product of no-code application development. Mixing and matching components to build meaningful applications can happen within minutes.
Speed and agility is extremely essential in companies; their survival, continual growth and competitive advantage depends on it. In fact, if you pit against each other big vs fast companies, it was seen that giants were overtaken by much smaller companies; speed truly triumphed over size.
3. Business users after building their first no-code application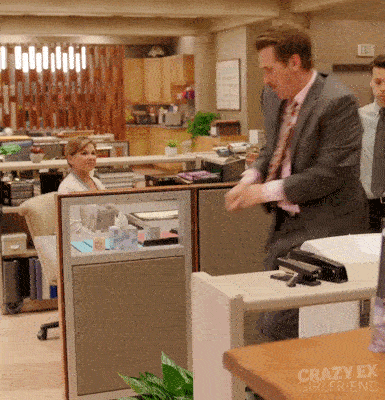 After creating an application specifically to your company's requirements, you can enable the automation of your workflow and business processes. Process automation accelerates digital transformation of companies, it also gives the employees more time so they can focus on critical matters, such as dancing in their office.
Jokes apart, automation using no-code has become easier to facilitate for the employees as well as the company as a whole.
For example, all departments could be informed of their respective tasks to be completed at once, automatically, at the beginning of the day. This creates an error-free, smooth functioning working day with less manpower utilisation.
4. Less time, better productivity with no-code
Time saved is money saved. Time utilised well is money made.
If employees spend their time in tasks that can be easily automated, they will not be engaging in work that pushes them to their full potential. This will not only affect the company's work but also their morale.
With no-code applications, the employees can automate repetitive tasks and do work that actually adds to their productive capacity as well as boost the productivity of the organization.
5. I can design a form, automate workflow, apply business logic, and publish the app in the blink of an eye without any coding skills
You truly can. No-code offers so much utility to an organization with absolutely no coding skills. With platforms like Quixy, you can literally build and publish apps in a few simple steps and make changes anytime you want with minimal clicks.
Citizen development is becoming increasingly popular, especially in decreasing the IT backlog being faced by organizations. The citizen developer is Iron Man and no-code is their suit.
6. IT Backlog Stress
IT in companies find it difficult to keep up with the demand for applications required for the functioning of an organization. It is not possible to fulfil every little demand as the more pressing applications that actually require professional developers get piled up behind smaller requirements.
72% of IT leaders now say project backlogs prevent them from working on strategic projects.
This creates a massive backlog for the IT department which has led to the use of Shadow IT in organizations. While Shadow IT aids the productivity of employees, it is a big security risk.
No-code application development with governance from the IT team helps reduce the burden on IT without the risk of shadow IT so the professional developer in this GIF can relax a little
7. Create a digital workplace and stay cool and relevant
A digital workplace is essential for the success of your business, especially in the current market scenario. The need for it has increased significantly amidst the COVID-19 pandemic. Using a no-code tool, businesses can automate processes across departments and create a truly digital workplace where.
Adopting new technologies and making the best possible utilization of them aids an organization to stay relevant and keep innovating.
8. Get rid of paper-based processes by automating your processes with no-code
No-code process automation and application development gets rid of paper-based processes in an organization and thus furthers the company's digital transformation. By having business processes automated, workflows can be centralized and integrated much more easily.
Going paperless has very many benefits and is extremely beneficial in creating a better workplace environment and environment in general.
9. Your company with all the money it saved using no-code
No-code saves companies very many precious work hours and a large amount of funds that would otherwise be spent on professional development, paper, stationery, and labor.
Time is money. You need to save it. Furthering an organization's vision and mission comes with a judicious mix of working hard and working smart.
10. Say cheese for no-code applications
After all the uses and perks of the no-code listed above, it will definitely leave you smiling and satisfied with how smoothly your business is functioning. No-code can enable digital leadership and better workplace culture in this era of fast-paced constant change.
Embrace no-code into your organization and see the difference it makes for your employees, customers and your company as an entity. It truly is a game-changer.
Coding without coding even a single line is the future of work.
Conclusion
In the end, no-code offers functionality, automation and customization to create a fulfilling digital experience for your company; it basically provides utility that pushes your company further into the dynamic environment with tools to provide the organization with a competitive edge.
Ultimately, no-code gives a company value and we hope we have been able to convey this value in the information provided in this GIF filled blog.
The post GIFing you an Insight into No-Code appeared first on NASSCOM Community |The Official Community of Indian IT Industry.