The warehousing segment under the logistics sector has witnessed a phenomenal run in the past few years. Warehousing has witnessed investments from private equity, real estate players, and other new entrants, who have invested large sums in this segment.
The demand for Grade A warehousing grew at a CAGR of 20 percent between FY18 to FY20; while demand for Grade B warehousing grew at a CAGR of 16 percent between FY18 to FY20. While the start of 2020 witnessed issues such as labor availability, increase in order fulfillment time, etc., there were no other major issues faced by the segment. These issues also improved as the lockdown restrictions started to ease. Warehouses witnessed more traction towards the latter half of 2020.
Further, assessing seven key end-user industries across India, the growth in warehousing demand is chiefly attributed to the top 2-3 end-user industries such as retail, Ecommerce, and FMCG. These sectors witnessed robust growth over the past few years which has propelled warehousing demand to clock an overall 18 percent CAGR between FY18 to FY20 for both Grade A and B warehouses.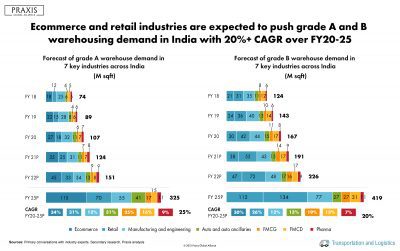 Going ahead and backed by this buoyant growth in these seven end-use industries, the demand for Grade A and Grade B warehousing is expected to grow at a CAGR of 25% from 107M sqft to 325M sqft between FY20 to FY25 and 20 percent from 167M sqft to 419M sqft between FY20 to FY25 respectively.
Warehousing demand for key end-use industries such as FMCG, retail, Ecommerce, and auto & auto ancillary is expected to witness a 2.5 to 4x growth from FY20 to FY25. This demand is on the back of robust growth in these industries. Apart from the existing trends, future trends are emerging in the warehousing segment. These trends are expected to be implemented with a short term (3-6 months), medium-term (6 months to 1 year), and long-term focus (about 5 years).
The key emerging trends witnessed in the warehouse growth over the next few years across these end-use industries range from warehouse automation, expansion to Tier-2 cities, racking solutions, full-stack logistics, multi-logistics parks, etc.
A snapshot of the same across end-use industries is captured below:
Authored by
Rahul Mehta, Domain Leader, Transportation & Logistics
Savio Monteiro, Sr Vice President, Infrastructure, Transportation & Logistics
The post Emerging trends in warehousing segment across end-user industries appeared first on NASSCOM Community |The Official Community of Indian IT Industry.