Web security is becoming challenging day by day. Online businesses take several preventive measures to protect their websites from cybercriminals.  Installing an SSL certificate is one of the security measures for a website to secure it from the online threats. However, selecting the right SSL certificate sometimes seems like a headache. Because there is a plethora of certificate types, several categories and plenty of CAs. But, before highlighting the different SSL certificates and how to choose the right one, we will discuss below why an SSL certificate is so important these days.
Nowadays, why an SSL certificate is a must-have.
Cybercrimes are growing rapidly with every passing minute. So, cybersecurity has become the most concerning issue for both the web users and the web owners. Moreover, according to a recently published report, cybercriminals can cost online businesses millions. A global report from RiskIQ showed that the worldwide economy lost £1.2 trillion last year due to cybercriminals that is equivalent to approximately £2.3 million every minute.
Therefore, SSL certificates are widely used on an e-commerce website for making a secure connection between a server and its web users. It doesn't only protect the sensitive information that is transmitted between a web user and a web server, but also boosts ranking, improves brand credibility and raises the conversion rate.
How to choose the best SSL certificate?
Usually, web owners get confused while choosing an SSL type. SSL certificates available in the market can be divided according to their validation level, warranty, technical support and domains support.
Important Factors to consider while choosing the right SSL:
1. Validation Level
Generally, all SSL certificates provide data encryption and session security services to websites. However, the main difference is the validation level of SSL certificate. It completely depends on a validation level that how much information about a company will be shown in browsers or to the web users. There are mainly three levels of validation as mentioned below:
Domain Validation (DV) SSL certificate – Low
This is also called a low assurance certificate that is used to protect standard websites/blogs/single domains. The simplest form of validation is done where the website registration and administration approval are confirmed to issue the certificate. It takes a few minutes to a few hours in terms of processing time.
This certificate is suitable for low traffic websites or informative sites, where no financial transactions are done.
Organization Validation (OV) SSL certificate – Medium
In this certificate validation, an authorized agent verifies the domain ownership and company's identity, including the company name, city, state, and country.  Web owners must submit some additional business-related documents for verification. The whole process takes longer time than a DV certificate for issuance.
Such certificate provides appropriate security to a medium-sized business that carries average financial transactions and wants to gain its customers trust.
Extended Validation (EV) – High
It provides the highest level of security to websites and the validation process of such certificate is rigorous as CA verifies the ownership of the server and the legitimacy of its owner. Generally, the CA verifies the legal, physical and operational existence of the company, official government records, and databases, and confirms that only the genuine company is authorized to buy the EV certificate.
Most browsers show a green address bar with a verified name of the organization. The EV certificate is mainly used by government and major e-commerce sites such as banks, Amazon and Flipkart, etc.
Besides, recently published news revealed that websites having EV SSL represent a legitimate domain name.
Three different websites with different Validation Level: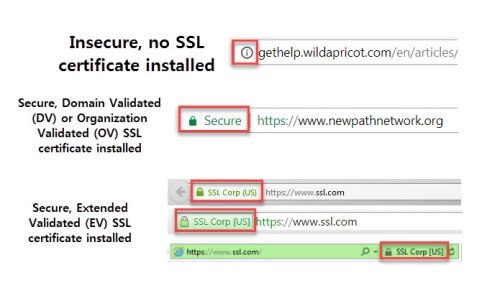 2. Domain Support
The next factor to be considered is how many domains you want to cover under a single certificate. Usually, domain coverage is categorized into the following three categories:
Single Domain Certificates

It helps to secure one Fully Qualified Domain Name (FQDN). You can protect a single domain with its all subpages. Best examples are:
www.mydomain.com/
www.mydomain.com/register
www.mydomain.com/about
www.mydomain.com/contactus
mydomain.com
The wildcard certificate allows its users to protect all the first level of sub-domains under an FQDN. It supports only DV or OV. The best instances are:
www.mydomain.com/
info.mydomain.com/
mail.mydomain.com/
payment.mydomain.com
Multi-Domain Certificates

This is also called SAN and UCC certificates. It allows users to protect multiple FQDN domains along with multiple sub-domains. This is best appropriate for you if you are running multiple websites with single or multiple company names. All DV, OV, EV support this category.
www.mydomain.com/
info.mydomain.co.uk/
payment.mydomain.co.in
3. Warranty
Another factor is warranty; it shows your customers how much serious you are for your consumers' information security. The highly assured SSL Certificate like EV SSL Certificate provides a high amount of warranty when any mis-issuance of a certificate is done for a website. An SSL certificate may cover $1,0000-$1,000,000 in a warranty.
4. Technical Support
The more you invest, the more technical support you will get from an SSL provider. Usually, in a free certificate, there is no technical support. However, in EV and OV, technical assistance is provided while installing and validating the certificate. Make sure the support is available via different sources like email, live chat, contact us page, phone, social media resources, etc.
5. Price
Some web owners think why they should invest big bucks when they have an option to get a free certificate. However, free certificates are valid only for a few days after that you must renew them, otherwise, the browser will show your users that the website is insecure. It may increase your bounce rate on the website. The price of paid SSL certificate starts from $10-$350 on the basis of the type of SSL certificate.
6. Vendor
There are a number of SSL vendors available online such as; Thawte, GoDaddy, GeoTrust, GlobalSign, and DigiCert. Different vendors provide different price range and security elements for each certificate. So, before choosing any SSL vendor, make sure to check its reputation as this is the matter of your consumers' data security. You cannot lose your business credibility at any price. You may check the vendor's reputation by watching their reviews and consumer's feedback on their website.
7. Conclusion
Web security always plays an imperative role while developing business credibility in user's eyes. So, selecting the right security is a must since it secures your website from outer threats as well as it can immensely diminish the price and endeavors that are required to manage your web security infrastructure. Hope, the above information will help you in selecting the right SSL. If you are searching for the right SSL certificate, then there are different vendors like SSL2BUY from whom you can buy SSL Certificate.
Related Read: Understanding HTTPS, Types of SSL Certificates and Installing a SSL certificate for Microsoft Exchange 2007