The global server market witnessed a significant growth in 2017, with revenue going up by 10.4% and shipments growing by 3.1%, as compared to an year before, according to Gartner's latest report.
The growth was highest in the final quarter of 2017, where server revenue increased by 25.7% and shipment grew by 8.8% YoY.
"Server growth was driven by relatively strong economies for the quarter across the globe," said Jeffrey Hewitt, research vice president at Gartner. "This was a somewhat surprising quarter because the strength was exhibited in a variety of positive server shipment and revenue mixes in almost all geographies."
Based on revenue, Dell EMC dominated the global server market in the fourth quarter of 2017, holding 19.4% share of the total market. It witnessed growth of around 40% as compared to an year ago.
HPE closely followed Dell EMC, holding 19.3% of the total market, and showing a growth of 5.5%. In the third quarter of 2017, HPE had ranked first in the server revenue, but the position has now been taken by Dell EMC.
The other leaders in the server market were IBM, Inspur Electronics, and Huawei.
Inspur Electronics, the leading cloud computing and big data service provider, saw the largest growth (127.8%) in the server revenue and jumped in the list of top five server vendors.
In Q4 2016, Dell EMC had dominated the market in server shipments, and continued its dominance in 2017, holding 18.2% share of the total market.
HPE witnessed a decline of 12.8% in the server shipments, but still ranked second in the list with 13.8% market share.
Lenovo failed to cut place among the server revenue market leaders, but ranked fifth in the server shipments market with 5.7% share.
"Both enterprises and hyperscale data centers produced positive results globally for the year as end users seek to implement more digital business solutions," said Mr. Hewitt. "The outlook for 2018 suggests that modest growth will continue, with enterprise end users taking an ongoing hybrid approach to both on-premises and public cloud choices based on their server application objectives."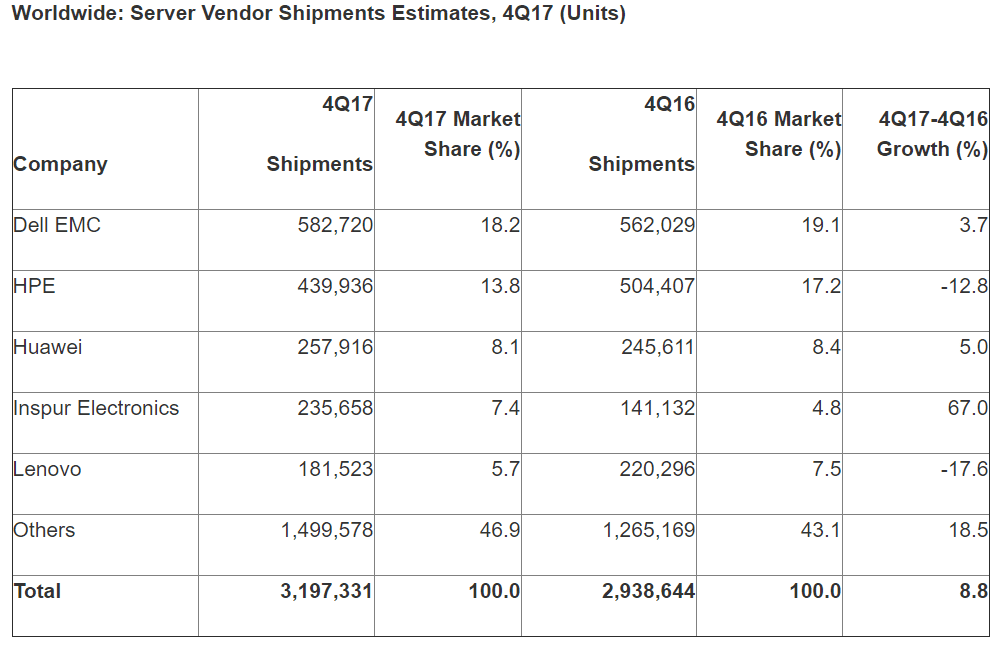 North America and Asia Pacific region represented the largest market share in terms of revenue (27.6% and 35.1%, respectively). Both the regions witnessed significant growth in shipments as well, growing 9.7% (North America) and 21.2% (APAC).
EMEA and Japan saw robust revenue growth in 2017, but declined in terms of shipments.
Latin America witnessed decline in both the terms in final quarter of 2017.
Also read: Gartner recognized Microsoft a leader in OPDBMS market for third time
Gartner will discuss the server market trends and infrastructure and operations at Gartner Global Infrastructure & Operations events in April, May and June.