In the latest report about the server market by Gartner, the world's leading research and advisory company, it has been found that in the second quarter of 2017, worldwide server revenue increased 2.8% YoY, while shipments grew 2.4% from the second quarter of 2016.
"The second quarter of 2017 produced some growth compared with the first quarter on a global level, with varying regional results. The growth for the quarter is attributable to two main factors. The first is strong regional performance in Asia/Pacific because of data center infrastructure build-outs, mostly in China. The second is ongoing hyperscale data center growth that is exhibited in the self-build/ODM (original design manufacturer) segment," said Jeffrey Hewitt, research vice president at Gartner.
Mr. Hewitt also said that x86 servers increased 2.5 percent in shipments and 6.9 percent in revenue, while the RISC/Itanium Unix servers fell down 21.4 percent in shipments and 24.9 percent in vendor revenue as compared to the same quarter last year. There is decline in revenue of 'other' CPU category, comprising mainframes, by 29.5 percent.
On the basis of revenue, Hewlett Packard Enterprise (HPE) continued to lead in the global server market. It posted $3.2 billion in revenue for a total share of 23 percent for the Q2 of 2017.
Dell EMC maintained its second position with growth of 7 percent and a market share of 19.9 percent.
Huawei acquired the highest growth in the quarter with 57.8 percent.
With 17.5 percent market share, Dell EMC maintained the number one position in server shipments in the Q2 of 2017, while HPE secured the second spot with 17.1% of the market.
Gartner also reported that Inspur Electronics topped the list of highest growth in server vendor shipments with 31.5 percent, followed by Huawei with 26.1 percent growth.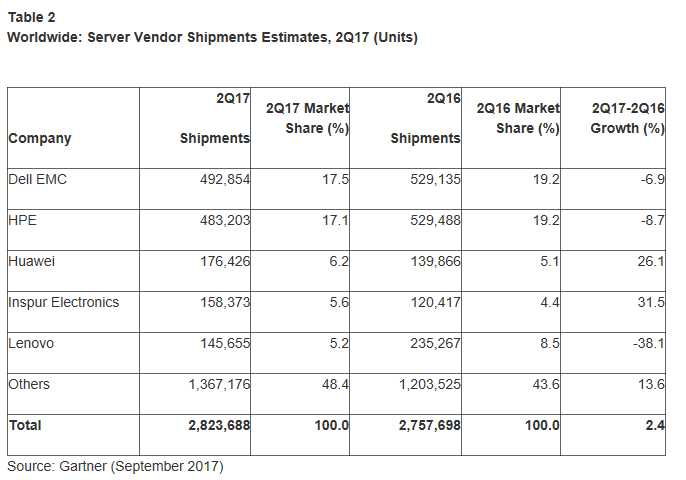 Also read: HPE completes spin-off and merger deal with Micro Focus
The additional trends of data center and IT operations will be provided by Gartner analysts at the Gartner Global Infrastructure & Operations events from November 27 to 28, 2017 in London, December 4 to 7, 2017 in Las Vegas and May 15 to 17, 2018 in Orlando.