Synergy Research Group's new Q2 data shows that the quarterly spending on overall data center hardware and software has grown by only 5% in the last 2 years, while spending on the public cloud portion of the same has grown by 35%.
The spending on traditional, non-cloud data hardware and software has also decreased by 18%. But private cloud infrastructure market has grown, though less compared to public cloud.
The total revenues of data center infrastructure equipment (cloud & non-cloud hardware and software), in the second quarter were over $30 billion, of which 30% accounted for public cloud infrastructure.
Operating Systems, networking, servers, storage and virtualization software accounted for 96% of the overall data center infrastructure market, with the remaining being comprised by management and network security software.
"With cloud service revenues continuing to grow by over 40% per year, enterprise SaaS revenue growing by over 30%, and search/social networking revenues growing by over 20%, it is little wonder that this is all pulling through continued strong growth in spending on public cloud infrastructure," said John Dinsdale, a Chief Analyst and Research Director at Synergy Research Group.
"While some of this is essentially spend resulting from new services and applications, a lot of the increase also comes at the expense of enterprises investing in their own data centers. One outcome is that public cloud build is enabling strong growth in ODMs and white box solutions, so the data center infrastructure market is becoming ever more competitive," he added.
Original Design Manufacturers (ODMs) hold the largest part of the public cloud market, where Cisco is leading as an individual vendor, followed by Dell EMC and HPE.
Dell EMC was reportedly the leader in private cloud market in Q2, followed by HPE and Microsoft.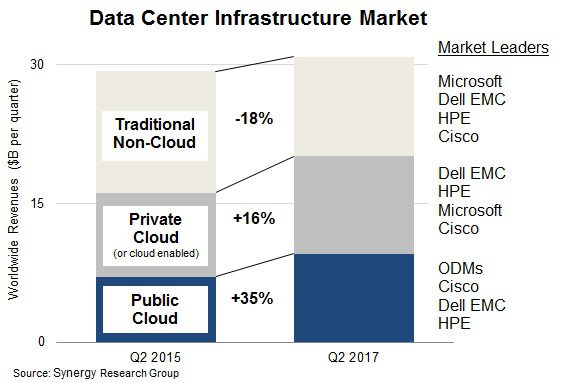 Also read: Dell EMC and HPE compete for top spot in server market as worldwide server shipments grew by 2.4 percent in Q2 2017: Gartner report
By segment, HPE is leading server revenues, while Dell EMC leads strong in storage, and Cisco is dominating the networking segment. Microsoft appears in the rankings majorly due to its dominance in server operating system and virtualization applications.
Other than Cisco, Dell EMC, HPE, and Microsoft, the other leading vendors in the market are IBM, Huawei, VMware, Lenovo, Oracle and NetApp.