When cloud technology first arrived, nobody was sure how significant the outcome would be on the businesses. Eventually it started creating a buzz in the market. Cloud technology has transformed in a way how a business operates, in addition to time and cost saving. This has resulted in it becoming one of the most commonly used technologies over the last decade. Right from SMEs to mid-size to a fully established business -everyone is shifting to the cloud. That's because this technology increases scalability and serves higher performance.
Cloud technology has expanded its roots in the hosting environment as well. In simple terms, to understand cloud hosting, one can refer to the policy of 'Divide and Rule'. Your website needs some resources to run. These resources are divided across multiple machines throughout the network that can be made available as per the need.
Unplanned Traffic Spikes
A sudden increase in website traffic may be a good sign for your business. It ultimately will help in generating more leads, which means more sales. But have you ever thought that a sudden traffic rise could do more damage than profit? Think of a glass of water being filled more than its capacity. Can it hold more water than its capacity? No, Right? The water will start overflowing in that case.
Similarly, when there is a sudden surge in your website traffic, it can harm the website's functionalities and go beyond the limit of maximum server resources allocated for the website. This increases the load on the server and the site may fail to respond to a visitor's request. Even though your site is optimized for excellent speed, the server may outburst, if it gets overloaded. The site will slow down and become non-responsive for visitor's use, resulting in customer disappointments and affecting business revenue.
If you wish to take advantage of this high incoming traffic to your site and generate profit out of it then its time you migrate your website to the cloud. Cloud hosting immensely diminishes any chances of downtime in situation of server break down. It instantly allocates resources on-demand basis.
Downtimes are Intolerable
If the server goes down for any reason, your website becomes inaccessible for that particular span of time. Downtime affects your website's SEO, sales & reputation and nobody wants that! All the businesses work hard to reach the aim to achieve zero percent of website downtime. But you cannot control the inevitable. There are several reasons that make the server unavailable such as server overloading, unavailability of resources, etc.
The solution to this problem lies in cloud hosting, as the resources are divided across various servers on the cloud network. In case one server fails, there is already another server to take hold of the website.
Cost Management
Your website requirements may expand anytime. You will opt for a server plan with more resources. What if most of the time you don't need the actual resources that you are paying for? You are over paying in such cases as you need to pay fixed amount irrespective of your actual usage. This happens mostly with traditional hosting. For example, you book a hotel room, you pay per reservation. Right from the time of check-in to the moment you check-out, you get charged for the total duration the room was utilized regardless of how many facilities or how long you have actually used the room.
In cloud hosting environment, you don't need to pay fixed cost. The cloud hosting works on pay per use model. You pay only for the resources that you utilize. You can compare this model to your electricity usage. The similarity between both the technologies is that they provide you resources on-demand basis and you need to pay only for the amount of resources you have used.
Future of Cloud Technology
The fastest-growing technology in the market on today's date is cloud technology. According to Gartner, Inc. public cloud service market is expected to grow from $153.5 billion to $186.4 billion in 2018.
The SaaS market is expected to reach $73.6 billion in 2018.
83% of enterprise workloads will operate on public cloud platforms by 2020.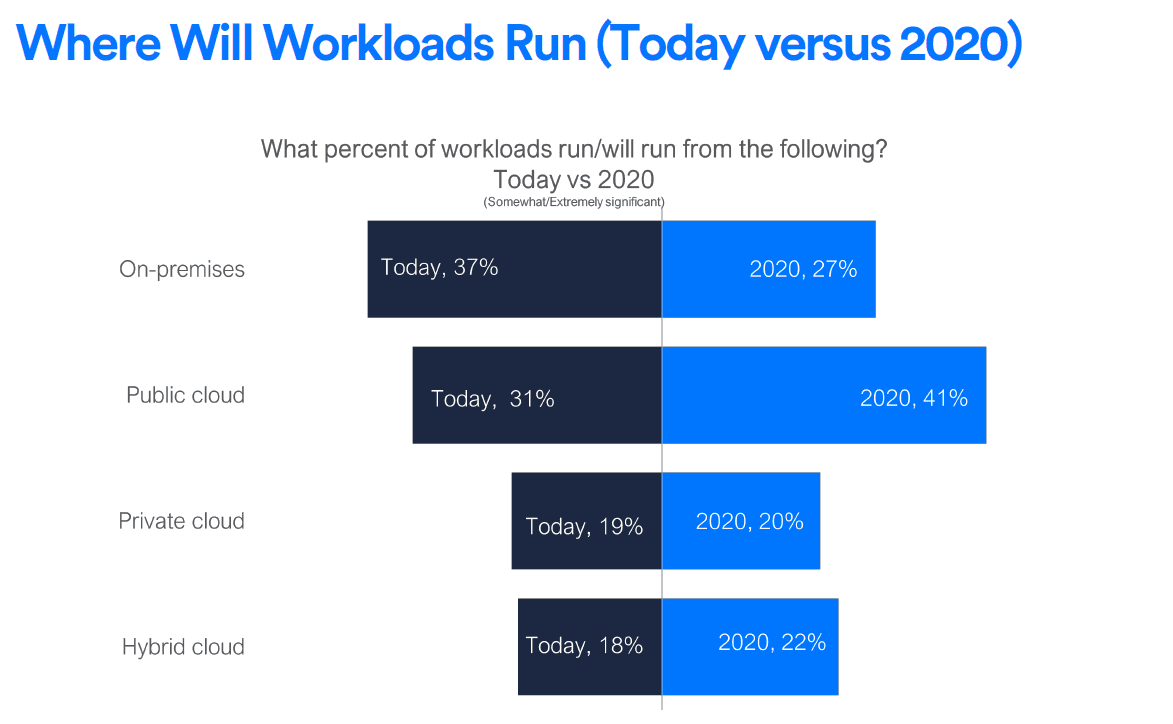 Other Trends
Multi cloud strategy
According to Rightscale survey, multi cloud is preferred strategy among enterprises.
81% of enterprises use multi cloud strategy.
Industry-specific cloud computing
For fulfilling the unique requirements, industry-specific cloud will become standard.
User base will become more diverse.
Hybrid Cloud
Enterprises will prefer hybrid cloud over public cloud server, as predicted by Nasscom Community.
This can result in launching of API platforms by cloud providers.
Summary
Cloud technology is growing even faster than expected. It has come a long way over the last few years. We are seeing more and more businesses are being shifted to the cloud as it is helping to meet business challenges. Several enterprises prefer using cloud hosting as they are aware about the advantages of cloud hosting.
About Guest Author – Disha Kajale
Currently working as, digital marketing executive & social media associate at MilesWeb. Her responsibilities include creating high quality content for blogs, articles, social media and webpage content at MilesWeb. In her free time, you will see her doing research on various social media platforms for audience engagement and marketing strategies.