Changing Merger & Acquisitions Landscape among Start-ups
Merger & Acquisitions holds a big importance in start-up ecosystem to expand and increase the capability of a company. M&A has always seen like a weapon for a company to even scale when its practically not possible to develop the same business portfolio in-house.
Over the years M&A activities have changed its trends. Earlier there were dearth of corporates involved in start-up M&A but now there are many. Last 3-4 years have changed many things in this area. Typically, ~50% of deals each year are driven by corporates, with global MNCs executing 25% of all deals.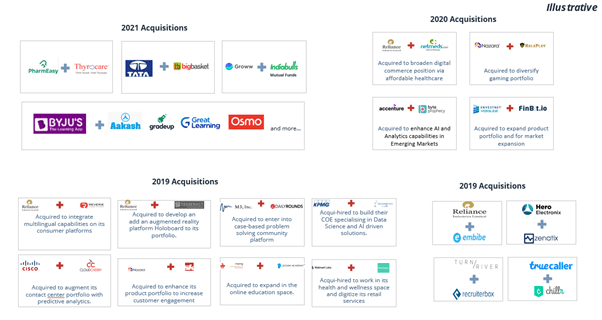 Trends in M&A over last few years:
2021:
Unicorns are actively involved in M&A activities compared to earlier years.

In 2021, decrease in B2B start-ups acquisitions have been observed while majority of the acquisitions are B2B
2020:
59% of the M&A deals belong to peer acquisitions

Corporates preferred mature companies for M&A, reflecting business needs for quick wins in tough market conditions

Many of acquired firms were less than 5-year-old

~70% of acquisitions were of B2C start-ups, predominantly driven by their peers, backed by strong venture capital and private equity investors

Acquisitions were driven by start-ups primarily on account of product portfolio and market expansion; corporate share reduced to 22% from 49% in 2019
2019:
Indian and Global corporates accounted for 50% of all acquisition deals in 2019 (Jan-Aug)

The share of Indian corporates in total deals has increased in 2019 primarily due to active participation by Reliance Industries

Number of unique corporates, across all M&A transactions, decreased marginally, from 35 in 2018 (Jan to Aug) to 31 in 2019 (Jan to Aug)

Acquisitions are driven primarily to build technology capabilities
2018:
M&A activity grown in 2018 mainly driven by increased interest from mature Indian start-ups and Global Corporates

Corporates are acquiring start-ups working on advanced technologies

Traditionally non-tech companies are acquiring tech start-ups

Companies are acquiring FinTech start-ups to enable digital financial services within their offerings

Due to slow funding environment in 2016 & 2017, cash strapped start-ups are looking to get acquired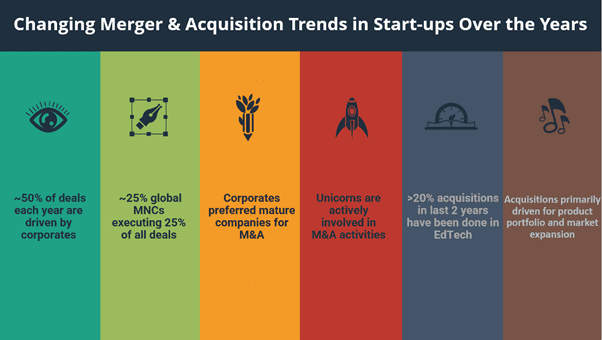 Trends above shows that how strategies have changed over time in acquiring companies. It's not just about expansion its about capability building in the long term to remain relevant and sustainable in these dynamic times.