The content delivery network (CDN) market is estimated to grow at a CAGR of 26.87% between 2022 and 2027 – Technavio.
Everyone is on the internet these days. Whether a user is performing a simple Google search or watching a video on YouTube or streaming content on Netflix or Amazon Prime, he looks for speedy content delivery to his device. Here, Content Delivery Networks (CDNs) play an integral part.
CDN plays a major role in ensuring that the content is delivered as fast and quickly as possible to the user. Let's dig deeper to know more about what is CDN and how it works.
What is CDN?
A CDN is a system of distributed servers or networks that deliver content like webpages, videos, images, etc. to a user, from a server closest to his geographical location.
Three main factors are involved in the working of a CDN – the user's location, website or hosting server's location and the content delivery server's location.
How CDN works?
As per a study by Akamai, an average online shopper expects a website to load in 2 seconds and will not wait for more than 3 seconds before leaving the site.
When a user requests any content like a webpage or video on the internet, the CDN comes into action. It redirects the request to the delivery server that's closest to the user. For example: If someone from the US is trying to access an Indian website, then instead of responding directly from the Indian server, the request will be routed through the local CDN server situated in the US. This reduces latency and bandwidth consumption, blocks the direct attack on the host server and secures applications.
The CDN stores cached images, files and other content of the website. It further contacts the originating server, asks for content not cached previously, and makes its data up-to-date.
There are a multitude of content delivery network providers in the market. Thus, we have come up with an in-depth comparison of the most famous ones. Know:
Features of different content delivery networks
Amazon CloudFront Vs Google CDN Vs IBM Cloud CDN Vs Azure Content Delivery network Vs Alibaba Cloud CDN – Differences between CDN services of these providers through a quick comparison chart.
Content Delivery Network – CDN Comparison
Overview
Amazon CloudFront is a fast CDN service that safely delivers data, videos, applications, and APIs to customers with high transfer speeds and low latency. It provides a developer-friendly environment that empowers them to customize features for meeting different requirements. It stops attacks from reaching the origin server by acting as the front door to user applications. HTTPS with SSL/TLS encryption further ensures application security. CloudFront offers access controls for the website.
Features:
CloudFront is completely integrated with Amazon Web Services (AWS) and thus it effortlessly connects with services like AWS elemental media services, Amazon S3, Amazon EC2, AWS Shield for DDoS mitigation, Elastic Load Balancing, and Lambda@Edge.
With pay-as-you-go pricing mode, users pay only what they use and get private committed pricing with no upfront charges.
Amazon CloudFront runs on AWS global network with 200 point of presence.
Source: AWS
It provides better user experience with TCP optimization that enables static as well as dynamic content.
It enables you to deliver a complete website with CloudFlare using only one domain name. This boosts the upload and download speed of your website content.
It reduces cache churn via de-duplication optimization and tiered caching.
It protects against the application and network layer denial-of-service-attacks (DDoS) through Amazon CloudFront, AWS Shield, AWS Web Application Firewall and Amazon Route 53.
Overview
Google Cloud CDN utilizes the globally distributed Google edge points for speeding up content delivery for applications and websites. It processes the request from Google Cloud Storage and Compute Engine.
Users can enable Cloud CDN with a single checkbox, after successfully setting up HTTP(S) Load Balancing.
Source: Google
Sites using Google Cloud CDN don't require a regional DNS because they get a single IP address that can run anywhere. Cloud CDN safeguards site content with SSL/TLS and there are no additional charges for it.
Google Cloud CDN is fully integrated with the Google Cloud Platform. It can support up to 5TB objects, so it can be used to manage media and gaming traffic.
Features:
Users can manage all content from one IP address and get low latency with Anycast feature.
It supports HTTP/2 with HTTP/1.1 and HTTP/1.0.
Users can use their own SSL/TLS certificate to make their site content safe on a domain name of their choice.
Users can remove cached images and more in a minute with an invalidation feature.
Stackdriver logging integration allows users to get detailed information about all cache.
It can serve any content from Compute Engine VMs and Cloud Storage buckets.
Users are charged on the basis of different incidents like cache egress bandwidth, cache fill bandwidth, and HTTP/HTTPS requests.
Overview
IBM Cloud Delivery Network gets powered by Akamai, a leading CDN provider. It provides fast content delivery in a cost-effective way with edge servers in over 133 countries. It has use cases in various industry solutions – software, media, entertainment, e-commerce, banking, gaming and more.
Source: IBM
Features:
IBM Cloud CDN can be configured easily for serving content from the Host Server Origin and from the object storage endpoint as well.
Users can set-up different origin servers with multiple paths.
Users can speedily purge or remove the cached content.
Set TTL (time to live) time that defines the amount of time (in seconds) the edge server can cache content for any specific directory path.
Users get metrics availability with graphical views.
Users get high quality streaming across various network types with video-on-demand performance optimization.
With Geographical Access Control, control who accesses your content, based on geographical location.
Overview
Microsoft Azure Content Delivery Network provides a safe and trusted content delivery with global coverage and huge scalability. Its seamless integration with Azure services empowers users to start instantly and scale within minutes. Azure CDN helps users to decrease load times, boost speed, and save on bandwidth on pay-as-you-go pricing model. It is a perfect CDN for managing applications, websites, IoT endpoints, streaming game and other media, etc.
Source: Microsoft
Features:
Integrated deeply with Azure services like storage, cloud, Web apps and media services.
Globally distributed presence provides the capability to handle sudden traffic spikes.
Developer friendly environment permits them to quickly build and deploy applications with API support.
Users get the ability to enable HTTPS for their domain names to secure their content, without additional cost for certificate management.
It easily integrates with Akamai and Verizon for building and customizing content delivery strategy with chosen providers.
Users get to gain useful insights with granular and actual time advanced analytics.
Overview
Alibaba Cloud CDN or Content Delivery Network is a distributed network that is built over the transport network and it contains edge node clusters deployed in various regions. CDN prevents network congestion by offloading traffic from the origins. CDN accelerates website content delivery in different scenarios or regions.
Alibaba Cloud CDN ingests resources from the origin server and then caches them on the globally distributed CDN nodes. When a website visitor sends a resource request, the system does not forward the request back to the origin. Instead, the system automatically pulls the resources cached on the CDN node closest to the user and returns them to the website visitor.
Source: Alibaba Cloud
Features:
Alibaba Cloud CDN provides HTTPS- secured acceleration to prevent data tampering, hijacking or leakage.
It supports hierarchical caching of frequently accessed resources and intelligent popularity calculation. This enables the precise acceleration of the requested resources.
All CDN nodes have SSDs configured to provide high-speed writing and reading to decrease response time and increase availability.
The CDN service supports anti-leech features based on URL authentication verification, user agent (UA) headers, HTTP referrer, and IP addresses.
It supports smart compression and web page optimization for reducing the overhead of content delivery and accelerating delivery.
It supports end-to-end data statistics, user profiling and multi-dimensional analysis for boosting business development.
You get a personalized log service and storage persistent service for log download and analysis.
It smartly recognizes illicit content on the basis of deep learning and thus minimizes the risk associated with user violations.
Content Delivery Network – CDN comparison: AWS, Google Cloud, Azure, IBM, Alibaba Cloud
Amazon CloudFront vs Google Cloud CDN vs IBM Content Delivery Network vs Azure Content Delivery Network vs Alibaba Cloud CDN
| | | | | | |
| --- | --- | --- | --- | --- | --- |
| Features | Amazon CloudFront | Google Cloud CDN | IBM Content Delivery Network | Azure Content Delivery Network | Alibaba Cloud CDN |
| NA = Direct information not available | | | | | |
| Points of Presence (PoP) | 200 | 90+ | 133 | 129 | 2800 Nodes |
| Pre-requisites | Sign-up or create free account | Through an existing HTTPS load balancing | User needs to create his IBM ID first | Azure Subscription is needed | Sign-up, get free trial |
| Pricing | Pay-per-use | Pay-per-use | Pay-per-use | Pay-per-use | Basic services support two billing methods: Pay by Traffic and Pay by Bandwidth |
| Invalidation | Yes | Yes | Yes | Yes | NA |
| Time to live feature (TTL) | Yes | NA | Yes | Yes | Yes |
| Integration | Integrated with AWS | Integrated with Google Cloud Platform | Akamai Integration | Integrated with Azure Services | Integrated with Alibaba Cloud Services |
| Management of CDN | AWS Management Console | NA | IBM Cloud Console | Management via REST API, .NET, Node.js, or PowerShell | CDN Console |
| Video on Demand | Yes | No | No | NA | Yes |
| Multiple CDNs | NA | NA | Yes | Yes | NA |
| Developer Friendly | Yes | NA | NA | Yes | Yes |
| API | Yes | No | Yes | Yes | Yes |
| Origin Pull | Yes | Yes | Yes | Yes | Yes |
| SSL/TLS Encryption support | Yes | Yes | Wildcard Certificate and Domain Validation (DV) SAN Certificate | Yes | Yes |
| Bring your own certificate | Yes | No | No | Yes | NA |
| Custom SSL | Yes | No | No | Yes | Yes (Paid) |
| Field Level Encryption | Yes | No | No | No | Authentication keys to encrypt URLs |
| Video Streaming Optimization | Yes | No | Yes | Yes | Yes |
| Large File Optimization | Yes | Yes | Yes | Yes | Yes |
| HTTP/2 Support | Yes | Yes | NA | Yes | NA |
| HTTPS support | Yes | Yes | Yes | Yes | Yes |
| Geo Access Control | Yes | NA | Yes | Yes | Yes |
| Analytics | Yes | Yes | Yes | Yes | Yes |
| Customization | Yes | Yes | Yes | Yes | Yes |
| Real-Time Statistics | Yes | Yes | Yes | Yes | Yes |
| Support | AWS Support | Offers different support packages | Documentation and forum support | Included in Azure Subscription | Multiple plans with varying prices |
| Custom Origin | Yes | No support for external origin server | No | No | Yes |
| Compliance | PCI Compliant, HIPAA eligible and SOC compliant | NA | NA | Yes | Yes |
| GZIP Compression | Yes | No | Yes | Yes | No |
| IPv6 support | Yes | NA | Yes | Yes | Yes |
Suggested Reading: Top 10 best data center service providers in India 2019
Bottom Line:
In order to decide which CDN platform is right for you, first, analyze why you need a CDN. A CDN is recommended for websites with heavy traffic coming from different locations. Once you have analyzed and evaluated your needs, go for the CDN which meets them. Alibaba Cloud with 2800 nodes and yes in most of the rows seem to us to be leading the pack.
In addition to the ones mentioned above, there are many other top-notch service providers like N7- Nitrogen Platform. It is a new age Content Delivery Network (CDN) platform that delivers better digital experiences, increases website speed, drives conversions, improves SEO and increases engagement. It accelerates performance by using predictive caching, 3rd party Java Script Manager and instantaneous rendering of catalog and product pages. With its ultra-fast network and edge computing, the Nitrogen (N7) is used by globally located customers to provide accelerated content delivery, supreme quality video, optimized images, advanced security & hyper-personalized experiences. It also includes a real digital experience monitor that provides an unprecedented level of insight into user interactions and server-side application transactions along with modern security mechanisms.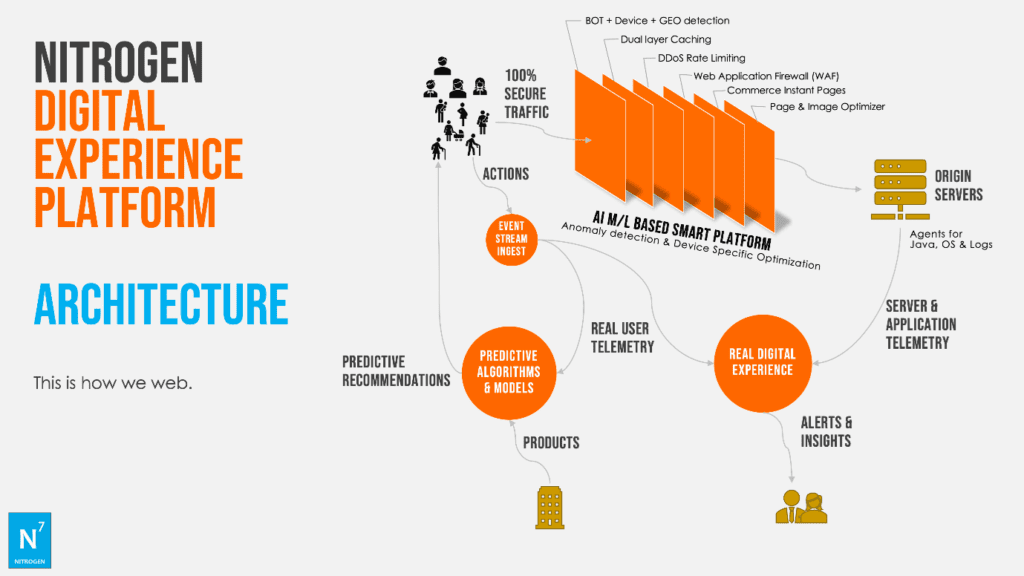 Nitrogen (N7) CDN Architecture
Let us know your thoughts in the comment section.
Disclaimer: The information contained in this article is for general information purpose only. Price, product and feature information are subject to change. This information has been sourced from the websites and relevant resources available in the public domain of the named vendors on 6 November 2019. Daily Host News makes best endeavors to ensure that the information is accurate and up to date, however, it does not warrant or guarantee that anything written here is 100% accurate, timely, or relevant to the website visitors. The article may contain sponsored or affiliate links. We recommend that readers conduct their own research before making any purchasing decisions.