Below are some of the learnings from the discussion on "Business Model Innovation Through Servitization: Aftermarket Thinking" from the 13th NASSCOM Design and Engineering Summit held in Oct 2021 and the "Advantage India: Gateway to Global Engineering R&D and Innovation" report
Servitization as a concept has been often discussed and a lot of progress has been made in the last few years. By definition, it means industries using their products to sell the "outcome-as-a-service", instead of a one-off sale, by adding services like maintenance, asset upkeeping, repair, service delivery, and other services etc. This provides an opportunity to the manufacturers to create more value by transforming a product-based model into a service-based subscription model.
One of the famous examples of servitization include Rolls Royce's "Power by the Hour" program. The company was one of the first to introduce servitization model to its customers. In this program, instead of charging customers for inputs and services like engine repairs, maintenance, and the provision of spare parts, customers pay a fee per hour based on the number of hours of flying time for an engine. The servitization model helped the customers to reduce their maintenance costs and downtime.
Another variant of the servitization model is "outcome-based pricing". An example for that is one which is followed by Philips, where the company sells lighting, rather than LED bulbs, in an outcome-based model to institutional customers like Amsterdam's Schiphol Airport. The bulb manufacturer manages the airport's lighting through an IoT based system, reducing Schiphol's annual electricity consumption by 50%. Philips gets its revenue by providing uninterrupted lighting to the airport and receiving a share of the savings delivered.
Yet another instance includes Michelin's EFFIFUELTM, which is an ecosystem for trucks and collects data related to various parameters such as fuel consumption, tire pressure, temperature, speed, and location. The collected data is then analyzed, and recommendations are made for eco-driving techniques. This service ensures satisfaction or money-back guarantee by delivering the fuel efficiency service risk-free to truckers and refunds those if the pre-defined targets for savings are not achieved, hence another example of "outcome-based pricing".
In the supply chain industry, some examples of servitization may include asset health and monitoring, diagnostic corrective monitoring to limit asset downtime, predictive maintenance and autonomous operation, asset and worker optimization, etc.
One of the driving forces behind servitization has been on value addition to the customers and solving the problems faced by them. In addition to more value add to the customers, they are also able to save costs and get superior service from the companies.
On the other hand, the organizations, in addition to adding more value to the customers, are able to have loyal customers over a long period of time due to additional services offered. They are also able to generate additional revenues and improve their profitability. However, there are also risks involved in moving to a service-based model.
Risks involved in servitization are –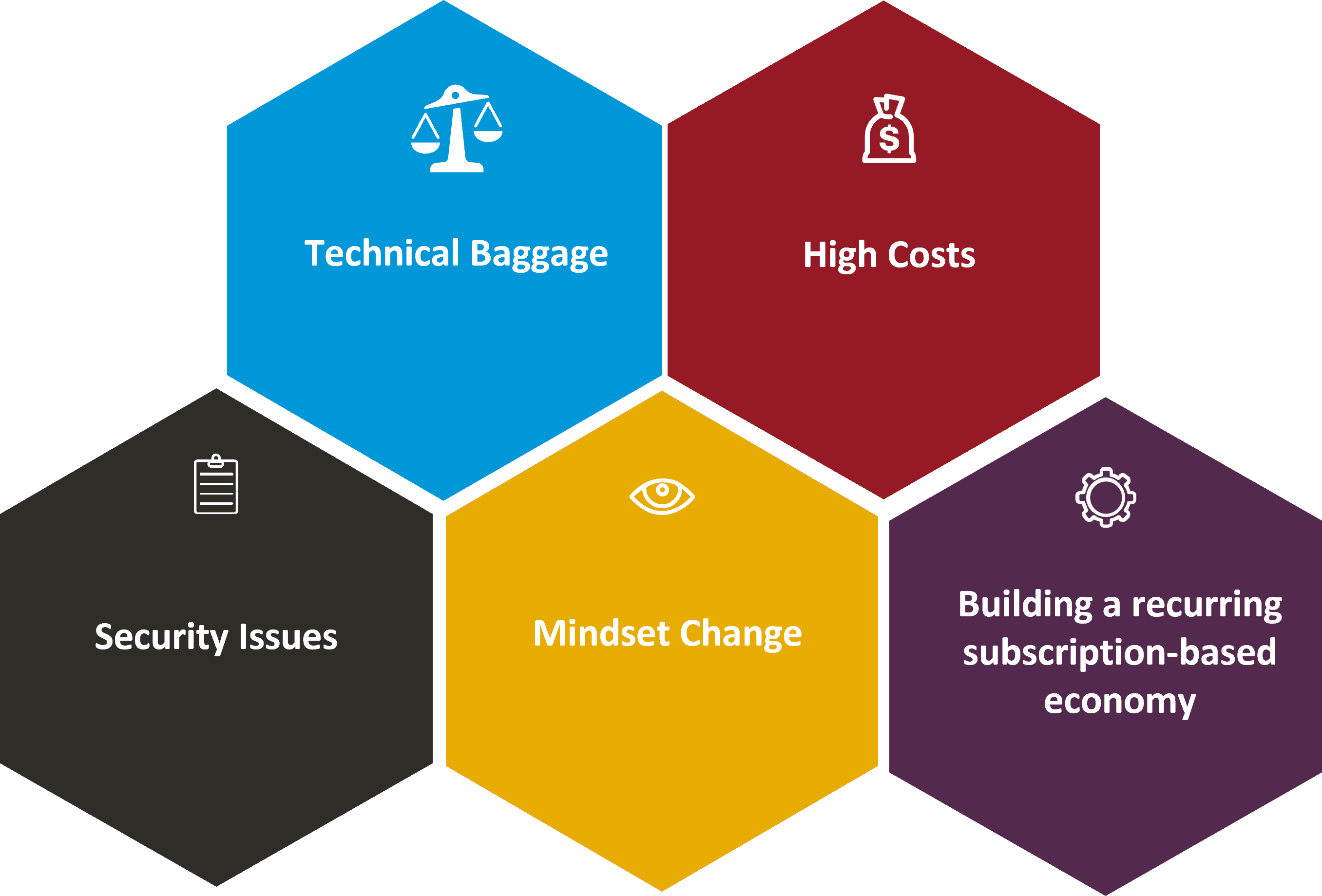 Technical baggage

– Traditional manufacturing firms carry technical debt or baggage and are often unable and reluctant migrate or adopt technologies like cloud. Hence, there needs to be a serious intent from the companies to adopt servitization.

High Costs –

The cost of data transaction and migration is high. Hence, it is necessary to consider the associated cost as well while making this decision

Security issues –

Issues related to security and exposing control systems are also risks associated with servitization.

Change in mindset –

Change in mindset of a company to switch from a product focused to a service or outcome requires time, effort, and investment. B2B companies now have to deal with enterprise customers, and this requires a change in mindset which can be difficult for some.

Build a recurring subscription-based economy

also involves challenges related users onboarding, data onboarding, KPI business metrics and insights, etc.
Inspite of the challenges, there has been an increasing openness from the customers in accepting this change and many see value of this service as well. The pandemic also has accelerated the digitalization plans of many companies and both the customers as well as the organizations see the merits of this model.
The organizations need to continue to connect the outcome of this model with the economics of the business. They need to define what the scope of the solution is and understand how digital technologies impact the topline and bottom-line of the company and start small with some pilot projects.
To read more about the Engineering R&D Industry of India, please follow the links to access the "Advantage India: Gateway to Global Engineering R&D and Innovation" report.
NASSCOM Community – https://community.nasscom.in/communities/engineering-research-design/advantage-india-gateway-global-engineering-rd-and
NASSCOM Website – https://nasscom.in/knowledge-center/publications/advantage-india-gateway-global-engineering-rd-and-innovation