Why is there so much food spoilage?
The Food and Agriculture Organization of the United Nations estimates that 30 % to 40 % of total food production can be lost before it reaches the market due to problems such as improper food storage, processing, or transportation.
Food safety and spoilage are growing concerns along the supply chain as the amount of waste continues to grow — wasted food raises costs and hurts the environment. The real shame is that much of this waste can be immediately reduced by deploying technology that establishes transparency and visibility.
Blind spots along the food supply chain affect upstream and downstream participants, costing them money and time.
The biggest issue is maintaining the security and safety of the food along the supply chain as it passes through many touchpoints between the farm and the consumer.
Particularly when foods require refrigeration, conditions must remain constant throughout transportation and storage because the provenance of the cold-chain has a direct impact on food quality, safety and expiry dates.
Temperature violations and time delays can cause bacteria to thrive, which lead to food spoilage. In certain conditions, one single bacterium can multiply every 20 minutes, so temperature stability is mission-critical. However, current systems are primarily manual and lack capabilities for monitoring, early detection or alerts.
There is little communication or record-keeping between phases, so by the time the food arrives at the retailer, there is no certainty about the conditions of the food in prior phases or during transport. Processes are primarily manual with heavy paperwork riddled with delays and errors and a lack of analysis or predictive capabilities.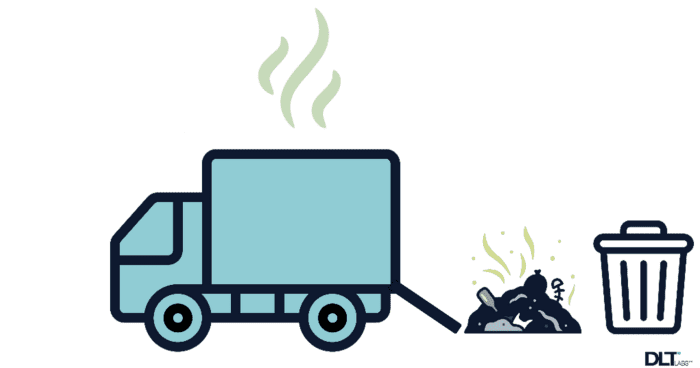 What is the answer to improve food safety and reduce spoilage?
The 3 T's of transparency, traceability and trust are the most important factors in the food industry. 
Now you know.
Trust is established because companies and people using the information know it is accurate, secure and real-time.
Companies can use technology to reduce food spoilage

This is done by ensuring the food cold-chain has total transparency in real-time — from end to end. There are many blockchain based platforms that can track and trace innumerable variables about a particular asset, whether it is a load of frozen vegetables or a digital file of patient information, we have visibility of everything that is being tracked.
In the case of a cold-chain, such platforms integrate inventory, temperature data, GPS and transport information from IoT devices from farm to consumer, collecting information for any given load all through the chain. Retailers and consumers can trust the integrity of the information.
The benefits of the visibility that can be provided for the supply chain go beyond just keeping food safe. For instance, there are additional provenance benefits that our platform provides. Currently, many companies would like to track and trace dairy purchases better.
Right now, milk goes to massive coops for blending and processing, there is no visibility to know if the farms that you are receiving the product from are implementing sustainability programs in their farms.
With a blockchain based platform, end-users can confidently know that they are getting their dairy from a sustainable, "net zero-emission" farm.
Automation is possible by integrating IoT devices with legacy systems to optimize business processes. IoT automation allows for constant monitoring and real-time alerts for any given product at any point along the food supply chain to enhance supply chain efficiencies, increase food safety and freshness, and minimize waste.
Companies can use the information to identify bottlenecks and solutions, or for accurate forecasting and budgeting for future activities. Automation can also enable improvements in such tasks as freight delivery, contract management, invoice creation, rebates, and others.
. The technology tracks over 170 variables of information so Walmart and its carriers have visibility into all activities associated with deliveries.
The information is trusted, accurate, real-time and shared among authorized parties. This information enables business process optimization which contributes directly to bottom lines with cost savings from reductions in manual labor, errors, time delays, and spoilage.
Companies may simplify the administrative side of the distribution, making their supply chains more efficient and optimizing for the future.
Perhaps the biggest achievement of such a platform is that samepaging technology gets any two companies on the same page with real-time accurate data.
No matter the reason, to create invoices for freight, to confirm inventory or rebates, to assign maintenance contracts, or to predict fuel surcharges for the coming year, blockchain based platforms have configurable modules for each business activity that are interoperable, building upon one another.
When deployed, the platform takes care of the paperwork involved so the companies in the food business can do what they do best: focus on delivering high quality food to their customers.
Author — Shannon Hamilton, DLT Labs™
About the Author: Shannon has spent 20 years in the financial services and technology industries practicing sales. She is passionate about technology and enjoys finding business problems that can be solved using blockchain.