Across the globe, economies and companies are focusing on climate change, sustainability, ESG goals, circular economy, etc. with a renewed vigor, especially in the post pandemic world. To combat climate change, automotive companies across the world are focusing on cleaner energy. In addition, rising fuel prices are also giving an added incentive for the consumers and the auto OEMs to seriously think about shifting to alternate fuels, and in effect to electric vehicles.
Globally, major countries are focusing on electric vehicles. Electric vehicle sales are surged in the first half of 2021. Sales increased by 160% in H1 2021 compared to the same period last year, amounting to 2.6 million EVs sold, accounting for 26% of new sales. China remained the world's top electric vehicle market, with over 1.1 million EVs sold, accounting for 12% of sales in H1 2021.
In India, electric passenger vehicle sales account for less than 1% of the total passenger vehicle sales in India. In the first half of FY22 (April-September 2021), over 6261 electric PVs were sold in India. These half year figures surpass the total electric PVs sold in FY21 in total (which was 5905). Electric 2W have seen sales of over 5404 vehicles in the first half of the financial year (Apr-Sep 2021), indicating over 6.5 times growth v/s the same period last year (April-Sep 2020). The govt. has also introduced attractive incentives and schemes. Benefits such as lower GST of 5% on all EVs, tax benefits under section 80EEB of IT Act offer a great incentive to consumers to buy electric vehicles. In addition, other subsidies under FAME II are also available. For example, In Delhi, for two-wheelers, buyers can avail a subsidy of Rs 5,000 per kWh of battery capacity up to Rs 30,000 in addition to exemption on registration and road tax. If buyers want to buy a four-wheeler, they can avail a subsidy of Rs 10,000 per kWh of battery capacity up to Rs 1.5 lakh, in addition to exemptions on registration and road tax.
Inspite of all of this, owning an electric vehicle does come with its own challenges. These primarily concern the batteries of the vehicles, including high vehicle cost, operational range, battery replacement cost and long charging time of batteries, etc. In an electric vehicle, the cost of the battery itself accounts for over 30-40% of the overall vehicle cost and this pushes the cost of the vehicle higher.
Amidst all these challenges, adopting "Battery-as-a-service" (including battery swapping) can be a perfect solution in terms of sustainability for the overall EV market.
What is battery-as-a-service?
Under this model, customers can lease batteries from the OEMs or battery suppliers as a separate component from cars. In addition, the customers can also take out the discharged battery and exchange it with a fully charged one.
For the OEM, this will instantly help match prices with fossil fuel counterparts, making it attractive for the buyers and for individual buyers, for whom the high price as entry barrier has been the pain point, leasing the battery can potentially make it financially viable. This service also provides battery swapping options, where discharged battery or battery pack can be immediately swapped for a fully charged one, further bolstering the entire value chain. Battery-as-a-service model also proves to be an additional source of revenue of the companies.
Globally, European countries such as Norway, Sweden, Netherlands, etc, pose a major market for the battery-as-a-service model.
Companies which have launched this service
Chinese EV manufacturer Nio launched its own battery-as-a-service model last year, where the consumers can buy a Nio EV without a battery and enjoy more than USD 10,000 off on all models. In addition, monthly subscription models have also been made available for USD 142 per month for a 70-kWh battery, thus improving its price competitiveness against other players like Tesla, in addition to the subsidies already provided by the Chinese government. Nio has also been collecting critical user data, including frequency of battery change, and is planning to offer tailored services to its customers.
Closer home in India, there are many companies Sun Mobility, Lithion Power, VoltUp and even Amara Raja Power Systems from the Amara Raja Batteries group, who have entered the market via the battery swapping route. Recently, Mahindra and Jio-bp have also signed MoU on batter swapping tech and EV solutions.
Recommendations
Though favourable government subsidies and increasing demand for EVs from the customers, there are many measures that need to be taken by the government.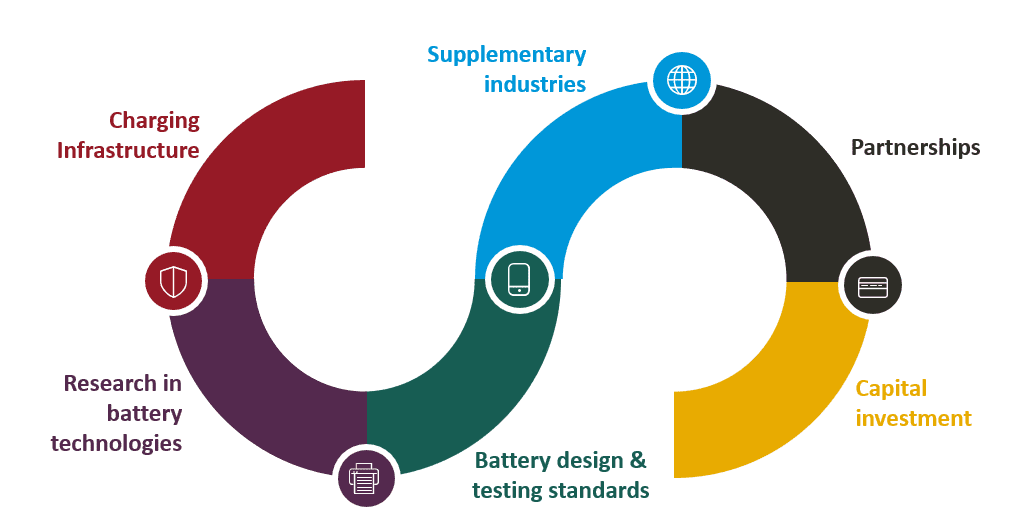 Charging infrastructure – Governments in the developing economies need to invest in a robust charging infrastructure to encourage more EV purchases.
Research – Improving research and innovation in battery technologies and increased investments will also go a long way in developing the market for EV.
Developing supplementary industries for various components that go into a battery will reduce the overall cost of production of batteries. It will also help with integration and supply chain management.
There is also an increasing need to develop battery design and testing standards to ensure quality and scale up of production.
EV OEMs must also partner with other auto makers so that new battery swapping stations could swap packs from other models.
Capital investment is also needed to build new charging and battery swap stations in a new market region.
While many challenges still remain, but the future remains so optimistic.