The new normal has accelerated Data and AI adoption manifold, and this has clearly shown the benefits of investing in a tech enabled future. This is enabling organizations, individuals and governments across the country and the world to not only rebound stronger from the crisis, but to reimagine a new future. The banking and financial services industry has been at the heart of this change. A critical determinant of India's economic success, we've seen the sector embrace large scale digital transformation in the last few months, paving the way for the future of banking in India.
Harnessing the power of AI will continue to be a vital enabler in that journey. It is becoming existential for every business and will play a key role in India's economic and social value creation. AI has supported the government and businesses with containment efforts, workforce planning and protection, as well as in restarting the economic engine in a systematic and secure manner. Driving utilization of Data and AI will also be a catalyst in realizing India's 2025 vision of inclusive development, and a recent NASSCOM report shows that it has the potential to deliver $450-500B for the economy by 2025.
In this environment, building a scalable model for leveraging the full potential of Data and AI will be central to driving unbridled innovation and digital transformation across industries, and particularly in the banking and financial sector. We're already seeing more innovation than ever in fintech as people are depending less on physical wallets and using more of digital payment mechanisms. Financial services organizations have been leveraging AI to enhance customer experience, improve operational efficiency, manage risks, detect frauds, gather data-driven insights, and even streamline regulatory compliance. We're seeing innovative lending products with data driven insights enabling the ability to predict and minimize credit risk as well as analytics-based collection models.
This also has deep implications for financial inclusion and access. Technology platforms built with strong data and AI foundations are enabling contactless banking and remote operability for millions across India. AI is helping build the critical digital infrastructure that will allow every community, urban and rural; every business, small and large; every worker, first-line and knowledge workers; and every person, including people with disabilities to benefit from tech intensity.
AI should be defined not just by what technology can do on its own, but by how it can augment and amplify human effort for people to do more. Banking of tomorrow will combine artificial and human intelligence (AI+HI) to be more collaborative, personalized, inclusive, deliver better products and consumer experience, and built on trust. It is a privilege to collaborate with IDRBT to introduce this paper, and we stay committed to working together with everyone to innovate and reimagine the next phase of growth. Creating an-AI ready ecosystem that enables everyone to leverage the technology for productivity and growth is an imperative for India to leapfrog into the future. This will accelerate the progress towards the mission to empower every person and every organization in India to achieve more.
This post was originally published as a foreword in 'AI in Banking: A Primer', a whitepaper published by the Institute for Development and Research in Banking Technology (IDRBT) in association with Microsoft.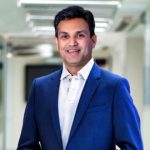 By Anant Maheshwari,
President, Microsoft India
The post Banking of tomorrow with human and artificial intelligence appeared first on NASSCOM Community |The Official Community of Indian IT Industry.