Automation – The key survival strategy in the #newnormal
Covid-19 has significantly impacted the way businesses operate, with the focus shifting from growth to survival. This has resulted in an increased focus on strategies such as work-from-home, diversification, distributed delivery and automation, collaborative technologies and crowdsourcing. Among technologies, investment in automation came out as a key strategy for survival as a result of the pandemic.
What changes to the way you operate, if any, are you expecting to make as a result of Covid 19?
Source: HFS, KPMG – Survey of 300 executives across global 2000 enterprises surveyed in May-June 2020
Automation – An essential digital capability for the post pandemic world
According to a TCS COVID-19 Business Impact Survey (July 2020), despite Covid digital transformation budgets remains steady more than 90% of the executives maintaining or increasing their digital transformation budgets, with CX and automation of core business processes being the core capabilities that are being developed.
Digital transformation budgets remain steady
Source: TCS COVID-19 Business Impact Survey of ~300 executives across 11 sectors in Asia, Europe and North America, about two-thirds in organizations with annual revenue over $5 billion
Automation has become crucial for core enterprise business processes such as marketing, sales, service and production, as it improves efficiencies and frees employees to tackle higher value tasks. Consequently, it is seeing good uptake across industries with Retail, Life Sciences & Healthcare, High-tech and Manufacturing sectors leading automation adoption.
Percentage of companies by industry with six essential digital capabilities
Source: TCS COVID-19 Business Impact Survey of ~300 executives across 11 sectors in Asia, Europe and North America, about two-thirds in organizations with annual revenue over $5 billion
Automation Supporting Vaccine Trails
Takeda, the $19 billion Japanese pharmaceutical company, is using robotic process automation (RPA) to accelerate clinical trials of a promising COVID19 treatment. Takeda reduced the time to complete participant on boarding paperwork from weeks to days. The company estimates that its RPA efforts could automate 4.6 million hours of office work per year.
 With the onset of the pandemic many other sectors have also realized the need for automation, thus many industries including insurance, consumer packaged goods, communications, media and telecom, utilities and public services are planning to develop automation capabilities.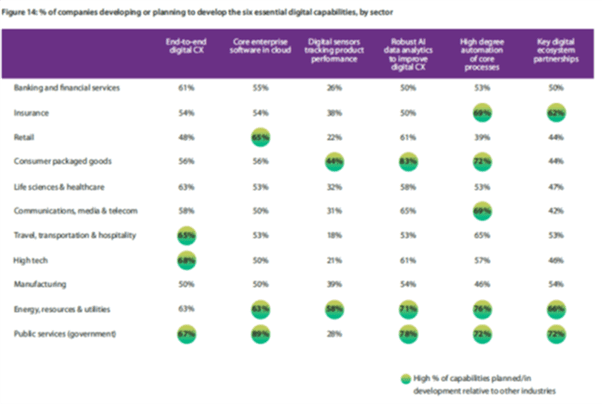 Percentage of companies by industry planning to develop six essential digital capabilities
According to Maureen Fleming, Automation Analyst, IDC, Majority companies are doing automation as a way to become more competitive, and more resilient. As the economy recovers, she expects some companies to revert to old ways of doing things, while others will continue to maintain or increase use of automation.
Indian IT companies are leveraging this opportunity
Indian IT companies have been working on launching new products that help enterprises in automating their business processes.
In August 2020, TCS launched announced the release of ignio AI.Assurance, which enables development teams within enterprises to harness the power of artificial intelligence (AI) and machine learning to overcome the bottlenecks and deficiencies of their manual or assisted testing methods, and adopt cutting-edge quality engineering practices for timely software releases that help enterprises deliver unique and compelling customer experiences and enhance their competitive differentiation.
In August 2020, Infosys launched AI-driven 'Cognitive Email Workbench' solution that gives enterprises the ability to augment query management and scale their helpdesk operations.
Moreover, companies are expecting the demand to get stronger amidst the increasing focus on work-from-home in the post pandemic era.
In June 2020, TCS announced that it expects demand for Ignio to increase, as more companies shift to a work-from-home model in the aftermath of the Covid-19 pandemic, revenues for Ignio had inched close to $100 million in FY20.
In August 2020, Wipro had announced that it has set a target of $50 million from automation only deals
The story is same for MNCs as well who are working towards strengthening their automation platforms:
In September 2020, Accenture announced a new version of its intelligent automation platform Accenture myWizard®, to help organizations improve business agility, customer experience and innovation. The new platform has already helped some of Accenture's 9,000 myWizard engagements at 1,500 companies to improve user experiences by more than 50%, reduce IT operational costs by up to 60% and get new products and services to market up to eight times more quickly.
Overall, enterprise automation is expected to remain a key client spending theme which has gained even more importance post the pandemic. With organisations looking at scalability, agility and faster go to market strategies, we believe the demand for automation is will increase across industries – creating newer opportunities for Indian IT companies.
Read more about such trends and how the Indian IT-BPM segment performed during the FY21 in NASSCOM's Strategic Review "Technology Sector In India 2021- New World: The Future is Virtual.
The post Automation – A key enterprise spend theme post the pandemic era appeared first on NASSCOM Community |The Official Community of Indian IT Industry.