CloudFest is considered the #1 business-to-business event for the cloud, hosting and internet infrastructure professionals across the globe. Taking place online for the first time ever, CloudFest 2021 runs March 23-25. It is the best way to engage with customers, partners, and peers: with over 7,000 professionals eager to do business, it's no surprise that so many brands use CloudFest as the launchpad for their latest solutions.
We recently interviewed Christian Jäger– CEO, CloudFest. Read on.
J: CloudFest is an intriguing event, especially for hosters, domainers and data center service providers who are now an integral part of the cloud industry. With time, World Hosting Days also graduated to CloudFest. Please shed some light on this progression.
C: We started the event as a 'round-table' for other hosting providers in our hometown, Cologne. Shortly after, we invited suppliers and software providers to attend our meetings as well so we could benefit from a consolidated product update and exchange our views and learnings. Even in these old days, the focus has already been laid on networking and great content. As the event grew, we decided that we need to add some secret sauce to stick out as an event and our solution was simple: Don't use typical congress hotels or trade fair areas – use something special – and that's how the idea to run the show in a theme park came along!
But we did not only grow, but we also attracted a more diverse audience. And on top of that, our attendees altered their product offerings from plain (web) hosting towards sophisticated cloud solutions. The name change to CloudFest should symbolize the journey we went with our partners: the event became a festival of friends and our products shifted towards the cloud. The name CloudFest was born.
J: Now many advanced technologies like Artificial Intelligence (AI), Internet of Things (IoT), Big Data are taking the world by storm. Being in the IT space for so long, how do you see the IT industry shaping up? Which technology or technologies is/are going to trend?
C: Indeed, the topics are gaining momentum, and this is also why we dedicated an entire day at this year's online edition of CloudFest towards AI. Devices have become smart; computers and scripts have become intelligent. The backbone to enable this intelligence is our industry. The same is true for IoT and especially big data.
In my previous role in the investment sector, we analysed huge companies with extensive data sets coming from different streams. Without intelligent computing allocation and software tools that are capable to handle such an amount of data, we would never be able to do a fair analysis of any company. So big data is no longer a buzz word, it has become reality years ago already.
J: You were a part of CloudFest a few years back. Then you moved on to work for PlusServer, GoDaddy, and now BrainWeb Investment. In 2021, you have again associated with CloudFest in a big way. Tell us about this fascinating journey of yours.
C: Returning to CloudFest feels really like coming home. I still know many of the team members personally and was in an exchange with them during the shows while I worked at other companies.
In a retro perspective, my journey has helped me to better understand the needs of hosting companies as well as the needs of our partners. PlusServer is one of the leading managed hosting providers in Europe while GoDaddy is targeting end-customers and web professionals. Later, we invested in companies like cPanel or Plesk – who are exhibitors of CloudFest and again have very different expectations of an event.
I was able to learn a lot and experience the industry from various angles and I am positive this will help in the future.
J: CloudFest 2021 kicks off on March 23. What industry trends or topics will be covered for 2021? How many attendees are you expecting?
C: CloudFest will cover three main topics.
Day 1 will talk about the intelligent cloud. We will learn how infrastructure evolves over time becoming smarter, applying the latest AI and IoT technologies.
Day 2 is actually my personal favourite as we talk about web pros. It is a super diverse topic that really drives our industry. Wix.com, GoDaddy Pro or DigitalOcean are changing the way how the customers use cloud services. We have invited Aaron Draplin to speak, the name may not directly ring a bell, but he designed logos for Obama, Nike or Ford. So, the day will not only talk about technology but will have the actual user, the actual web pro in mind.
The last day covers security topics and what's really cool: We can all meet the former boss of James Bond. Sir Alex Younger was responsible for cyber protection at the British intelligence service MI6 – if there is one person that knows about cyber threats, it's him.
Attendee figures are difficult to estimate but we expect them to be in line with what we know from offline events. We can already see how diverse our audience got and from where our attendees' login.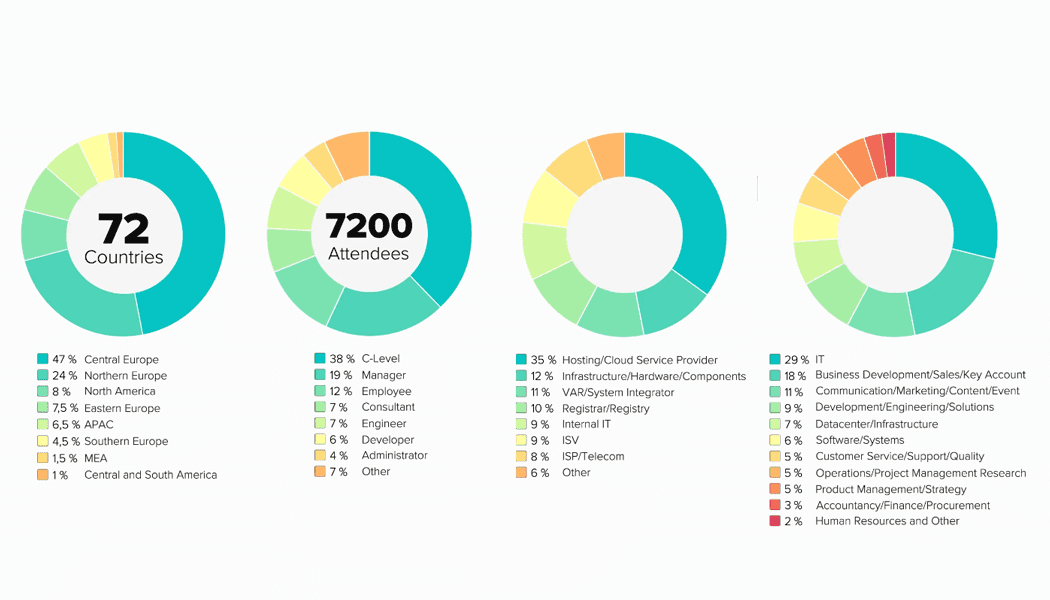 J: As the event is completely online, things are going to be different this year. What kinds of changes can attendees expect this year? Also, what kind of networking possibilities and marketing opportunities are there?
C: The biggest change is of course people cannot meet at the Collosseo Bar in Europa-Park ?. Online events have a lot of strengths but indeed also limitations. The team worked hard and chose the platform we use carefully to deliver a digital version that is really close to the on-site experience. The agenda is full of first-class content in different locations, just as people know it from the offline world.
Since CloudFest is online, we can also have dedicated tracks for different time zones so please watch the Indian track carefully to learn about one of our largest and most interesting markets! Our platform also facilitates easy networking. We have dedicated networking time slots, speed-dating, and breakout rooms and tables where attendees can join other people who are "sitting" at a virtual table or bar and automatically start a group video call. We even took the concerts online and I can already reveal we are even trying to get the roller coasters digital – so it's definitely a good idea to register for free with the DHN code today and join us!
J: Being the host of this event, what are you most looking forward to at the upcoming CloudFest 2021?
C: Besides the already mentioned speakers I am especially looking forward to the networking sections and digital booths of our partners. Though we are all in contact via email and whatnot, CloudFest will again be the place to meet the international cloud ecosystem and I cannot wait to talk to familiar faces and business partners that became friends over the year.
It's really about time to see each other again, at least digitally.
J: Final question, if you had fifteen extra minutes each day, what would you do with them?
C: Clear answer: I became a father during the first wave of Corona in 2020. Every extra minute I have goes into spending time with my family and beloved ones. There is no such thing as family time but: CloudFest comes really really close to that. ?
Daily Host News (DHN) is the official media partner of CloudFest 2021. Don't forget to register for this year's virtual edition.
To stay always on top of the latest news in the cloud and data centre industry, follow @DailyHostNews now. You can also subscribe to our newsletter to receive all updates directly in your inbox.
Read Next: "Hyperscale workloads to be the biggest driver of demand for data center growth"- Michael DeVito, Iron Mountain Data Centers