With the coming of new promising technologies, like NFTs and blockchain, many unique investment opportunities have started appearing in the last couple of years. Unfortunately, most of these companies do not have the investor's best interests in mind.
The world wide web and the commercial world have both evolved rapidly, faster than security measures that were supposed to protect people from getting abused in these types of deals.
Atlas VPN's study reveals that online fraud is most severe when it comes to business investments.
The Federal Trade Commission's latest figures show that US citizens lost a whopping $2.66 billion to various types of investment scams in Q1-Q3 2022. This represents a 50% increase over $1.77 billion lost in 2021.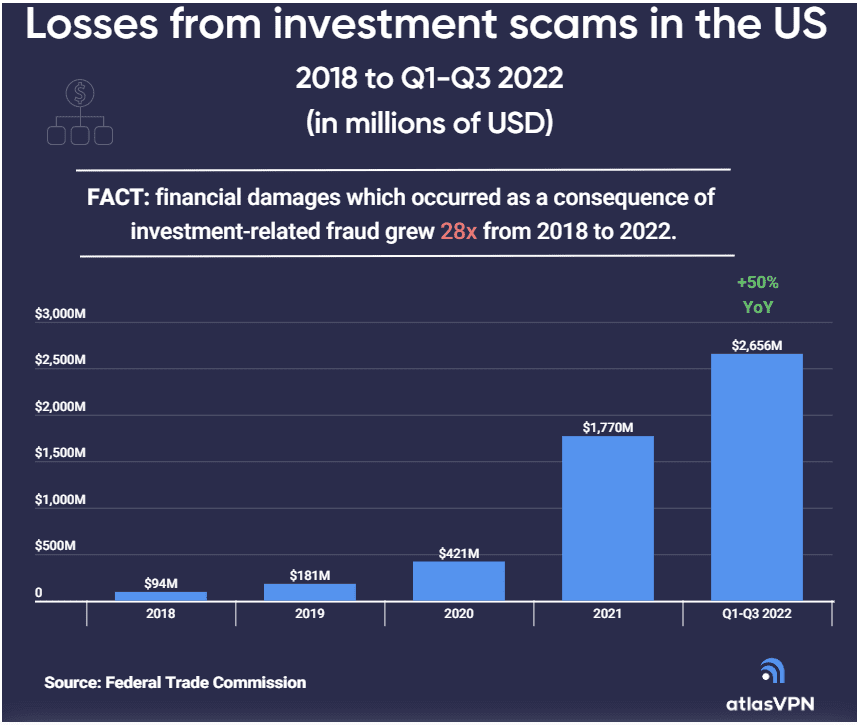 In the last 5 years, investment fraud in the US skyrocketed by 28 times. Investment fraud has been growing by, on average, 149% per year since 2018.
The seriousness of the problem is also clear from the number of complaints to the FTC. In the first three-quarters of 2022, nearly 80 thousand investment fraud reports were filed with the FTC. Out of these, 74% indicated a financial loss.
In contrast, in 2018, less than 15 thousand complaints were filed with the FTC, of which 54% noted damages.
Social media and crypto payments
Many people who have been scammed by investment fraud lose their money when they transfer it in the form of cryptocurrencies. Cryptocurrencies are difficult to track and get back as it is based on anonymity and decentralization.
Threat actors can use cryptocurrency tumblers to make their tracks very difficult to follow. This makes it very hard to find them. Privacy features of the blockchain are helping criminals and not victims.
The study also found that fraudsters mostly get in touch with potential victims through various social media platforms.
As per AtlasVPN, total losses to investment scams in the US is expected to hit over $3.5 billion, with median damage of $6,000.
Read more here.
Read next: $2 trillion market opportunity for cybersecurity technology and service providers, finds McKinsey