Companies today have many technological innovations to help them save time and money while meeting business objectives. Most of them are adopting the cloud to store, manage, analyze, and secure their data. Dimensional Research, sponsored by Spot by NetApp, released the 2022 Cloud Infrastructure Report exploring the motivations for and challenges with enterprise cloud transformation. The report is derived from an online survey that collected inputs from cloud infrastructure stakeholders working at companies with more than 500 employees and examines how businesses leverage internal experts, practices, and vendors to see success and value with the public cloud investment. The key takeaways from the report are discussed below.
Scope of cloud operations management to increase in 2022
Cloud migration has been quite aggressive in the past few years, and this research demonstrates that it's going to continue at an equally strong pace.
The report says that upon being asked about their top cloud transformational goals for 2022, 63% of stakeholders cited their top goal as increasing the use of cloud technology, 52% said identifying opportunities to migrate additional services to the cloud, 50% wanted to optimize cloud costs to improve ROI, 39% opted to review existing resources to find utilization opportunities and 35% wanted to grow their cloud operations teams.
Cloud decision-makers see security as the top cloud area for improvement in 2022. Automation, cost management and resource inventory and utilization were cited as the other areas for improvement.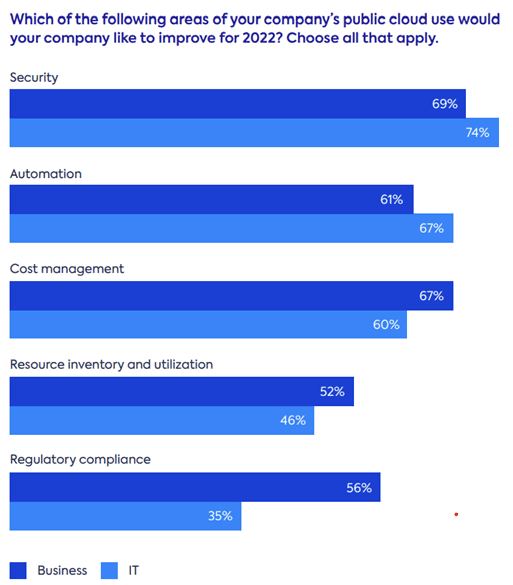 Enterprise organizations are increasing their spending on public cloud infrastructure, but they need to consider how best to grow their expertise. They can do so by adding headcount or educating employees for them to become more familiar with tools available through the service provider's platform or by reorganizing responsibilities so that certain tasks aren't solely left up to IT teams. With the help of a Cloud Center of Excellence (CCoE), companies will be able to pool their internal skills and resources for increased cloud management expertise. According to the report, 90% of companies reported that they have or plan to have a Cloud Center of Excellence and 61% of those who currently have it expect their responsibilities to grow in 2022.
95% of companies that adopted Cloud Center of Excellence benefited from this leadership. Improved governance (50%), better overall operational efficiency (49%), and increased confidence in cloud security (44%) were cited as the three most common benefits of CCoE. 61% of the companies want to grow their CCoE's responsibilities in 2022, while for organizations with dedicated teams or formal CCoEs, this growth increases to 64% and 75%, respectively.
Cloud cost management continues to be a work in progress
Organizations have shown decreased confidence in managing public cloud cost centers over the past years. The report shows that only 21% were "very" confident in 2022, whereas it was 31% in 2021. It also highlights that cost management capabilities are improving with time as only 30% of cloud decision-makers can monitor and optimize costs effectively whereas 70% report that they cannot effectively monitor and optimize cloud costs.
Larger companies are expected to focus more on cost management in 2022. Refer to the graph below.
91% of cloud decision-makers report that they take advantage of cloud purchase options to minimize costs. The top cloud purchase option cited by them was reserved instances followed by committed use discounts, savings plans, and spot instances. 61% of companies are using more than one of these options for minimizing cloud costs.
FinOps adoption has been an evolving trend among companies, however, there is still much work left to do.
The companies are optimistic about championing FinOps, and 96% believe that it is important for overall cloud success. The report says that 20% of the companies have started developing a FinOps practice. 33% of them have made progress but still working on it while only 10% have a mature practice.
MSPs have a key role to play in cloud operations
As per the report, 71% of the companies rely on a Managed Service Provider (MSP) for their cloud operations.
All companies that work with an MSP for cloud operations have benefited from that relationship. See the graph below.
83% of companies who have adopted FinOps and have an MSP say that their approach includes the involvement of the MSP. Of this, 45% reported that their internal team takes the lead in FinOps strategy while getting support from their MSP while 18% rely on their MSP to take the lead. 13% of the companies collaborate with their ISP, and 7% outsource their overall FinOps practice to their MSP.
Summary: The cloud is continuing to grow in popularity, and with that growth comes a demand for more cost-effective management. Public cloud migration is happening faster than ever, and businesses are looking to MSPs for help to ensure success and value with their investment. As this research demonstrates, the trend of cloud migration is only going to continue at a rapid pace, so MSPs need to stay up to date on the latest best practices and technologies.
Also read: Google introduces AlloyDB for PostgreSQL