We are in a digital world where we no longer want to wait. 
In the customer service industry, most channels have a wait time. It takes around 2-3hrs to at least 10hrs to get a response on social media. An email can sometimes take more than 12hrs to get a response back from a company. And, on IVR there is always a queue time ranging from 5minutes and can extend up to 30 minutes. 
It is only the live chat software that is instant, efficient, and enables real-time problem-solving. Live chat software is an essential part of good customer service infrastructure. Your customers can connect with you anytime, just via your website. The benefits of having live chat on your website, range far beyond just a quick response- and in this blog, we will discuss them.
Propels Buying Decision: 
The modern customer has a variety of options available to them. The entire world is at their fingertips. Then why should they buy from you? The buyers' dilemma can easily be resolved through a live chat channel on your website. 
Usually, when I cannot decide on a product or between brands, I prefer getting more insights to clear my doubts. In these moments, I prefer reaching out to the brand and asking more about the product, about EMI options or etc. This allows me to come to a decision, while subconsciously building a rapport with the brand. However, just imagine if there were no live chat option, then I would have to wait for an email response or a call-back? Either way, I would have moved on from my buying decision. 
In a competitive digital market, enabling the customer to come to a decision is a winning strategy. It generates faith and eventually advocacy. This is a primary benefit of having live chat on your website. It is completed on-site, so your customers do not have to type in a new URL and it is real-time. 
Cost-Efficient Solution For Customer Service:
One of the many benefits of having live chat on your website is you can save hundreds of dollars while offering premium customer service. Businesses adopt different techniques to engage customers which are often costly affairs. However, with live chat on your website, customer engagement is absolutely affordable. 
Instead of wasting precious hour credits off your IVR solution for easy-to-solve issues, encourage a live chat service on your website. It is 40% cheaper than a phone call. It increases your first contact resolution. Above all, live agents can attend to multiple customers at the same time, using canned responses to resolve the most common requests. 
Keep In Touch With Website Visitors:
You put a lot of effort into building traffic and bringing visitors to your website. Isn't it? And some of them are ready to buy, whereas others are just browsing. They might not be interested but you can convert them into prospects. Live chat on your website can pop up a greeting message with canned questions in it. If the visitor taps on it and responds to the questions even without a buying intent – you gain a prospect. You can ask for their contact information be it their email or phone number and connect with them later. You can send them promotional material, new customer offers, and more. You can leave the rest to your sales team to handle.
Prevent Purchase Abandonment:
According to a Forrester report, 57% of customers abandon their carts due to lack of immediate assistance. The same study also reported that 44% of customers prefer having their queries answered in the middle of a purchase. This is one of the major benefits of having live chat on your website. When you improve the website experience and offer customer assistance at the same time, it drives revenue. With live chat software, you can provide targeted customer service to these people who are already willing to buy and ensure that they do not abandon their carts. Here is a small representation of cart abandonment rate as per different industry and their products.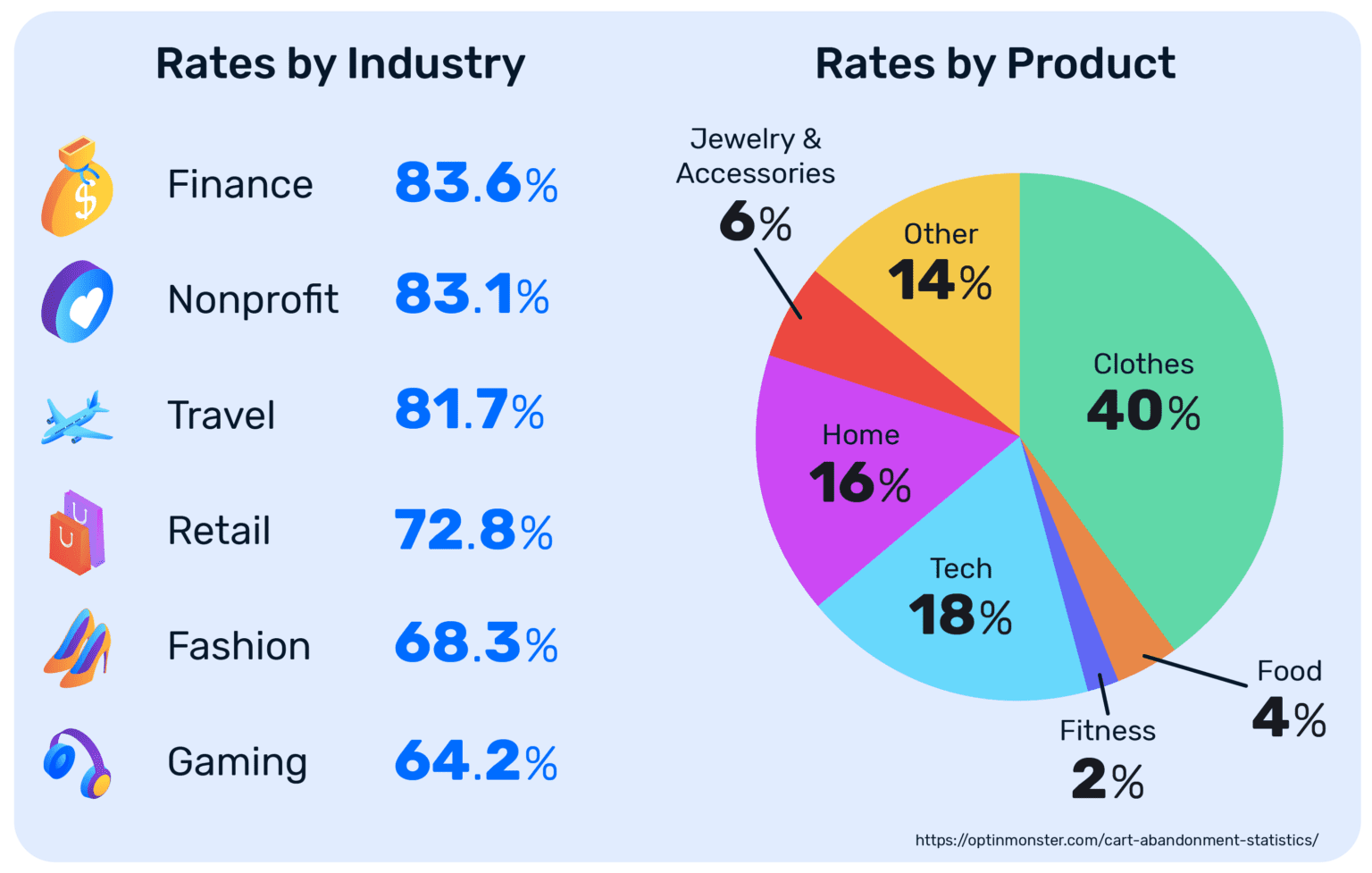 Source: Bolt
Amplify Your Brand Presence:
It is the little things that declare your corporate identity and you can showcase them through your live chat software. Your website design, attributes, and images will define the brand's personality. Adding a customer assistance widget that is the live chat pop-up will amplify your brand's agenda. It will bring sophistication and aesthetic to your website alongside being useful. Customize your chat window design, the chat colors to establish your brand's persona. 
MultiMedia Friendly Channel:
Live chat software is also an extremely flexible channel for resolving customer issues. When a customer is having a product issue, they can always send you an image or a recording to explain their issues better. You can also convert this into a video chat . Also with co-browsing capability, it can let the agent guide the customer if they are stuck or need assistance on your website. In any case, live chat software has the potential to increase customer satisfaction with its media flexibility. 
Introduce Self-Service With Chatbots:
There are a lot of common questions that are asked and it is a waste of agent time to answer them repeatedly. Instead, a chatbot can answer all the frequently asked questions with accurate answers. Chatbots will be available all the time, responding to every customer, giving a 24X7 presence of the brand. It is cheaper and more efficient than live agents. However, in case of complicated customer queries, it will route to the right agent from the correct department, based on the customer's needs. 
Source: AI Multiple
Increase Customer Satisfaction:
All the above-mentioned benefits of having live chat on your website already boost customer satisfaction. But here are some more detailed points on how it improves the customer's experience without costing you any hefty buck.
It is fast and convenient as already mentioned. It does not require the customer to go through any queue or other hassles to reach an agent.
Chatting is the preferred form of communication at the current time. It is ideal for millennial customer who is more likely to stick to their phones or laptops. The millennial customer prefers texting over calling someone.
Sometimes people have a hard time communicating with agents on call, due to fear of interaction, accent barrier, lack of privacy, and more. Live chat eliminates these problems while offering premium customer service.
Lastly, it can be anonymous. Some prospects do not feel comfortable with sharing their personal information when enquiring about products. With live chat, prospective customers do not need to share their information and will be treated the same way with complete acceptance of their anonymity.
Collect Customer Insights:
Every time a customer converses through your live chat software, you can gather customer insights. This can allow your admins to create dedicated customer profiles, with their conversational journey stored for context. An omnichannel integration will map the customer's interaction history across all channels including live chat- so that agents can respond better. This improves the quality of conversation, making the customer feel prioritized.
At the end of every chat, you can add canned surveys to gather customer feedback. Customers are more likely to respond as its instant and hassle-free. You can allow your agents to see their respective feedbacks, which can be a huge morale boost. These reports will allow reflection and improvement. 
Analytics:
The final benefit of having live chat on your website is data. Now, why invest in software if you can't track your success with it? Live chat solutions have in-built analytics which allows you to reflect on your business merits. You can track important metrics like your agent's response time, customer satisfaction scores, request volumes, and more. 
Conclusion:
There are multiple benefits of having live chat on your website but the most important one is that it puts you in the competition. Today many companies have live chat software on their websites. The ones who don't are losing out on revenue. Also, integrating Live Chat software with other channels be it WhatsApp, Facebook, Telegram, Viber or even Mobile App is becoming a must-do for customer service. Not doing so can reverse a lot of hard work put in acquiring customers, branding, or even production. Shying away from popular customer service trends is no more a smart option. Live chat software is a smart solution that can be integrated with your contact center solution. It can help any business of any size.